RHM 2007 - the internationationl meeting of woman mountaineers took place in Czech Republic sandstones in Tisa on July 21-29. From the foreign participants the white haired super veteran Angela Soper from UK attracted interests of the most of all,
because she is still active climber and boulderer and even competes in category 60+.
RHM is abbreviation of French name
Rendez-Vous Hautes Montagnes
(High Mountains Meeting) and has nearly 50 years old tradition. This international mountaineering woman club organizes annually summer meeting in different place in different country since 1960, when RHM was founded.
According to some sources RHM was grounded because women who like mountains did not want to explains to their men why they do it, so they established their women club.
Source of RHM 2007 info (in Czech):
www.horosvaz.cz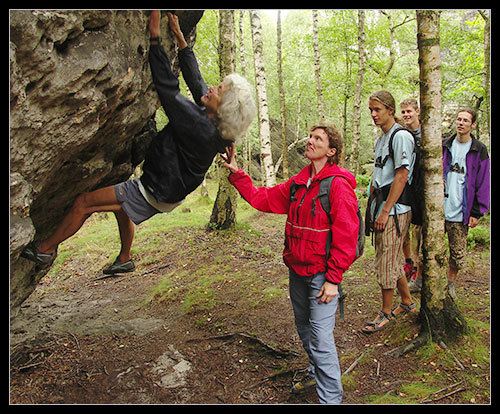 Angela Soper bouldering on the Czech sandstones - RHM 2007
credit of Czech Mountaineering Union