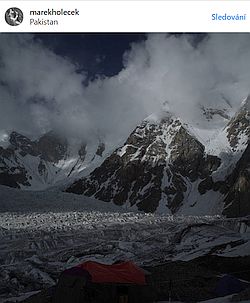 Czech mountaineers Marek Holeček and Zdeněk Hák climbed in alpin style first ascent of South West Face on Gasherbrum I (8068 m). They informed about it on Instagram and on sites of their Czech sponsors.
They descended then to BC without problems.
Marek Holeček finished his many years long project, it was his 5th attempt.
Last year he was there with Czech climber Ondra Mandula. After bivouac in 7700 m they had to escape because of bad weather then.
In 2015 tried the ascent with Tomáš Petreček and they had returned in 7000 m because of weather.
And before he was there 2x with Czech Mountaineering Union chairman Zdeněk Hrubý, who had died there during the 2nd attempt.