Czech Libor Hroza won speed competition RockMaster this weekend in Arco, Italy. As the only competitor he did the route under 8 seconds (7.21 s). His sister Lucie Hrozova finished 8th in speed. In lead climbing Czech Adam Ondra finished 3rd, Tomas Mrazek 6th.
The winers of the lead, the Rock Master main competition were Angela Eiter (AUT) and Ramon Julian Puigblanque (ESP).
The best women in speed was Edyta Ropek (POL).
In bouldering Kilian Fischhuber (AUT) and Alizée Dufraisse (FRA) wins.
On the eve of the Rock Master competition Arco Rock Legends 2009 were granted. Chris Sharma (USA) won the Salewa Rock Award, while Kilian Fischhuber (AUT) won the La Sportiva Competition Award. Czech Adam Ondra, who got the Rock Award last year, was also between people who were nominated now.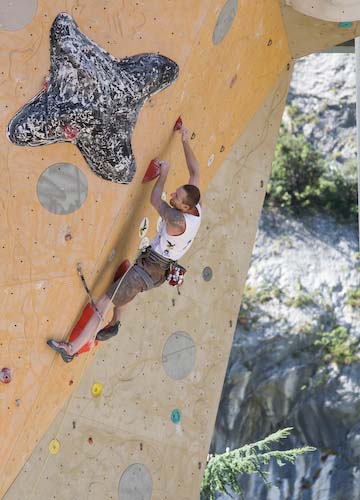 Tomas Mrazek
photo by Pepa Otcenasek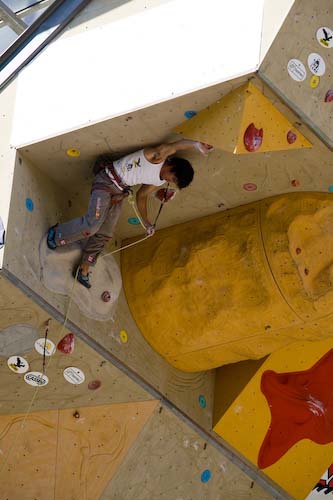 David Lama
photo by Pepa Otcenasek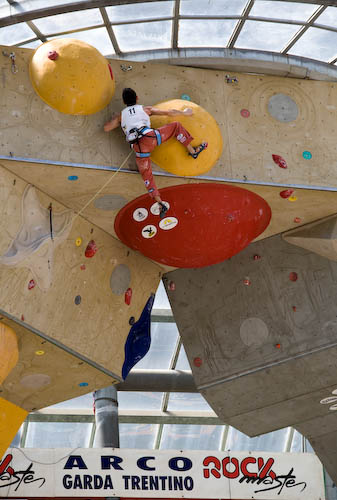 Ramon Julian Puigblanque
photo by Pepa Otcenasek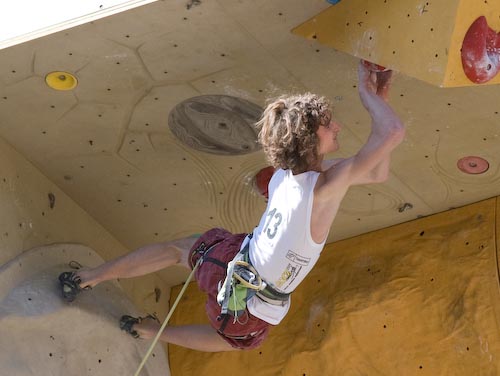 Adam Ondra
photo by Pepa Otcenasek
Lead - OS+RP
Men
1. JULIAN PUIGBLANQUE Ramón ESP
2. LAMA David AUT
3. ONDRA Adam CZE
4. LACHAT Cédric SUI
5. SCHUBERT Jakob AUT
6. MRAZEK Tomás CZE
7. USOBIAGA LAKUNZA Patxi ESP
8. BECAN Klemen SLO
9. DESGRANGES Romain FRA
10. VERHOEVEN Jorg NED
11. CRESPI Flavio ITA
Women
1. EITER Angela AUT
2. MARKOVIC Mina SLO
3. KIM Ja-In KOR
4. DURIF Charlotte FRA
5. GROS Natalija SLO
6. VIDMAR Maja SLO
7. ERNST Johanna AUT
8. WURM Juliane GER
9. LAVARDA Jenny ITA
10. EYER Alexandra SUI
11. LADURNER Alexandra ITA
---
DUEL
1. LACHAT Cédric
2. ONDRA Adam
3. JULIAN PUIGBLANQUE Ramón
4. LAMA David
1. KIM Ja-In
2. EITER Angela
3. MARKOVIC Mina
4. DURIF Charlotte
---
Bouldering-men
1. FISCHHUBER Kilian AUT
2. BAUMANN Jonas GER
3. MORONI Gabriele ITA
4. MEYER Jérome FRA
5. GELMANOV Rustam RUS
6. PRETI Lucas ITA
7. GLAIRON MONDET Guillaume FRA
8. RUBTSOV Alexey
Bouldering-women
1. DUFRAISSE Alizée FRA
2. GRAFTIAUX Chloé BEL
3. STÖHR Anna AUT
4. JOHNSON Alex USA
5. SHALAGINA Olga UKR
6. NOGUCHI Akiyo JPN
7. ABRAMCHUK Yulia RUS
8. MORANDI Sara ITA
Full results on Rock Master web site