Several years ago I got the chance to interview Adam for an American climbing magazine. At the time his exploits were just becoming known to the world, but his talent was already well known in the Czech climbing community.
One Saturday after climbing, we met in the Krottensee Forest of the Frankenjura. Adam, 15 at the time, struck me as quiet and self-confident, with well thought out ideas that belied his few years. Nowhere was his wisdom more present than in his climbing- his technique was deliberate and precise- traits often found in veteran masters, not child phenoms. His was a passion tempered with discipline and foresight. Unfortunately, due to a heavy editorial hand, none of these observations made it to the printed page. I was so ashamed of the final product that I never sent Adam a copy.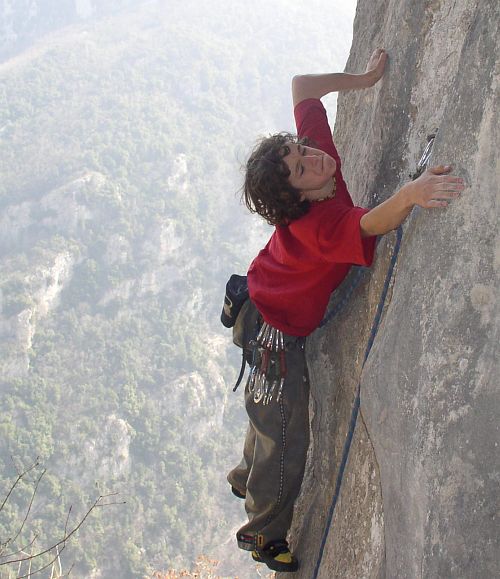 Adam in 2005 in Monaco
foto by © Bokula
Since that interview Adam has risen to the top of the sport yet he remains an enigma to many, especially Americans. What we know is a steady stream of staggeringly high grades with little accompanying narrative from media such as 8a.nu. None of the media accounts have captured the experience I had meeting and talking with him in person- until now. Petr Pavlicek has finally presented Adam to the climbing world in the way I wish I had in my earlier interview.
This movie is not another Big Up productions blockbuster, it does not following the cookie-cutter format many (especially American) viewers know and love. Instead, Pavlicek presents a more intimate portrait of arguably the best rock climber today. Adam represents a paradigm shift in the sport, and it is fitting that a movie based on him should likewise stray from the norm. None-the-less, The Wizard's Apprentice still presents eye catching documentation of ground breaking first accents and hard repeats from familiar and exotic locals throughout Europe.
But you don't have to take my word for it. The video has inspired a plethora of responses and reviews.
Here are a few:

Sources:
UKClimbing
Rock and Ice
B3 Bouldering