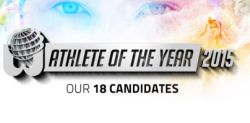 Czech speed climber Libor Hroza is among 18 athletes shortlisted for the IWGA Athlete of the Year 2015. He is the only Czech and the only climber on the shortlist of International World Games Association.
Libor Hroza, the 28-year-old speed climber is not only the current European Champion, following his success in Chamonix 2015, but also won the World Cup at this competition in France. Libor Hroza set a new world record in 2014 mastering the 15-metre high wall in 5.73 seconds.
People can vote for the athlet on the IWGA site
www.theworldgames.org
till the end of January.
Nomination video:
The last season another Czech climber Adam Ondra won overall competition the IWGA Athlete of the Year 2014.