In 2005 we received a professionally written invitation to this spot from founders of the
JoSiTo camp
.
That was the strong motivation to visit this area, which meanwhile became more known between climbing community. This awesome climbing promiseland than became a place where we rub dawn our fingertips under sunshine and starving in tough downpours for 14 days.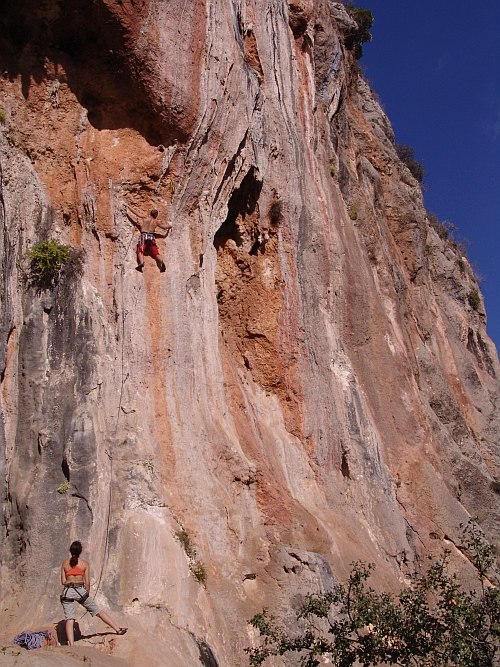 Tomáš in Working class, 7- in sector Sarkit
photo by © JirkaS
History of the area:
Behind the discovery of the are was a photography sent by Yilmaz - a climber from Antalya- to Ozturk. He was asking if this area would have sense to develop and both of them came to discover a new area along the Taurus Mountain later called along the nearest village Geyikbayiri.
In December 2000 Ozturk paced his gear and set out to Geyikbayiri.
He said: " upon arrival to Geyikbayiri the view was breathtaking: Rock bands that continued for kilometers, pockets roofs, caves and tufas- which were at that point very unusual for us an area so big we didn't know where to start."
Beginnig was very tough, local farmers didnt understand what we were doing here. Said Ozturk. Firstly they thought that we were miners or treasure searchers. There were also some car accidents concerning climbers. Drivers were staring on them instead of driving.
In 2002 there were no more tnat 30 routes but the developement started to speed up.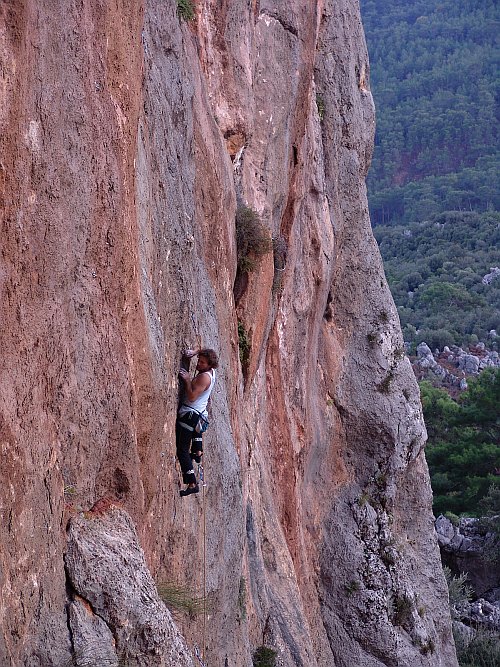 Unknown climber in tough route Mezarlariniza tukurucem, 8- in sector Anatolia
photo by © JirkaS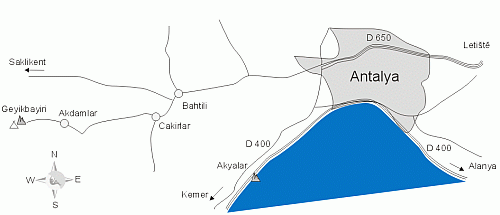 drawn by © JirkaS

How to get there:
People always land at international airport in Antalya (except arduous travel via car). From Europe you can find plenty of flights from the airports like Nuremberg, Leipzig, Dresden or Berlin. Of course is possible to reach Antalya also from another European city but you would be probably supposed to pay some extra money since these above mentioned flights are low cost charters. We chose Dresden. After very short flight (about 3 hours) we landed at Antalya International Airport where we picked our hired car. Antalya is quite ugly city full of block of flats buildings. Majority of these buildings are hotels but on the west part of the city they are mainly for local inhabitants. But you are heading to the mountains, right ? There is completely different situation. Just few villages are scattered on the slopes of G mountains. And one of these villages is Geyikbayiri.
Situ plánek oblasti (hi res)
foto by © JirkaS
Geyikbayikri
This area got its name ftom near village which is located on the slopes of G mountains.
Walls are situated in beautiful like horseshoe shaped valley. Its mainly the closest surrounding of the JoSiTo camp on top of it the best band of walls is above the access road to Geyikbayiri which has more the kilometer length. Walls are about 40 m high and almost all of them face to the south.
More than 400 routes could be found here in Geyikbayiri and many projects.
This amount is far from potential of the area.

Pano view of the upper main wall in Geyikbayikiri ( hi res)
foto by © JirkaS
Camp accommodation:
Majority of climbers, who visit Antalya's hot spot, sleep at JoSiTo camp. Camp is not expensive and is good especially if you want be in touch with climbing community and with rock. Has excellent setting and offer good possibilities for different kind of accommodation. Everything is developed to suit climbers.
For them who wants to keep their budget low, enjoy the spirit of the camp and sleep in the tent in the camp (3€ a night) is good to know that you can eventually cook on hired camping stove (1 € a day).
Camp the central house restaurant room
foto by © JirkaS
When I said that the camp is not expensive I have to admit that its not cheap as well. The combination of being there in a cottage (20 - 40 € a night depends if the cottage has the bathroom or not) and having breakfast and dinner (3 € and 7 €) will cost a climbing couple about 50 € a day. Maybe after 14 days you will realize that for these 7 hundreds Euros extra you could have 4 star all inclusive hotel on the beach at 20 minutes driving distance from the rock. If the weather is bad and such a situation could last two or more days is always better to be in hotel. You'll definitely loose the spirit of climbing community and can not avoid hiring a car. I mean both options are reasonable in case you would like to keep your budget low.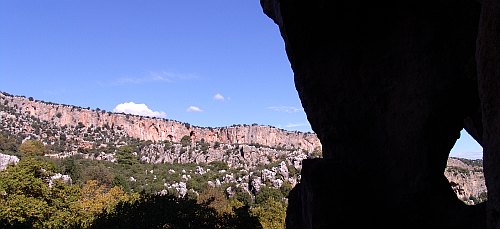 Main walls of Geyikbayiri from north Trebenna sector
foto by © JirkaS

Climat:
Temperature oscillated round 20 and evening temperature dropped under 10 in the night by the end of October.
Was still fairly warm even for tent camping.
During the days temperature peaks we even had to hide in shadow of Trebenna sectors.
In the morning and in the evening raise usually a strong breeze.

Guide books navigation:
There is an excelellent guidebook released recently a measter piece describing all clifs in very detail. With help of good photos of all sectors the autors of this guidebook did a great job. Since the "new" guidebook has been published last year, more then 100! new pitches were opened. Vast majority of routes is equipped with glued bolts and the final number of routes ends at 420. All information is available free of charge at the JoSiTo guesthouse.camp.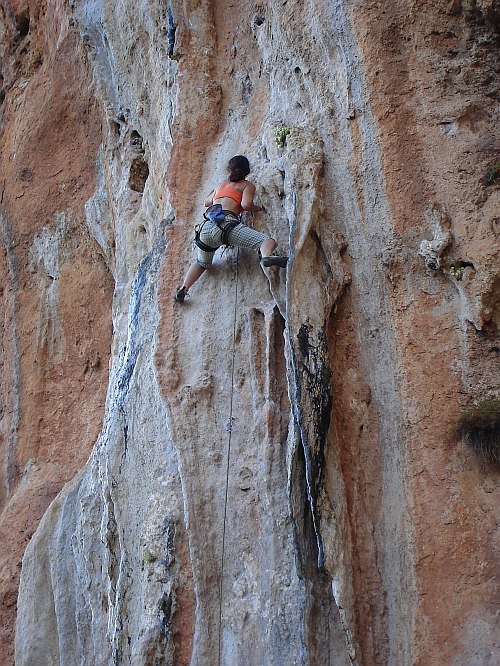 Jana Tůmová in the route Bizon, 6+
nákres by © Tomáš Bednář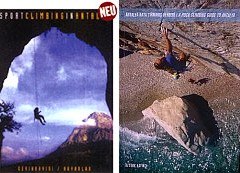 Left older guide book and on the right just prited brand new – 18 € in the camp
nákres by © JirkaS
Its recommended to have a good map, which will get you much easily from the airport to the rocks. Streets and directions are signed not very well and heavy traffic scares even good drives. Outside of Antalya the traffic is not so dense and cars drive much slower on highways so traveling longer distances is fairly easy.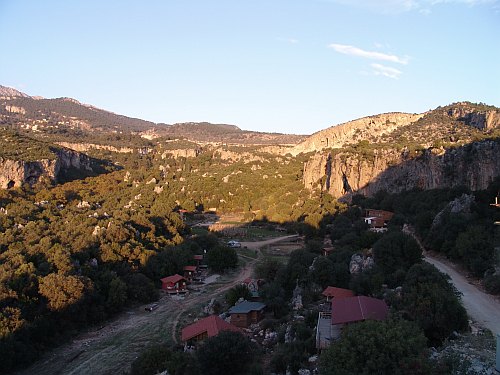 Camp in the morning
foto by © JirkaS
GPS coordinates:
Rocks:
Eat and drink:
There is an excellent source of drinking water in the camp. So if you are you are lucky for other people
There are three waters taps inside the camp. You can cook you own meal here as a robust gas stove could be hired in the camp. (1€ a day). In the camp
Geyíkbayiri:

Statistics of the area:
26 sectors, 420+ routes
Area description first walls near to camp and than north faced sectors and finally main walls.
New routes/new sectors
At Josito web page claims that since the "new" guidebook has been published last year, more then 100 new pitches were opened. The routes are eqioppedwith glued bolts. And the whole area contains about 420 routes. All information is available free of charge at the JoSiTo guesthouse.camp.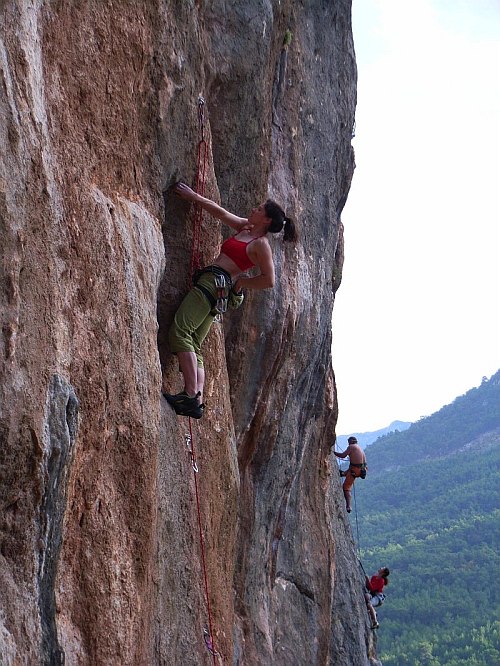 Jana Lukášová in the route Try to enjoy, 9- sector Anatolia, another couple behind in route Sado Mazo, 7+/8-
foto by © Jana Žižková

Another areas:
Akyarlar
1 sector, 17 routes Is a small place next to the sea about 20 minutes far from Geyikbayiri. It contains about 17 mainly vertical routes. Nice beach round.
Olympos
8 sectors, 110+ routes New potential with respect to creating new routes.
Tips:
Don't forget to bring enough tape and chalk.

Prices:
You can pay with Euro but be careful about exchange rate.
5.11.06
1 € = 1,9 YTL
Petrol (1l)- 2,7 YTL
Bier - (0,5l) = 1,7 YTL
Cola, Pepsi (2l) - 2 YTL
Apple juice (1l) - 1,55 YTL
Sheep cheese (350g) - 3,45 YTL
Chocolate cream (300g) = 2,75 YTL
Apples (1 kg) = 1,19 YTL
Bananas (1 kg) = 2,89 YTL
White bread = 0,35 YTL
Marble cake = 1,39 YTL
Chips (300g) = 2,75 YTL
Halva
Biscuits 1,8

Sources:
Comprehensive info concerning rocks, prices, camping etc.
Josito camp