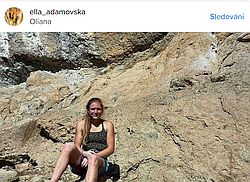 Czech girl Eliska Adamovska sent her 1st 8c and it has been probably the best Czech female ascent for the last 3 years. She climbed Fish Eye 8c in Oliana, Spain, as she informed on Instagram.
Couple days before she climbed her first 8b+ (
Gorilas En La Niebla
) in Oliana.
Eliška Adamovská (born in 2001) improved herself in the ranking on our web site Lezec.cz/CzechClimbing.com and now she is on the 2nd place. just behind the 1st Edita Vopatova.
The only Czech female on with the same difficulty level
of 8c in our rankings is Edita Vopatová with the route Cringer 11- (UIAA) in German Frankejura, she climbed in 2014. Eliska did the same level now.
Look at the ranking, diary log of Eliska and the route Fish Eye in our DB:
Ranking -female
Adamovska Elis (Elis)
Fish Eye