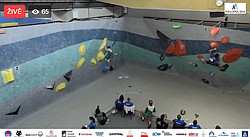 The European Bouldering Cup is being held today and tomorrow in Krakow, Poland, with Czech participation, and is broadcast live on Facebook. According to the registration, Šimon Potůček, Štěpán Potůček, Eliška Bulenová, Markéta Janošová and Adéla Bajerová are to introduce themselves at the start.
Watch the live broadcast of the qualification here:
And here is a link to the Facebook event:
www.facebook.com/mocgorfestiwal
The Sunday broadcast should be here:
Program:
Saturday 7.8.2021
09:00 - men's qualifiers,
16:00 - women's qualification,
Sunday 8.8.2021
11:00 - women's and men's semifinals
18:00 - women's and men's finals
20:00 - closing ceremony
Viz:
Infosheet
The results can be monitored here:
men
women
List of registered competitors:
ifsc-climbing.org: Registrace
...