If you find yourself in Prague and in need of a climbing fix, the below information may be of help to you. Whether you are visiting for vacation or have just moved here, you have stumbled upon a city that hosts a variety of artifical climbing walls for your entertainment. The list of walls below is not complete, however those mentioned are considered the best in the city.

Route Climbing
If you are a serious climber, there are several world class facilities around Prague where you can get pumped out of your mind.
Ruzyne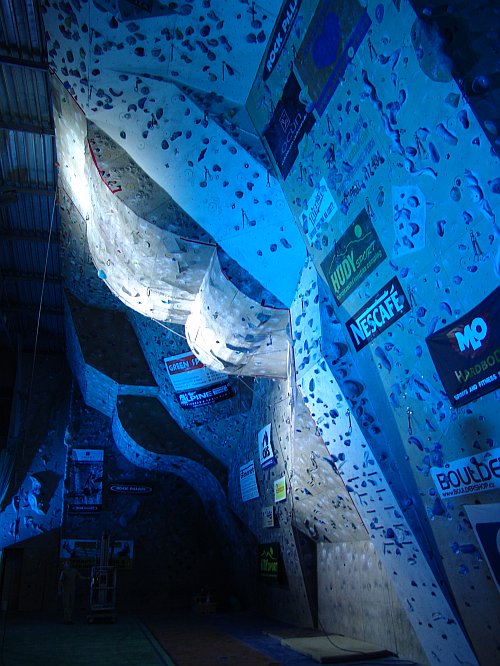 Ruzyne during the finals of a Competition from years past
foto by© JirkaS
Ruzyne is the longest running indoor wall in Prague. It has hosted many Czech Championships and even several World Cup events, so the terrain is top notch. It measures 11 meters high and has every aspect from vertical to complete roof. While it is a little bit outside Prague (towards the airport), it is well worth the trip.

Address: Lezecka stena Ruzyne, Drnovska 19, Praha 6
Phone: (42) 235 31 90 96
Where: By bus from the metro station Hradcanska on line A
Opening hours: Mo, Tu, We, Fr, 15:00 – 22:00, Sun 13:00 – 20:00, July, August closed, June some more restriction.
Web: www.stena-ruzyne.com

Smichoff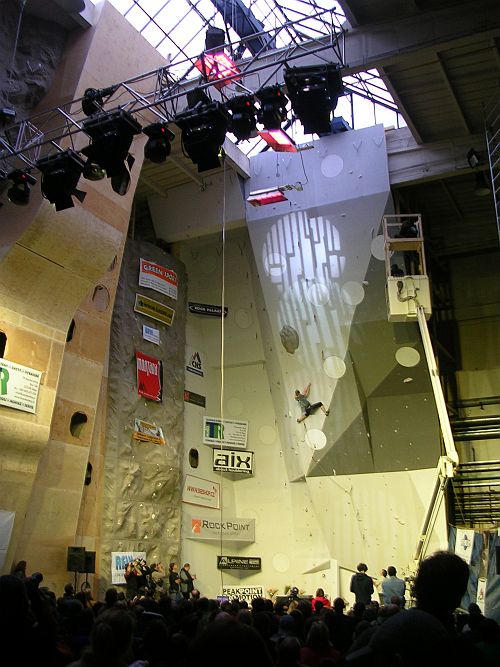 2006 Czech Championship at Smichoff
photo from archives of Czechclimbing.com by © Standa
The newest and largest gym in Prague, Smichoff hosted the 2006 Czech championship. Situated just a short walk from the Metro Station Smichovske Nadrazi on the Yellow line, it has easy access and the tallest walls in Prague.
More info and Directions here: Smichoff

Gutovka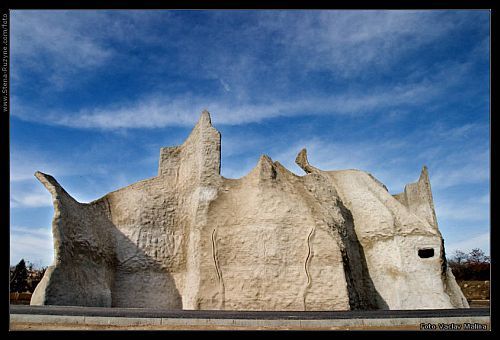 The largest outdoor climbing wall in Prague, it is situated not far from the Metro stop Strasnicka on the Green line. Open from Spring until Fall, this may be your best bet if you are here for a summer vacation.
---
Bouldering
There are many bouldering gyms around Prague, most of which combine a wall with a pub out front, or a sauna facility as well. There are two gyms that really stand out from the crowd in terms of facilites and activity within the comunity.
Boulder Bar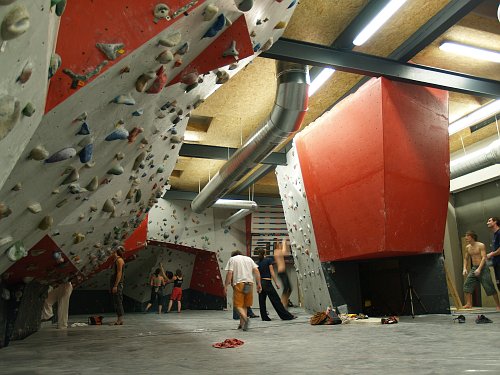 The Boulder Bar has recently moved location to an even bigger facility than it's orriginal. Located just across the street from Stromovka park in Holesovice, Boulder Bar has a long tradition of hosting local and nationwide comps. Boulder Bar also hosts a bar (oddly enough) and the most complete climbing shop in Prague.
Lokal Blok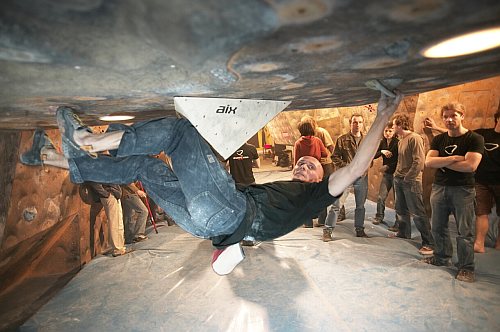 Lokal Blok is located just a short walk from the Metro station Andel on the Yellow line. A rather large bouldering facility it hosts a variety of angles and wall types. Above is a popular and stylish bar where you can drink away the soreness from your training. Like Boulder Bar, Lokal Blok is also active in arranging local competitions. Lokal Blok

Ultra Ant Club - Tynska
Prague climbing wall in city center, height 7 meters and bouldering
Address: Ultra Ant Club, Tynska 17, Praha 1
Phone: 2 24826039
Where: A couple minutes from metro station Mustek, line A and B, or station nam Republiky, line B.
Opening hours: weekdays 8:00 – 22:00, weekend 10:00 – 22:00.
Web: www.ultraant.com

Adrenaline Pit - Václavák
A new climbing wall and boulder gym has been opened in Prague center on Václavské náměstí.
Address: Adrenaline Pit, Václavské nám. 835/15, Praha 1.
Phone: +420 224232752, +420 224217789
Where: A minute from metro station Mustek, line A and B
Opening hours: weekdays 7:00 – 23:00, weekend 8:00 – 23:00.
Web: www.adrenalinepit.cz
More info in article at CzechClimbing.com New indoor climbing wall in Prague center