He died during his visit to the Saxon sandstone (Germany) while he was taking photographs at the base of the Kleinen Gans tower. He slipped and died from injuries sustained from the fall into one of the Northern chimneys. This sad news was reported by his home club LKP in Jicin and his son Pavel.

Vláďa Slouka - Houmy
Vľáďa Slouka a.k.a. Houmy was a positively minded friend who was able to pass his passion for sandstone climbing to others. He spread optimism and good mood to all people around him. He was an excelent expert in Bohemian and Saxon sandstone areas, a friend on the rope and on the ground. He was one of the most active organizers of the youth climbing not just in the Czech Republic but also abroad. He was the main organizer of the youth climbing competition series Lanex Cup. He had the soul of a writer, he published plenty of articles here in the Czech version of Lezec.cz and also in print in Czech climbing magazines.
---------------------------------------------
The last words from one of his friends:
I don't know what to say, when a friend has gone. But I must say something. I've learned in my childhood, that "times they're-a-changing", the best friendships and greatest loves can be all over one day, but the memories will remain forever. An old friend leaving to Australia teached me that the REAL things won't pass by, they will stay inside of us. Never mind the long distance between us, never mind the unregular meeting with each other.
And Houmy was a FRIEND of mine. Another long-haired homeless from the older times, without existence, but full of ideas, experiences and love for climbing and "his" sandstone towers.
Now I'm angry with me, I hate myself. Because I'm planning a training camp together in Hruboskalsko, I'm about to invite him to our competition, I'm preparing to the Lanex Cup final in Jičin, but was a lazy, fuckin' bastard and haven't sent a mail for months: how are you, FRIEND?
And now? What else can I say: Why?
Have a good sleep, Houmy! We'll meet in Hell before long. And don't forget to put my beer into the fridge, please!
gabor taborosi
Hungary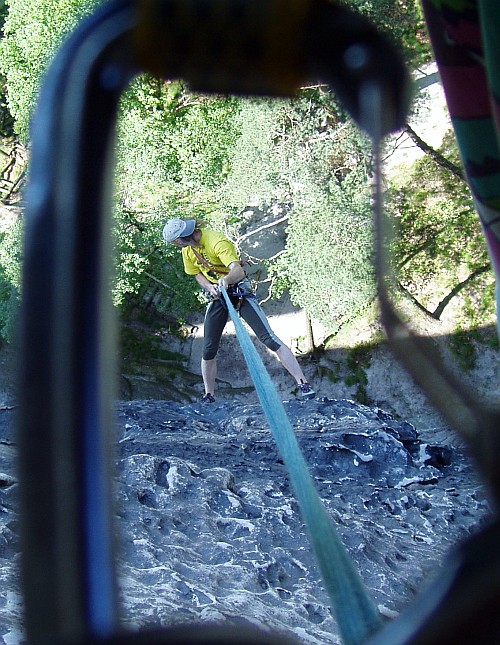 One of the last Houmy´s abseils from Höllenhund in Rathen, Germany