What you might have heard from rumors is for the most part true, but these rumors don't breathe life into your imagination, only fear. I would like to encourage you to let go of this fear and take on the adventure of Czech sandstone. You will be rewarded with beautiful, unique climbing; summits and summit views not often visited; a good dose of adrenaline; the self-confidence that comes from confronting fear and conquering it; and of course memories for a lifetime.

Panorama view - Panteon
foto by© Standa and Andy
Please take this recommendation with a grain of salt. You should be mentally and physically prepared before heading up some 70m tower in Adr. But the truth is that Adr and Teplice are the boldest areas in the Czech, and for that matter Europe, if not the World. There are, however, several areas in the outlying countryside in the north of the Republic, where one can gain the experience necessary for climbing the famous routes of Adr, without the risks involved.
Two such areas are Panteon and Suche Skaly. Located just an hour north of Prague in an area known as the Czech Paradise (česky raj), Panteon is perhaps the best introduction to sandstone climbing. It is mostly steep walls, like you would find in any sport climbing area, and the protection is the best out of all the sandstone areas. While this may mean just one ring in 15 meters of climbing, it will be a well placed ring, and you will not die from a fall from the crux. Slings and knot placements abound in the unprotected easier terrain as well. Also the stone is quite firm; you can even climb there after a light rain.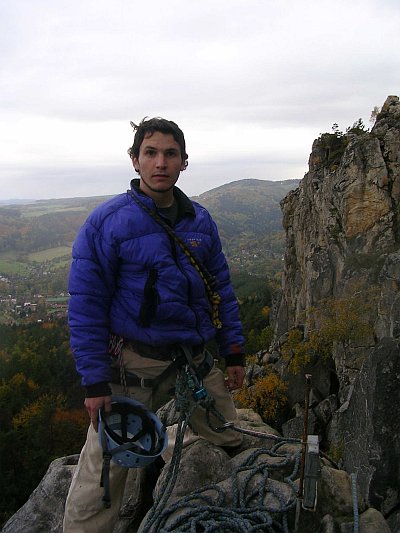 Thimble small summits and colorful views: Fall is the season for sandstone.
foto by© Standa and Andy
Across a scenic valley lies the Dolomite-like ridge of Suche Skaly. Suche's toothy outcrops have an air of adventure about them that is less present in the crag-like Pantiak. Immediately upon seeing them, my heart was compelled to traverse the series of spires along its skyline, which reminds one of the remnants of an ancient jawbone. Unfortunately, weather and time prohibited this, but I did manage to summit one free standing spire just off the main formation. The climbing was only about 6+ UIAA, but the gods must have known I was looking for adventure; it started to rain just before I reached the first ring. Climbing above a talus slope and steep precipe, I contemplated my options. In the end my drive to summit my first sandstone tower outlasted the momentary shower. Soon I was atop the perfect perch from which to take in the dazzling colors of autumn in the Czech countryside.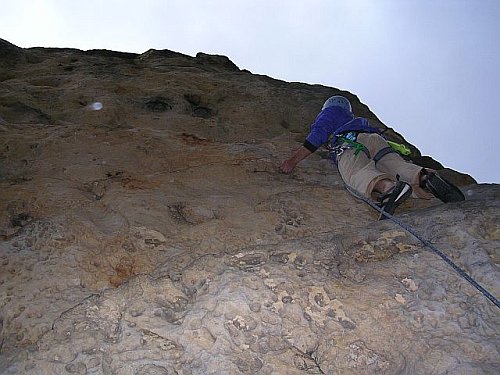 Adventure at every turn, climbing through the rain in Suche
foto by© Standa
I don't want to say that these areas are as safe as regular sport areas, but I feel they are safe enough to get a taste for this style of climbing with out serious risk to your life. If you are no stranger to trad climbing elsewhere, you will find it's similar. But this is an entirely new realm of adventure. Think of the combination of heady routes with scenery from a Tolkien novel, and you have Czech Sandstone. I invite you…
The Lowdown on Sandstone Ethics: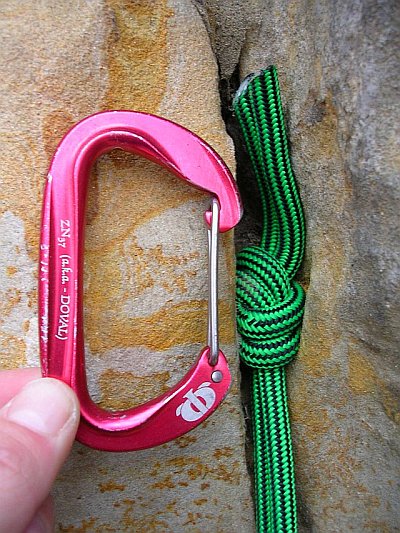 A well seated 7mm overhand
foto by Andy
The art of soft protection is one of the most beautiful skills present in our fine sport. Its use is not merely the continuation of antiquated tradition; it is used because metal implements would have a detrimental effect on the rock. I don't know if this theory has ever been tested, but when in Rome... If you are familiar with placing nuts and hexes, placing knots is just a step down (or up depending on your perspective) in the evolutionary scale of the sport. Experience with plug-and-go cams is worthless here. But just because knots have been surpassed by modern technology doesn't mean they don't have their attributes.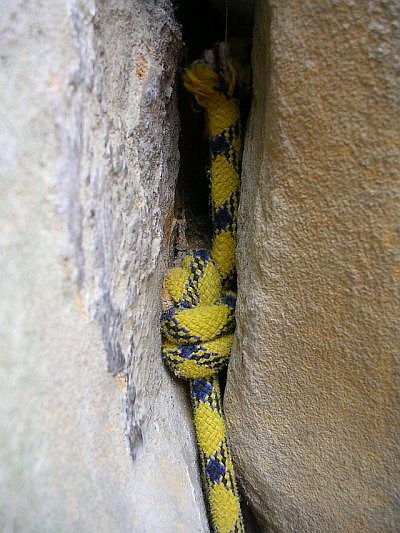 Old climbing rope makes for great knots
foto by© Standa and Andy
Think of the evolution of weapons development: even though the nuclear option now exists, in certain instances the subtlety of hemlock or a stiletto may still be the best tool for "regime change." Likewise, a 5mm Teflon knot will fit and hold in places where a metal chock would be very loose and possibly walk out with rope movement.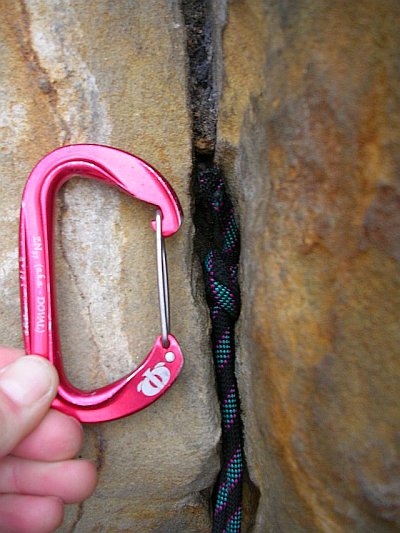 5mm Kevlar: the Czech micro nut
foto by© Andy
Placements range from bomber tapers to not worth a hoot. Use your mind and develop you judgment. You will begin to see a plethora of options within the stone, of which running it out is sometimes the best option. Also, consider body-weight knots as they are: while they might not hold a fall, they might decrease the impact force on the next knot. A series of poor knots might actually do the trick, but perhaps not. In short, the art of soft protection will make you a wiser climber.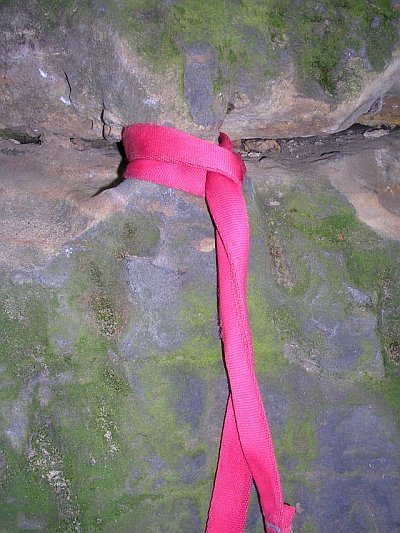 This sling works, but even better is to thread through and clip both ends of the sling, as to not 'choke' the center(and weakest)part of the hour glass.
foto by© Standa and Andy
The arsenal of knots range from an overhand on 5mm Kevlar to the famous ball-like Kinderkopf tied from old climbing rope. The most common knots are the overhand and figure eight. An assortment of round cordage and flat slings is useful, with the "hairy" sling being one of the most useful pieces. This sling is hard to find in shops; it is made of a material that is not as slick as regular webbing. It provides excellent friction where a sling placement over a horn or feature may be questionable.
It is also useful to cary a small wooden dowel to tamp knots into deeper placements, though I have just used carabiners in a pinch. It is imperetive to get the knots firmly seated for maximum holding power.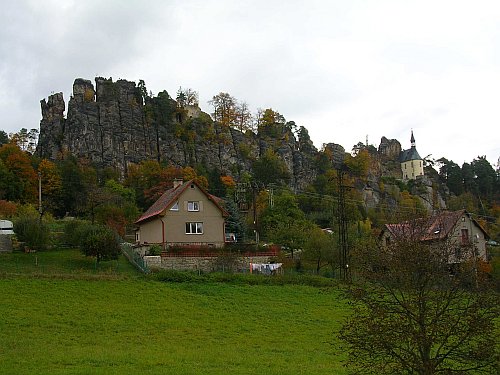 Panteon
foto by© Standa and Andy
A word about the use of chalk: while it is accepted at Panteon it is not at other areas, save for harder routes. This double standard confounds the justification for not using it in the first place, in my opinion. It is rather elitist. I do not wish to go into this issue in detail. I have faith that the reader will respect the local ethic and learn from it. There is the same argument in other traditional areas. But while eschewing chalk on the slippery smooth jams of Yosemite seems ridiculous, sandstone is a porous rock with lots of friction- and the fine sand that may come off holds serves as a natural drying agent. Besides, climbers often use more chalk than they need; it's a mental thing. Don't believe me? See how many times you reach for your chalk while eyeing up the crux of your first couple of sandstone routes. It is a new experience, and I think it will change your perspective on chalk use. By in large you will find that for most climbs it is superfluous. Decreased dependency on the white stuff is always good, just ask Richard Prior.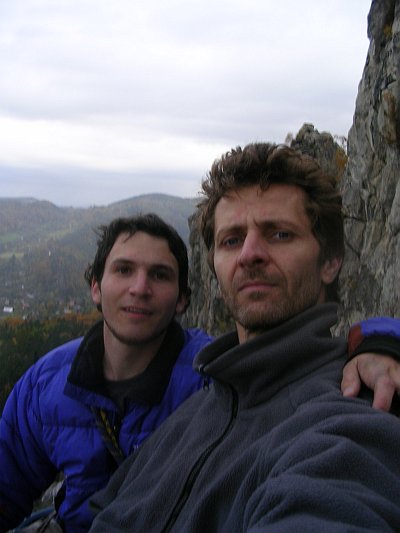 The bonds created while climbing can last a lifetime
foto by© Standa and Andy
A word of thanks to my good friend Standa who was my companion and guide to these, and many other areas in the Czech.