42 answers were delivered from Tomas to the audience of the Lezec web site.
People were mostly interested in Tomas training and some of them were curious about his opinion concerning sport-climbing future.
There were also asked some peculiar questions.
If Adam Ondra will become the one who will do worlds first 9c? Or when first 10a will appear and where boundaries in rock climbing for human being lie?
This anwer came from the English version reader Svet from Kiev, Ukraine, - there is following pasted conversation from opening article:
"?
Is Adam Ondra to become the one who will do worlds first 9c? Or is there smbdy else, whos, you believe, capable of that;
as today the grades are not only climbed, but also "inflated", when you think smbdy will announce first 10a?
Which grade is to become the one, which will stop everyone, which must be beyond human ability, and how rockclimbing will develop after that?
Are you going to pay a visit to Crimea, Ukraine, you,probably, was asked this question in St. Leger this fall when meeting Krivosheitsev, Zilinskiy, and other climbers from Ukraine. So,...?
for you climbing is a sport which you love, or the sense of life? Why people love climbing, i.e. creating problems for themselves, whats the psychological background 4 that?
thanx, good luck, warmest regards from Kiev
Svet
re:Re: ?
Tomas Mrazek´s answer in on line interview:
1./ I hope that Adam will be able to do it, who else.
2./ In my view, 9a+ is the highest grade feasible at the moment
3./ I hope to visit Crimea sometime next year. I heard a lot of positive things about it in St. Legere.
4./ Krivo is Michael Jacson (he will understand!)."
We are very grateful that Tomas was patient and spent his time with us.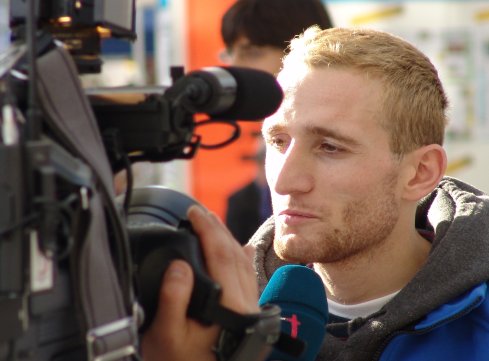 Tomas as a hostage of news
foto by© JirkaS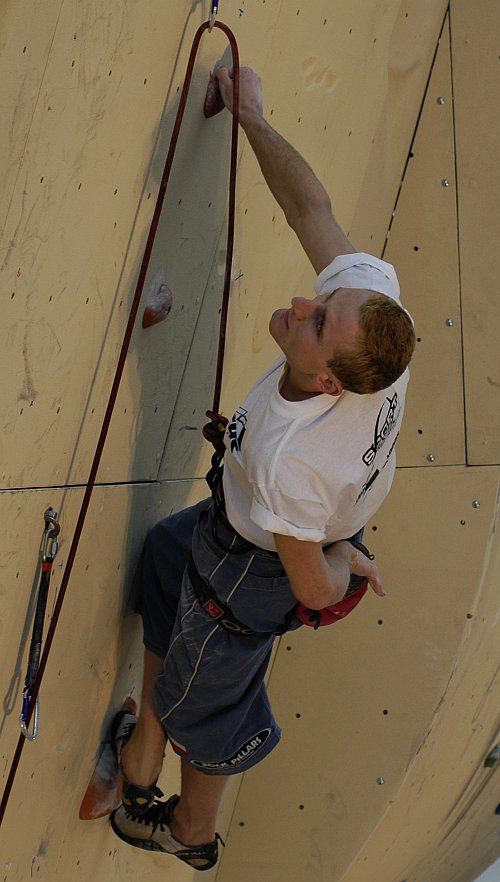 Semifinale WC Brno 2004
foto by© Žofin
Look at the on-line interview from the beginning of this year (2005)
Tomáš Mrázek – on-line interview

From Tom´s website: www.tomasmrazek.cz
Update:
Several days ago we here at Lezec.cz (our main site in Czech) had an online, interactive interview with Tomáš Mrázek- WC champion. Below are some of the highlights from the interview.
* *
*Tomas, thanks a lot for the interview. We are glad it was very fruitful and
dynamic. And we would like to thank you and Helena for cooperating with
Lezec.cz, which you supply with information mostly from world competitons, so it is reliable international source in the field. Thanks, and we look forward to further cooperation, good luck.
Lezec.cz*
I likewise thank Lezec, becsause it helps a lot to promote climbing. Only a few people realize how much work it is. In the end I wish good luck and climbing success in 2006 to all climbers.
*Are you getting ready to travel this winter to warmer areas to climb?*
I am not planning it, for the past two years I have been doing a lot of traveling, and so I am looking forward to being home again.
*Are you not allured to try mixed and ice climbing? You would excel at it, and it is not so bad at all :) *
I might go to competitions, but hacking holds in the rock doesn't allure me, actually it is rather repulsive to me. It strikes me as nonsense.
*How strict are you with diet and regime, are you very disciplined or do you sometimes indulge? Do you think it's a forgone conclusion that you will get sick anyway? *
I adhere to it and I don't. I eat healthy and drink unhealthy. I eat small portions and get lots of sleep. I do not suffer sickness.
*You are always traveling all around the world, for communication you need English, I am interested whether or not you study (intensive, courses, etc) or just absorb English from world travel? *
I learn English mostly from travel, and my knowledge is stil very poor, but at the moment, for life and basic communication with climbers it is enough.
* *
*Do you have a climbing partner at your own level?*
Partners need not climb as hard as me, I like it when there is peace and calm and good belaying.
*How much do you train different strengths during a training period? Volume, endurance, strength, etc? Do you train every kind strictly or blended together in one training session? Four months is a long time.*
In the peak period I train everything. In the transition period I divide them. I train primarily endurance (volume), then power, and technique.
*8a.nu recently nominated ten senior and ten junior climbers of the year, 2005 (in which you are also counted). Which one of these brilliant bastards would you vote for and why?*
I won't vote for the climber of the year, I would vote only for the 10 best. The ranking on rock is clear from the scorecards and from the ranking. And I would rather not calculate the competition in to it.
* *
*Since 1991, when Wolfgang Güllich first climbed the legendary Action Directe it has been already a long 19 years. So far the route has only seen seven subsequent repeats (three in this past season). Do you have a plan to join the elite club who has climbed the first eleven (5.14d) in the world? *
I would like to try it, but *Action* is not really my preferred style of route.
*Most people can't climb as well as you. You don't have any desire to do new routes? They could become beautiful and beautifully difficult lines. *
Overwhelming routes like 8c+ and 9a were put up most by other people. Those who equip routes, they do it because they like establishing new routes, lines. And those who climb the routes, they must do more training.
*Looking into the future, will you try any hard climbing in the mountains (for instance something like The Emperor's New Clothing from Glowacz or The End of Silence by Hueber)? *
This incoming year I will travel to the Innsbruck area more often, so I will give it a try.
* *
*Will you try any big walls? *
Yes, I would like to try everything, I think about something very hard and overhanging. But first I must find a partner who climbs 8b+ onsight. And it will be hard.
*I am interested in what you think about sandstone; I'm not thinking so much about Labák ( the Elbe valley), but classic sandstone like Hrubá Skála, Drábky or Prachov*.
Climbing on Sandstone lends itself to beauty, but it is to me a little bit like Russian Roulette.
*Which area in the world (where you have already been) has the toughest classification? According to Adam [Ondra] it is Moravsky Kras [Moravian limestone], do you agree? *
Moravsky Kras is a very specific area, but not the toughest. For me the hard areas are Bouox, Siruana, and Adršpach, but more like individual routes rather than areas.