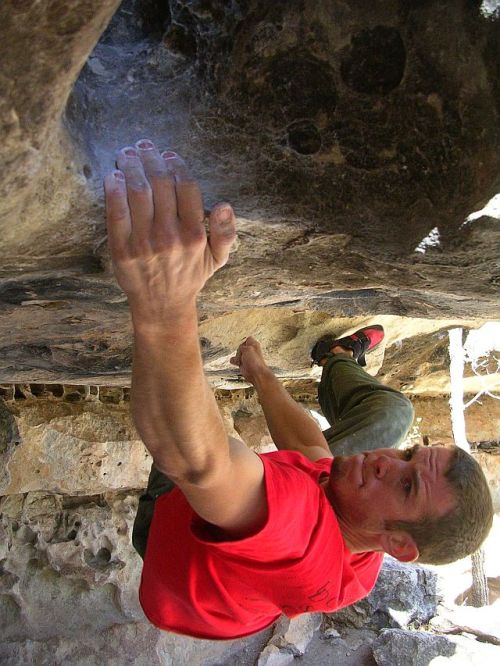 It's not over. The crux of Twister, 7B, is matching a toe cam right next to this sloper.
foto by© Andrew Burgoon
Looking for a change of pace and with temperatures heating up in our local bouldering areas, my friends Jeff, Eric and I decided to venture the nine hour drive to
Flagstaff
to sample the fine bouldering there. Situated just fifteen minutes out of town and at about 7,000 ft. elevation, the Draw makes for a great Spring destination. Being that the climbing is so overhanging and the topouts ridiculously easy, the area can even be climbed in the dead of Summer heat: but be warned, the National Forests that it is in regularly closes in the dry months due to fire hazard. It is best to call ahead to the local forest service before making the trip.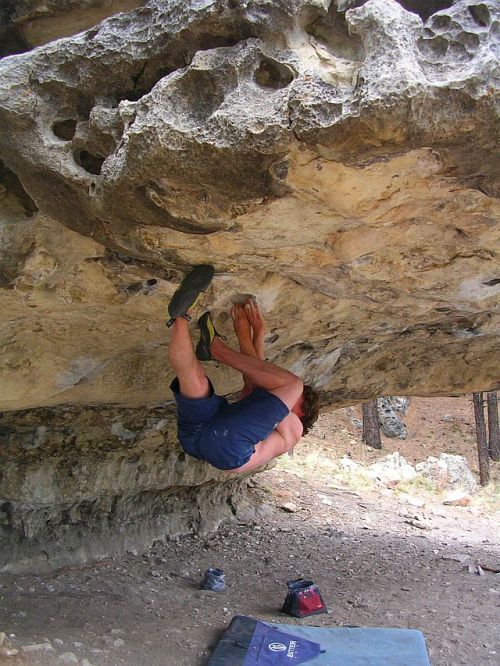 Jeff Sillcox negotiates a tricky match on the beautiful Carnavore, 7B+/7C
foto by© Andrew Burgoon
We arrived on a Friday to spend a long weekend exploring the Draw's potential. We were not disappointed. The quality of the rock was without fault; the style quite different than the granite and volcanic rock we had spent the winter climbing.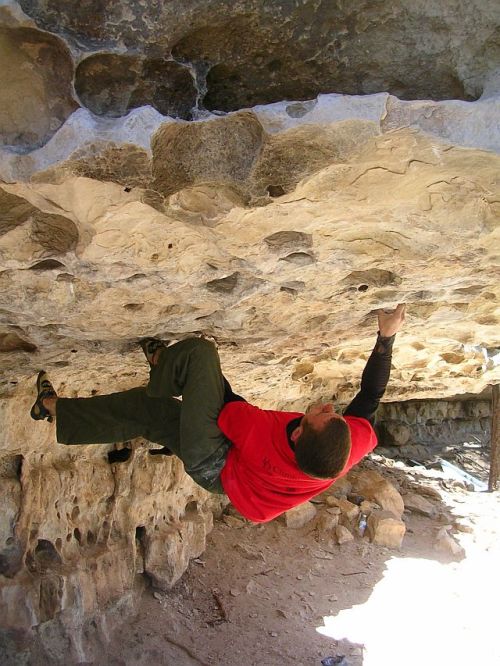 Eric and Uncle Rico have been out making some sweet moula. Here he is flashing yet another superb roof.
foto by© Andrew Burgoon
At our first look at the steep roofs, we were intimidated. I am no gym climber, and this was about as close as it gets in the outdoors (baring Hueco- from which indoor walls were designed). Upon further inspection, we found that the rock yielded tricky toe hooks, heel hooks, toe jams, heel-toe cams, and every variety of tricks you can think of. Often the trickiest looking lines climbed several grades less than they looked due to these tricks, while the strait forward lines often required massive amounts of body tension for incredible swing moves between sparse pockets.
Bouldering Freak Jeff Sillcox sets up and swings on the absurdly gymnasitic Floor Pie Direct, 7C/+.
foto by© Andrew Burgoon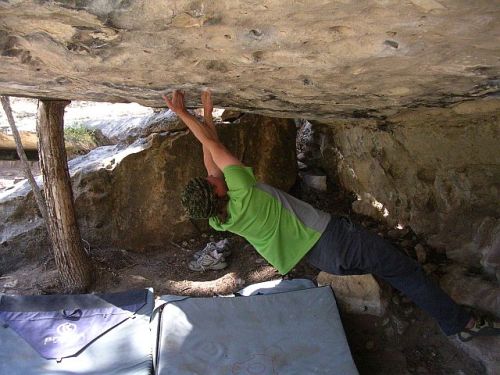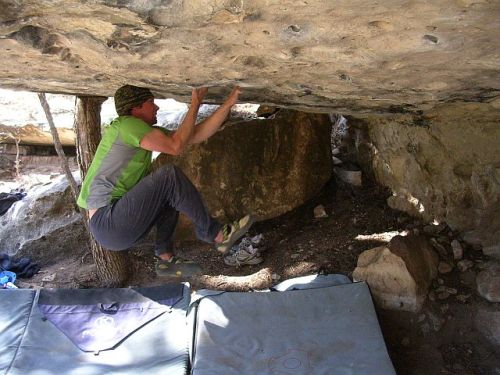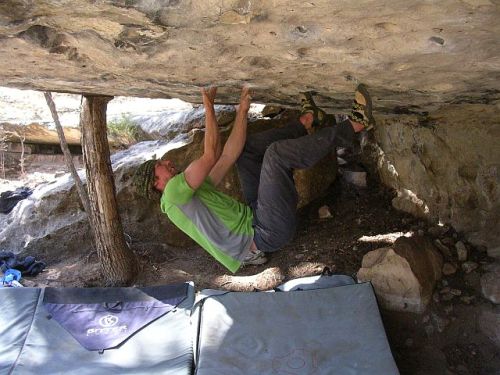 There is no big scene here, indeed on a weekend we only encountered a handful of locals. But those you will meet tend to be friendly, and will surely point you in the direction of good rock if you are somehow at a loss to find what you are looking for. Beware of local beta however, locals seem to be freakishly powerful (you would be too if this were your local), and some subtleties of movement, such as the tricks listed above, may be lost to them. Best to find your own way up the rock.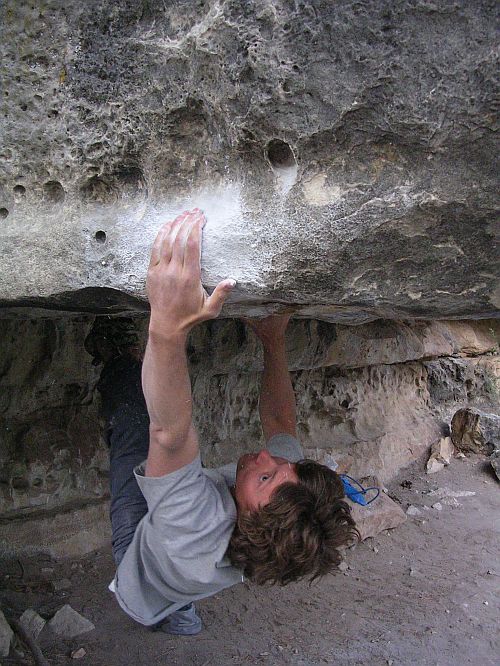 Your mom goes to college. Jeff "Illcox" sends a school girl who is looking to raise some tuition money packing.
foto by© Andrew Burgoon
Be warned there is no complete guide to the area, although a sufficient one is available at
Dr. Topo.com
. There is also not a ton of rock in the area, perhaps 15 different block/roof areas, containing a maximum of 75 independent lines. Many roofs provide for link-ups and variations as well. While I am listing detractors, it would be a shame to visit this area if you climbed less than, say 7B; most of the classics are from 7A to 7C+. But don't let this discourage you from visiting; if you are an avid boulder at these grades with a nose for finding good lines, you will leave with a long list of quality sends, and a few projects worth returning for too.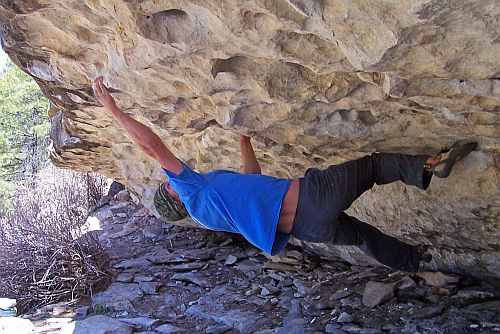 Steep and tricky, Jeff throws down on Movin' Groovin' Barbie, 7B.
foto by© Eric Lang

Source :
From the Dr. topo web page
Guide book of Flagstaff