Report from Dimarockmaster: men 1. Patxi Usobiaga (ESP), 2. Tomáš Mrázek (CZE), 3. Daniel Andrada (ESP), 4. Alexandre Chabot (FRA), 5. David Lama (AUT), 6. Cristian Core (ITA),
Women 1. Natalija Gros (SLO), 2. Maja Vidmar (SLO), 3. Olga Shalaghina (UKR), 4. Irati Anda (ESP), 5. Helena Lipenská (CZE), 6. Olga Bibik (RUS)
Source: sms by Helena Lipenska
Dimarockmaster is competition in masters category for elite invited climbers. It takes place in small town Dima, Basque Country, Spain, about 50 km from Bilbao. The competiton has two rounds: rock climbing in the cave Baltzola and than there are standard competition in bouldering on climbing towers on the downtown square.
Schedule:
Thursday 12. 10. 2006
• 11.30 –17.00 Dima Rockmaster's Rock trials in Baltzola cave.
Sturday 14. 10. 2006
• 20.00 – 23.00 Dima Rock 06's Boulder International Master. 12 invited (6 men and 6 women) matches in competition on the towers.
Source:
www.tomasmrazek.cz
Dima competition web:
Dimarockmaster
Report from the Dimarockmaster 2005 at CzechClimbing.com:
Tomas Mrazek was the 2nd on Dima Rockmaster
Report with pictures in Czech languages on Lezec.cz:
Dimarockmaster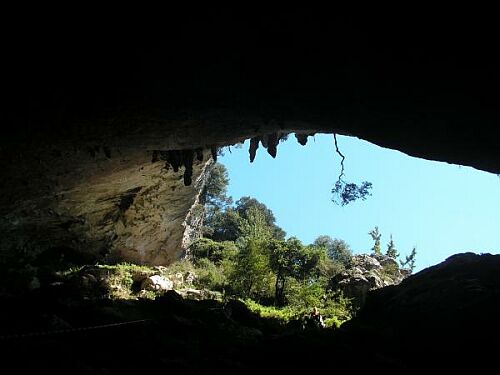 Baltzola Cave
foto by© Helena Lipenská