UPDATED by story and photos+video
Adam Ondra (13-years-old, CZ) climbed the route Martin Krpan 9a in Osp, Slovenia, this Saturday November 11. Brano from Slovak web climb.sk posted the info to CzechClimbing.com.
He writes on the web that the Czech "Wonderkind", as foreign media names him, climbed realy unbelievable.
He informs also Slovak climbers were succesful: Juraj Repčík climbed Rodeo 8c, Martin Krasňanský Oktoberfest 8a and Lenka Mičicová Giljotina 8a.
Source:
www.climb.sk
(in Slovak language)
Later the night Adam entered the climb to his profile at CzechClimbing.com:
dipsy
It is Adam´s the first 9a.

Download video (47 MB, 6 min) - Adam Ondra climbs route Martin Krpan 9a, Mišja peč, Osp, Slovenia
UPDATE
by Eva Ondrova, Adam´s mummy:
Adam began to try the route 14 days ago, after the climb of Strelovod, 8c (2 attempts). Plenty of people were in Mišja peč and hot weather, we could harldly find free while for Krpan climbing, because the route traverses across the entire cave...... Because we went to the trip with the aim this weekend and it was succesful. Alltogather on 11th attempt, but their number could be lower – fingers had frozen.
Adam explains, the first part of route from the right to the left across the routes Sonce v Očech, Pingvin to the route Marjetica is about 8b. "Then without rest is the crux with hard clipping of quickdraw and then some metres of the route Missing drink follows, this part could be 8c."
Martin Krpan 9a – is No 86
More at the topos of Mišja peč at CzechClimbing.com topos section GUIDES
The same day Adam did the route Café expresso 8a+ RP (Café for celibration) and the next day we left to the Vipavska Bela, about 60 km away from Osp (direction Nová Gorica). It can be atractive fro those who have "less work" in Osp and who like to discover... Adam onsighted the route Cerko 8b and one 8a/a+ there.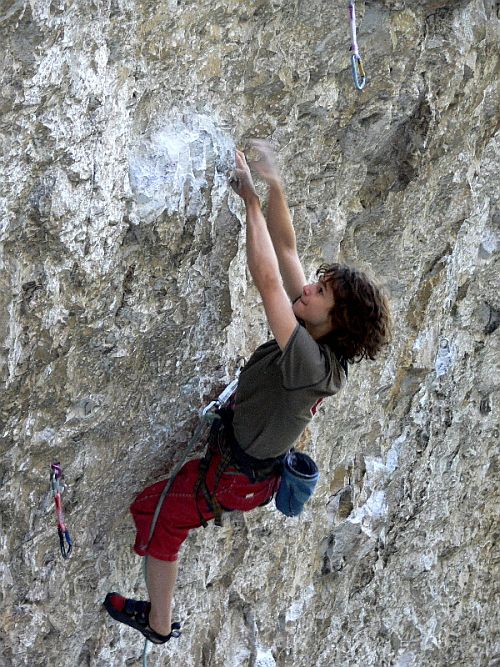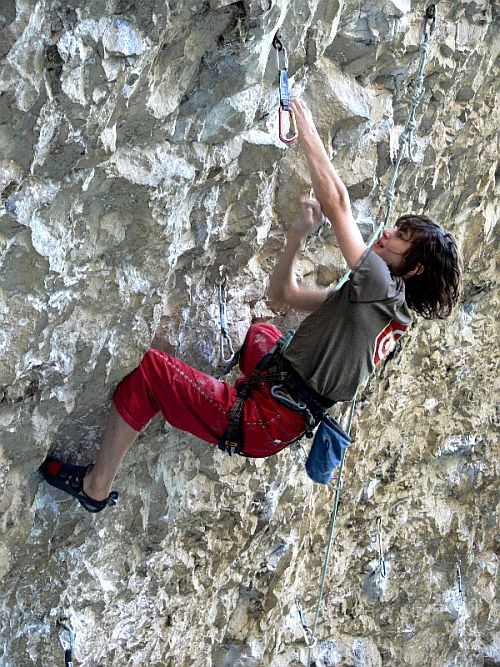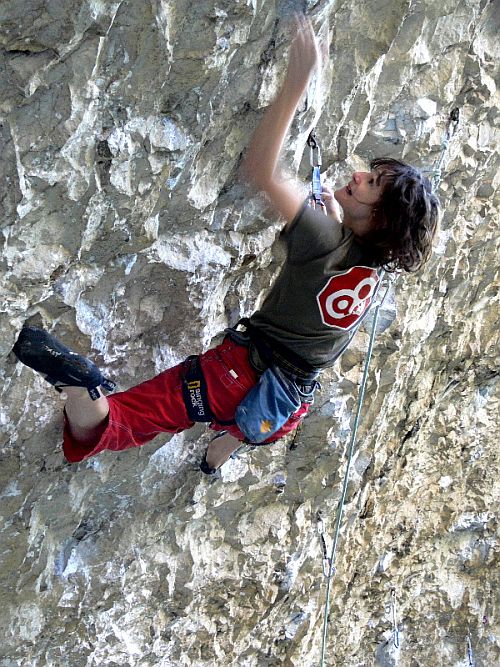 Martin Krpan 9a – Adam Ondra
photo by© Eva Ondrová
A small beta about Vipavska Bela area
The area is located close to Vipava village (15 km from highway exit Nova Gorica). You can reach the firsts rather easier sectors from the signed car parksite (about 1 km behind village Vrhpole) in 5 minuts, the other sector above the lake in 10 minuts against the streem of the brook. One more sector lies on the end of Vrhpole, the bench on the right side about 100 m - by foot.
No of routes:
6a – 6b+ 60 routes
6c – 7a+ 19
7b – 7c+ 17
8a – 8b+ 14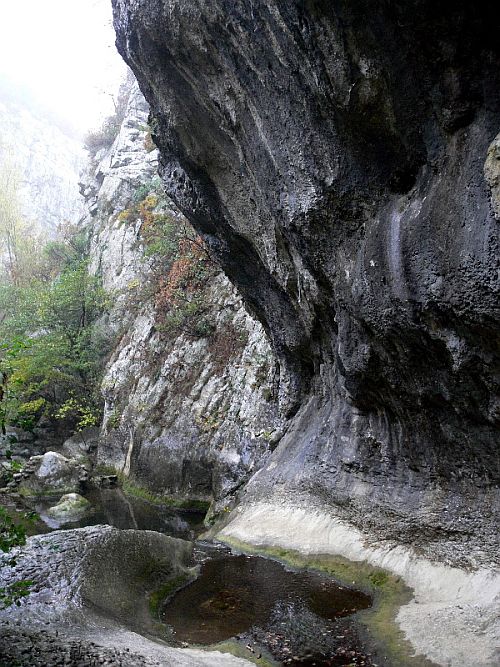 The sector above the lake
photo by© Eva Ondrová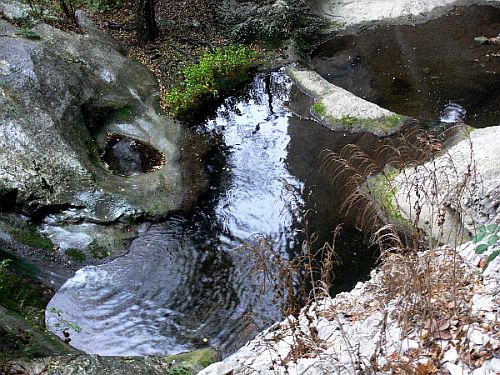 The lake
photo by© Eva Ondrová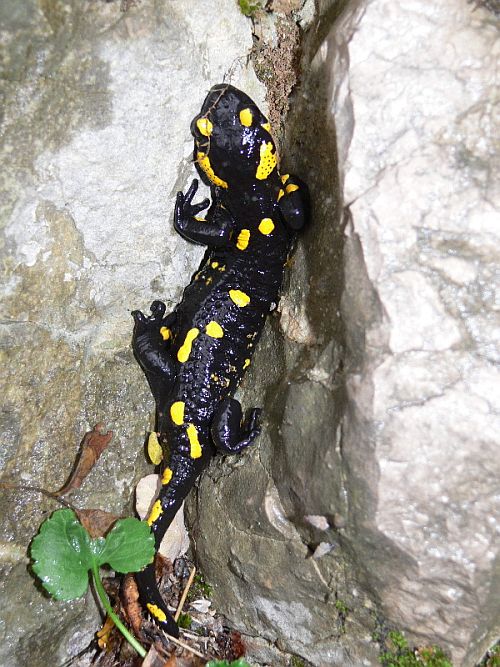 Also climber - local
photo by© Eva Ondrová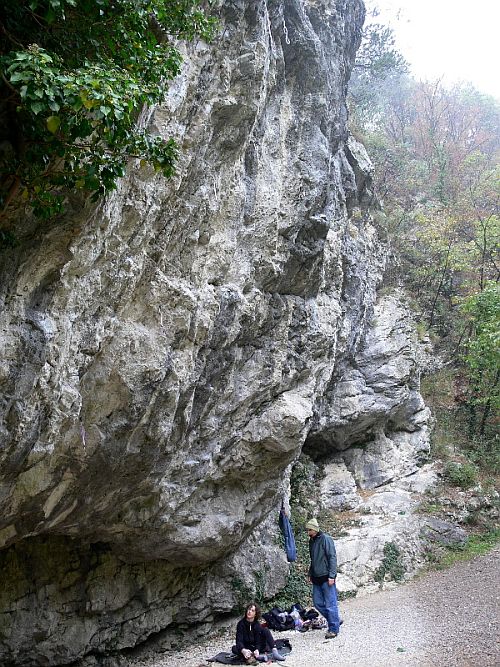 The sector behind Vrhpole
photo by© Eva Ondrová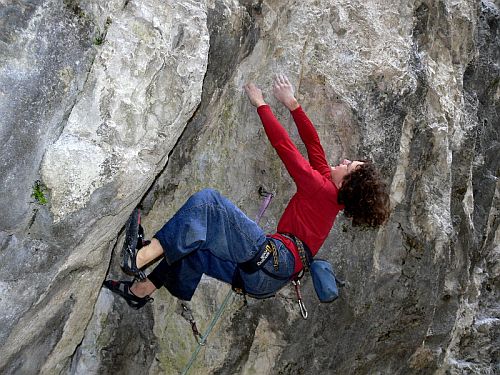 Cerko 8b OS
photo by© Eva Ondrová