Whoever thinks that what follows here will be a horror story won't be happy to read further.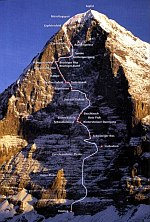 It all started on Wednesday, October the 10th. I (Michi Wohlleben)* phoned my friend
Fritz Miller
and I asked him if he was interested in climbing the Eiger North Face via the Heckmair Route again - he had already climbed it in spring.
* Michi who was just 16 years old became recently a member of German team of young mountanieers known DAV - Expedition Team
I closely observed the whole week the conditions and they seamed to be good. Two days later we were in Grindelwald at the parking lot in front of the train station where we took the first train at 7.22 o'clock, our exit was the Station Eiger Gletscher. We needed from the Station Eiger Gletscher to the access maybe one hour so we were there at about 9.00.
About the climb itself: first you have to climb easy rock till about4/5 UIAA, but sometimes with water ice verglas- which can make it really hard- until you reach the Stollenloch in the first third of the wall.
There we took a short brake and after that we climbed the
Schwieriger Riss
, which is a harder pitch in the grade 5.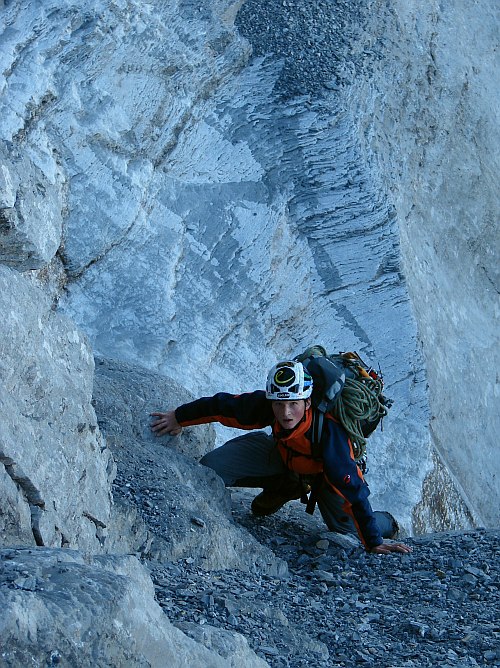 Here we go! Michi at the begining of the Eiger North face.
photo by © Fritz Miller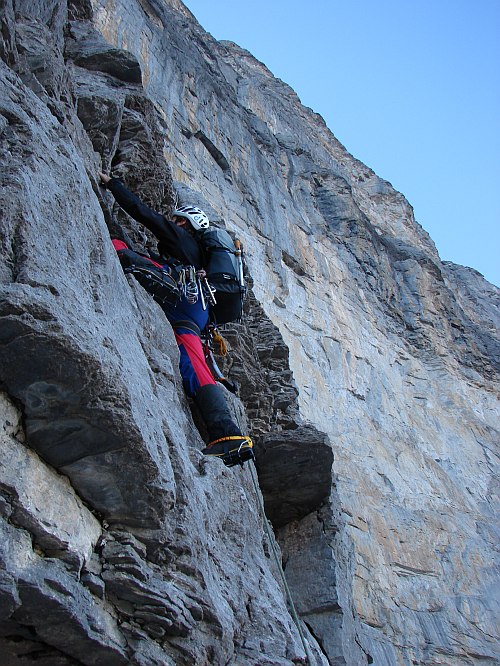 Fritz in a vertical crack
foto by © Michi
After that there are a few mixed pitches and then we came to the
Hinterstoisser Quergang
it's an mixed traverse in the wall where there are also Fix-Ropes, they were good during our ascent but they're not completely safe; it could be that they're damaged because of falling stones so you shouldn't trust them.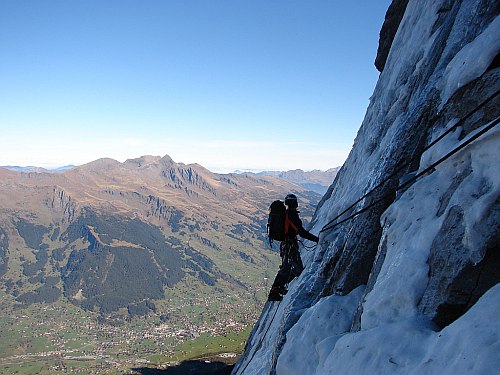 Michi on the traverse
photo by © Fritz Miller
Directly after that we climbed the first ice-field it's an easy ice-field which is from 50° till 60° steep. We made quick headway and soon came to the Eisschlauch - a harder ice section up to 75° with thin ice- climbed it very fast and within half an hour we stood on the second ice-field, also 50°to 60°.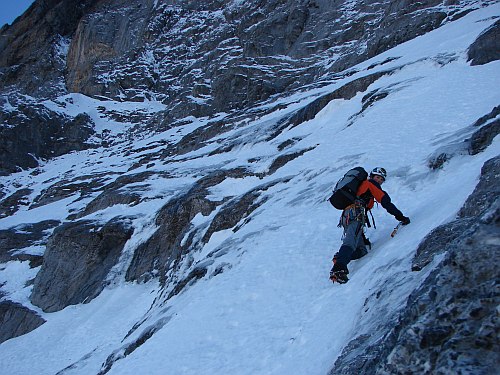 Steep icy surface
photo by © Fritz Miller
For this section we put away the rope and climbed it solo; in our opinion it was the fastest and safest way to climb it because there was poor protection in this steep fern snow.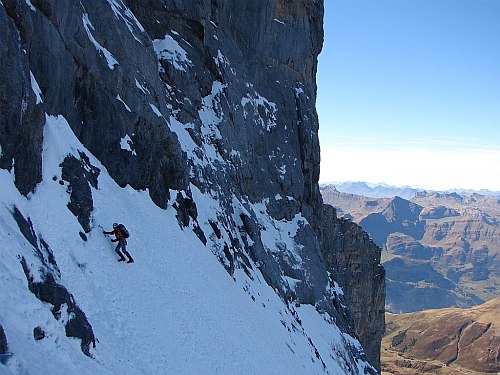 Michi is traversing carefully not belayed
photo by © Fritz Miller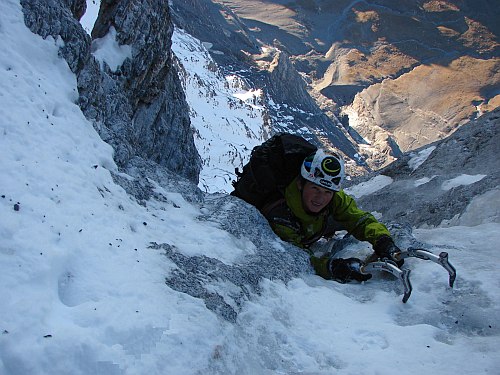 Already little bit tired
photo by © Fritz Miller
We were lucky and came fast to the
Todesbiwak
one of the best bivouacs on the wall, where you can sleep flat and you have even bolts for belaying.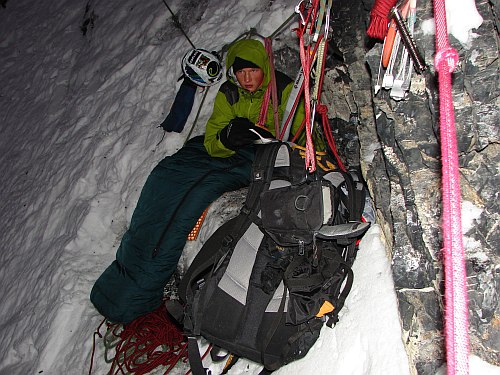 Bivak was far from to be comfortable
photo by © Fritz Miller
We drank and ate something and followed the easy mixed pitches to the
Wasserfallkamin
the hardest pitch in the wall.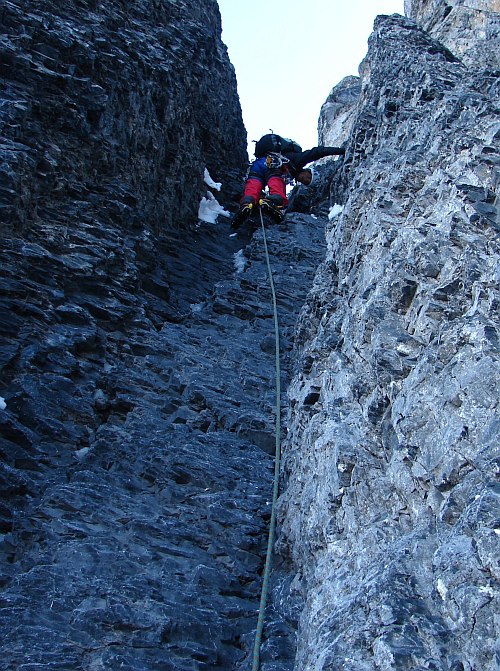 Fritz goes via not very solid and hard depression
photo by © Michi
You have to climb first a 15 meters hard depression, maybe grade 6 UIAA, after that you come to an Water-ice section with up to 85° ice.
Fritz climbed it blindfolded and we were then at 6.30 p.m. at the
Brüchiges Band
first we planned to bivouac here but then we decided to climb till the
Spinne
to bivouac on the highest point of the Spine at the rocks. It got slowly dark but we easily climbed the
Götterquergang
a long traverse in the higher part of the wall. Only the Spine separated us from the bivouac and we were there at 9 p.m. But we nearly despaired. We thought we could find here snow for a good bivouac but there was only 20 cm of firn and then solid ice and rock and we were very tired! My friend dug four holes but there was no place to make a bivouac- we thought about climbing to the top this night but it would be really hard. Finally we found a place where was enough snow to dig a 150cm long and 50cm weight edge to sit on.
We cooked up till 12 p.m. and then we tried to sleep, but it was very uncomfortable and cold (my toes got so cold that I still have even 2 weeks after it still problems) the night seemed to be never ending but it did.
We woke up at 7 a.m. and cooked up a drink of chocolate for breakfast. We started at 8.45 a.m. with climbing.
Now we had to climb the
Ausstiegsrisse
first a few mixed pitches, which lead us to the last hard crack- it is also a chimney maybe grade 5 with little bit Ice and snow after that we climbed the last rock pitches which are easy but the rock is bad and you can only belay a very little bit till the
Ausstiegseisfeld
We were very happy and put away the rope and climbed it solo till the
Mittellegigrat
.
Our calves were burning but we didn't mind. Fritz was little bit faster then me and I saw him already standing on the ridge in the sun.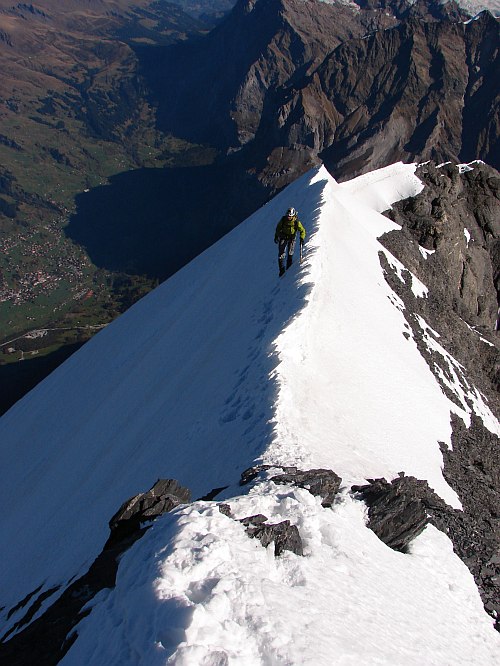 Michi is moving to the top on Mittellegigrat
photo by © Fritz Miller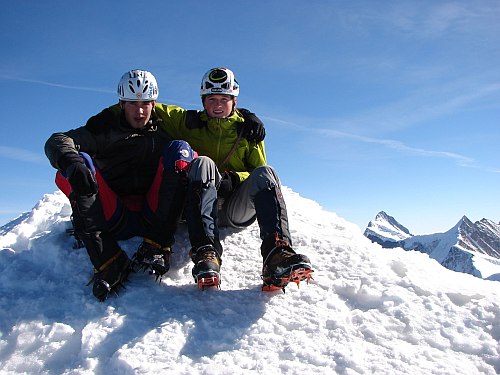 Fritz and Michi on the top of the Eiger
photo by © Fritz Miller
I was so happy and I was there within two minutes as well in the sun it was so nice warm! After being 25 hours in the shade and in the cold it was one of the best feelings I had in my life! The whole pressure was away within two minutes. The rest to the summit was only the easy ridge.
We were on the summit at 11.45 a.m. We cook one litre of tea and we walked down at 1 p.m. The descent is also a very bad thing of the Eiger!
It's not hard but long and sometimes hard to find the way. First you descent along the west ridge and then lower more to in the West-Flank, you will find sometimes also bolts to belay down but we used them only a few times.
We luckily arrived at 5 p.m. at the Station Eiger Gletscher where we got the last train at 5.22 p.m.
---
What everybody should know:
The wall is very long and dangerous, especially the apparently easy pitches are delicate and fragile.

Falling isn't allowed

There are sometimes bolts but you shouldn't trust them

You need a lot to drink! 1,5 litres for the first day; 0,5 litres for the second day. And one more litre on the top. It was maybe not enough but it was lighter.

Material:


4 Ice screws

3 Cams

5 Pitons

a few Stoppers

6x 25cm Quickdraws

50m Single Rope

I wish that everybody who will try it, will come back safe ag