Among women Barbara Zangerl (Austria) won, Giulia Gianmarco was 2nd and Jenny Lavarda was 3rd.
After
Adam Ondra
, who btw. climbed Antropos 8B, there were six competitors on the 2nd place: the Czech
Tomas Mrazek
, Michelle Caminati, Mauro Calibani, Guillaume Clairon-Mondet, Gabri Moroni and Balint Kamvas. The third was Patxi Usobiaga.
There were officially registered 1424 boulderers from 33 countries. "The most from Italy, than France and third from Republico Ceco!!!" Czech team coach Petr Resch wrote to the Czech version of this news on Lezec.cz/CzechClimbing.com. Altogether there were around 4000 people in the valley.
From Czech girls the best was Silva Rajfova, who gained 3 jockers, same as the German Marlene Graf who succeeded recently in Czech outdoor bouldering competition Padani in Petrohrad. The only the three women had more jockers.
The Czech boys dictated:
6 jockers - Adam Ondra
5 jockers - Tomas Mrazek and the other 5 people as mentioned above.
4 jockers - Martin Stranik and 3 more people
3 jockers - Martin Spilka, Vilda Chejn, Andrey Chrastina (Slovakian living Prague) and around 8 people more,
2 jockers - Rosta Stefanek and Richard Nyeki (Slovakia and quite a lot of other people
1 jocker by Jirka Lautner and Jirka Dlabola ...
"So that is the Czech bouldering on the world scene. Thanks to all for the excellent representation. A lot of our people have stayed in the area so I hope they will bring others scalps," Petr Resch wrote.

The sources:
www.lezec.cz
(in Czech)
Purebouldering.com
(in Czech)
Planetmountain.com
file_img_c)3866(/file_img_c)
Val di Mello - Adam Ondra v
Antropos, Melloblocco 2008
photo Giulio Malfer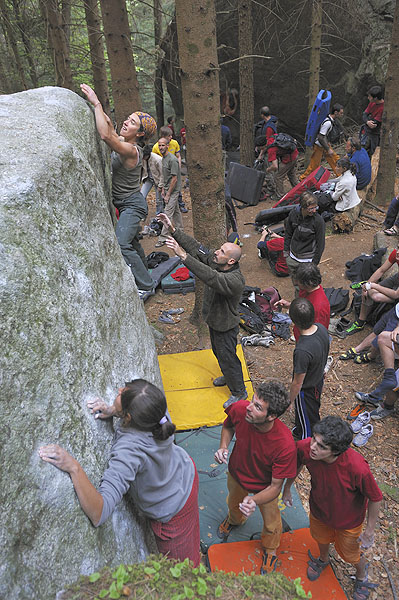 Bagni di Masino, Melloblocco 2008
photo Giulio Malfer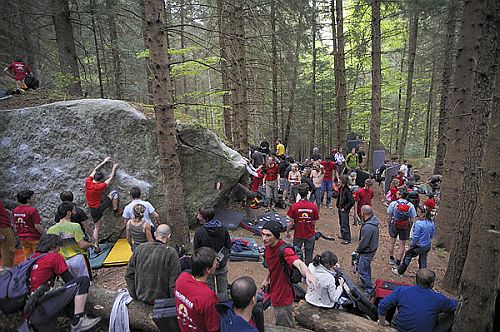 Bagni di Masino, Melloblocco 2008
photo Giulio Malfer