It is a combination of three other, already existing, routes. The author of the route is one of the leading Polish climbers, Bogdan Rokosz (La Sportiva, V14, Magazyn Górski). This was a very successful season for Bogdan whose leads include six VI.7 (8c) routes, one VI.7+ (8c+) and the mentioned VI.8.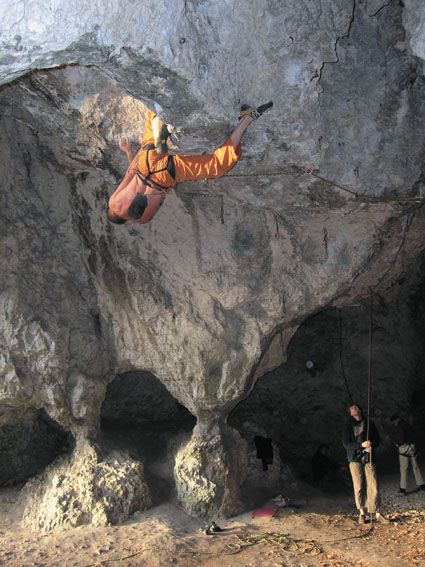 While working on Sprawa Honoru Bogdan spent in Mamutowa Cave his last few seasons. As if by the way, he led also some other hard lines in the cave (often repeating them several times) - Capoeira 8c, Fumar Perjudica 8c and his own passage Stal Mielec 8c+. It is worth mentioning that Mummy (as climbers familiarly call Mamutowa Cave) is a legendary and cult place for climbers from Krakow (and not only). In no other Polish area is there such a density of extreme routes (from VI.6/8b to VI.7+/8c+) on a proverbial square meter.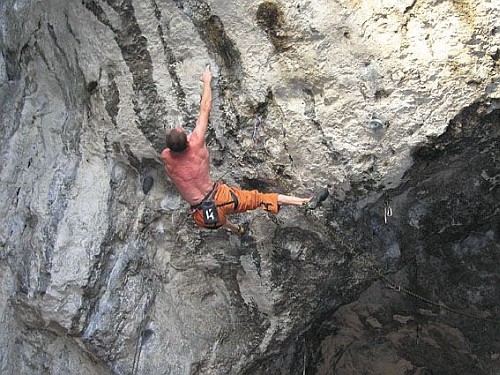 Rokosz came up with the concept of Sprawa Honoru a few years ago. His ambition was to join there already existing routes of 8b grade: Mechanika Skręta Cienkiego, Czekając Na Godoffa and Deklaracja Nieśmiertelności (8b+). The result is an impressive line in the roof of the cave, offering around 50 moves, separated by two rests in the roof. Unfortunately, the route is not 100% natural – it occasionally uses chipped pockets and at one point an artificial hold. Yet, the author says: 'I've already worked out a sequence omitting the artificial hold, which opens new possibilities...'
Bogdan Rokosz's route is undoubtedly the biggest success in Polish sport climbing in the last year or maybe even in the last few years. It is especially valuable because it is the first such a hard route in the career of Bogdan. At the same time Sprawa Honoru is probably only the third Polish 9a up to date. None of them has been repeated yet.
The grade 9a was introduced to Poland by Tomek Oleksy in 2000 who led in Rożnów, a sandstone area, a controversial (due to its eliminate character) route called Tysiąc Kotletów. It is worth mentioning that Tomek is a widely recognized specialist from speed climbing – silver medal in World Championships, winner of World Cup in 2004 – and bouldering – bronze medal in Bouldering World Championships.
A year later Rafał Moucka did Pandemonium 9a at Gołębnik Rock (Podzamcze). Rafał is an expert at climbing Polish white limestone, which usually offers slightly overhanging slabs with slippery micro-pockets and micro-edges. In the following years Rafał opened another three lines which might revolve around the 9a grade but Rafał decided not to grade them. The lines were Arachnofobia (2002), Sen Astralny (2003) and Mental Terror (2004). It is hard to verify their grade because all these routes has been led only once – by their author. We hope that Sprawa Honoru will open a new chapter in the history of Polish 9a climbing, this time with repetitions to which we invite rock masters from all over the world :)
Bogdan Rokosz's 8a.nu profile -
http://www.8a.nu/user/Profile.aspx?UserId=22129
The hardest routes / combinations in Mamutowa Cave:
Sprawa Honoru VI.8 (9a) - Bogdan Rokosz 2008,
Stal Mielec VI.7+ (8c+) – Bogdan Rokosz 2005,
Szaleństwo Ludzi Zdrowych VI.7+ (8c+) – Konrad Ociepka 2005,
Nieznośna Lekość Bytu VI.7 (8c) – Piotr Korczak 1992,
Capoeira VI.7 – Maciek Oczko, Grzegorz Grochal 2001,
Acapulco Extension VI.7 – Bogdan Rokosz 2005,
Fumar Periudica VI.7 – Marcin Wszołek 2005
(CzechClimbing.com has received the news and photos from polish web wspinanie.pl.)