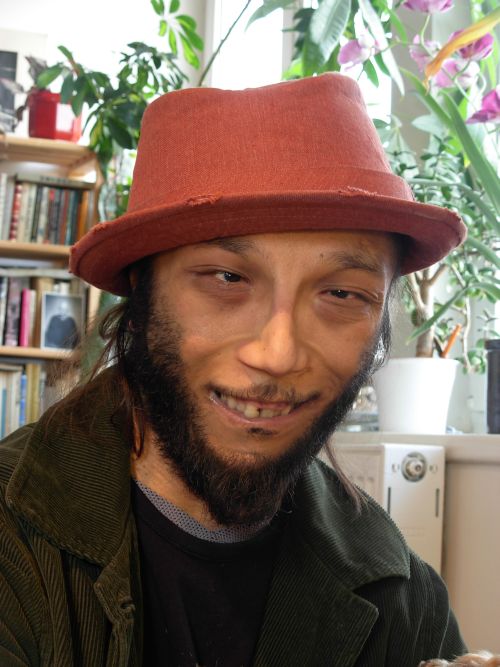 Philippe Ribier, March 11th 2009, Prague, Czech Republic
photo by © standa@lezec.cz
Version in codec divx:

Philippe Ribiere - Prague - Video 32 MB, 3 min.
---
I had exchanged emails with Philippe about his trip for more than half year, I had knew him a bit from Internet and videos about Petzl Rock Trips. I knew about his handicap I was prepared for it but I must admit he looks really quite strange for the first look. Our small daughter was worried by him firstly and now she nicknames him fairy elf. And it is perhaps his main problem, as he explains, that people look at him like at something strange, dangerous, horrible. Even in his home France and even force feeling he had from people in our Czech Republic. In other countries he traveled he feels better reaction of public, which is probably more prepared for the handicapped ones.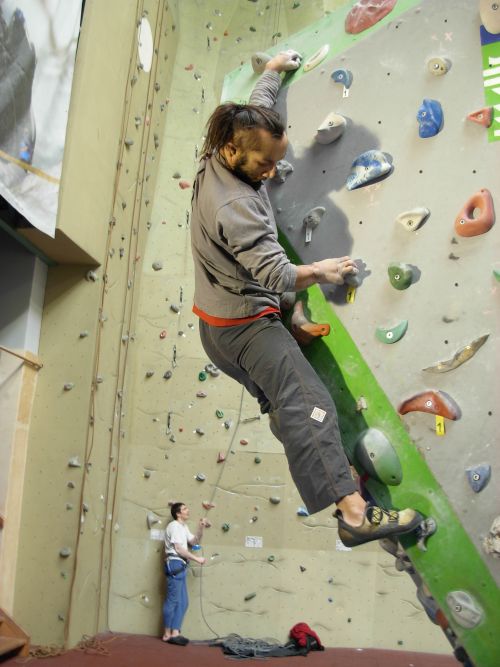 Philippe is warming up on boulders, climbing gym Smichoff, Prague
photo by © standa@lezec.cz
He is smart guy who try to overcome his handicap and perhaps the change it to some advantage, perhaps also to shock people by his appearance. But in any case he is passionate climber and Czech climbing community in the biggest Prague climbing gym Smichoff, where we went yesterday, accepted him very easily.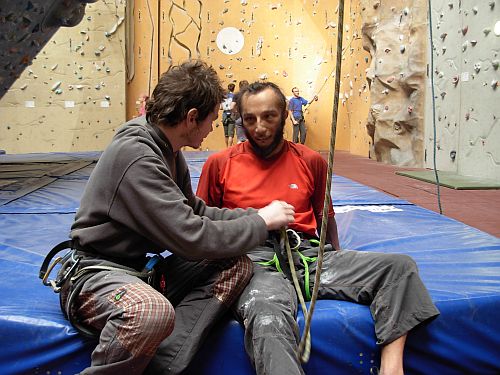 Philippe with Fero, a Slovak guy who works on Smichoff gym, Prague
photo by © standa@lezec.cz
Philippe was born on island Martinique in Caribbean See on March 12th 1977 (so today he has birthday) with inborn damage of limbs. He talks me that he had skin between fingers and underwent about 10 times surgeries to his hands and feet could at least partly be functioning.
He did not know his real parents, from his 4 years age he lived in adoptive family in Nimes, Southern France. The last year he went to Caribbean to investigate his roots. He learned his mother should be a French woman and real father, who is not already alive, had probably his ancestors in Africa and east Asia. He have not met his mother yet, but he may would try to look for her more.
In France he begun with climbing from his childhood and consequently he worked up among climbing elite and attends climbing events and competitions besides world climbing elite. And together with them he tries to overcome his climbing limits. He told me, he had sent recently his first boulder problem of 7a Fb grade, his style is more slab climbing.
On Prague gym he nicely moved in 5s, 6s and 7 minuses (UIAA grading common in Czech) and he was limited by long reaches, because he has got only about half of hand reach of average adult.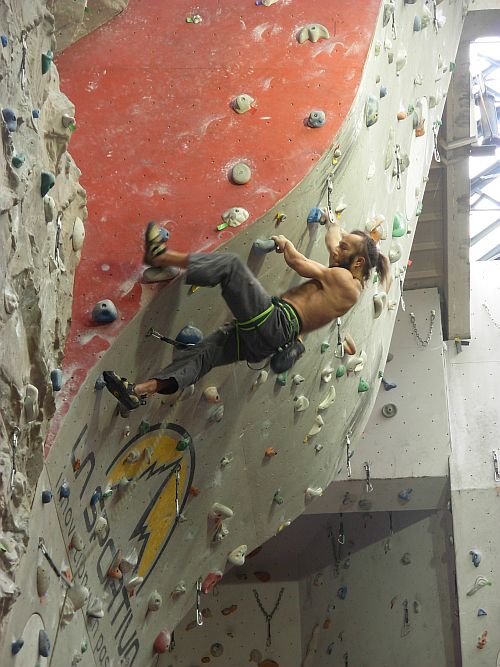 Philippe on Smichoff gym, Prague
photo by © standa@lezec.cz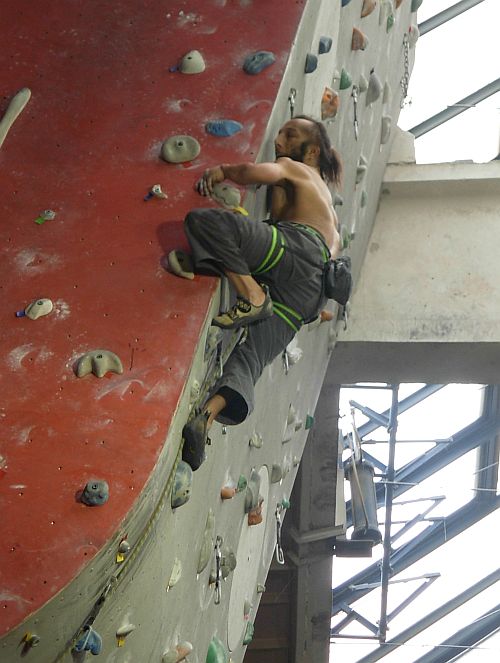 Philippe on Smichoff gym, Prague
photo by © standa@lezec.cz
In his biography he has listed plenty of climbing events and competitions, he established association HANDY-GRIMPE with aim of common climbing handicapped together with un-handicapped people. Besides climbing hi is interested in other things e.g. music. He played me a song that he sang with his music band. We use it as the soundtrack of the video attached to this article. He sings in it about girls laughing for his appearance.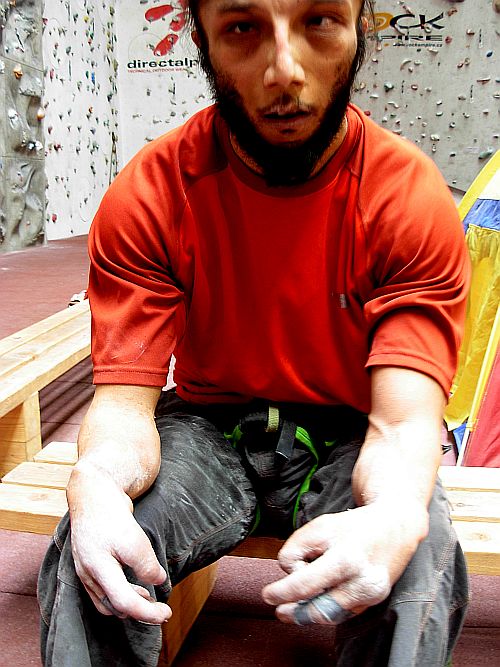 Philippe has forearms quite pumped after a couple routes, he is not accustomed to longer routes, he focuses on bouldering, Smichoff gym, Prague
photo by © standa@lezec.cz
He is sponsored by several of climbing equipment international companies e.g.: Petzl, Beal, La Sportiva, The North Face, Julbo.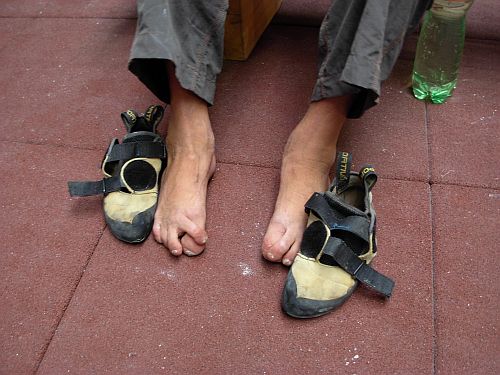 Philippe´s climbing shoes, Smichoff gym, Prague
photo by © standa@lezec.cz
In some recent DVD from Petzl Rock Trip in answer on question about his next aims Phillipe answered: "To find a girl..." And he likes Czech girls, yesterday he jocked with them quite successfully ...
Evolution Tour: January - March 2009 - France, Belgium, Germany, Poland, Czech Republic
Further plan: Slovakia, Hungary, Slovenia, Austria, Croatia ...
Updated schedule is on his blog: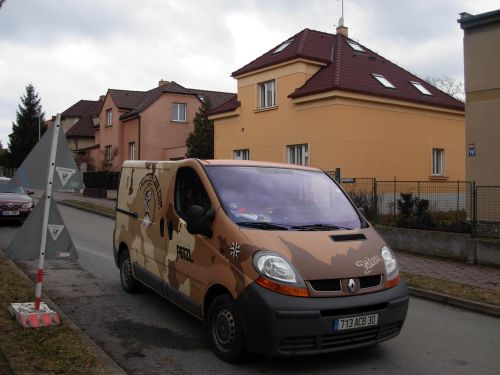 Philippe drives in this car
photo by © standa@lezec.cz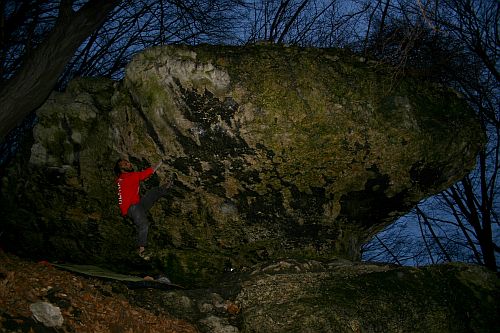 Philippe bouldering in Poland last week
photo by © Philippe Ribiere
Links: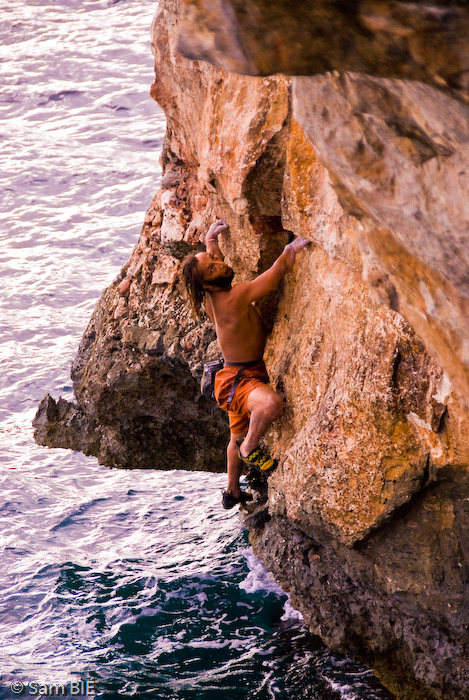 Philippe on DWS
photo from archives of Philippe Ribiere