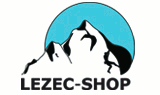 Kletterführer Elbtal
Ostravský křest knihy Navždy první
Nové průvodce světových oblastí na Lezci


LezeTop boulder Cup 2019 (23.03)
JIHOČESKÁ BOULDERINGOVÁ LIGA 2019 (24.03)
Bambini Contest (30.03)



Cesty:
1.Ondra 13641
2.Konečný 13075
3.Vopat 11896


Bouldry:
1.Stráník 11550
2.Jungling 11050
3.Novák 10925


Hory:
1.Skopec 6646
2.Zaoral 6327
3.Coubal 6161


SP v ledolezení Francie (07.02)
SP v ledolezení Itálie (01.02)
SP v ledolezení Švýcarsko (24.01)




Contact


Adam Ondra who is in the lead of both rankings (difficulty and boulder), sent before the weekend his longterm project in Moravian Karst.
Adam has not given a name yet but he believes that its hardest boulder he did and therefore it attacks the 8C+ level.
Now we've got an update:
Adam's new master piece has the name
Terranova
and is graded at
8C+
!.
Adam said:
"This boulder is foremost about it's difficulty. I would like to emphasize that it is not the most beautiful, exposed line in the world. It does not go on top of the stone but it is only a traverse at the beginning of the wall. I always thought that it won't be possible.
I tried it for the first time last year and I understood the moves. This year I have devoted to it the whole autumn. Boulder has about 12 hard moves and than 5 moves already easier finish.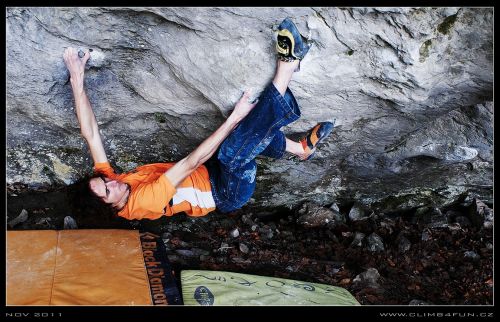 Terranova, 8C+
photo by © Vojta Vrzba
It's traverse, low to the ground. The first three steps are going pretty hard (like 7C+), but the hardest is to breathe and relax properly and not to climb like a diver. Another four steps are desperately difficult, I think it could be about 8B. Must be able to place a bad heel, squeeze slippery grip and move feet three times while holding the slippery grip. Three another moves, which are only about 7B, lead to last two key moves which could be 8A+. Then 7B easier finish.
As for clasification:
Overall, I was trining this boulder eleven days and it is certainly my hardest boulders, I have ever done. I also think of it is quite specific and it fits to my style.
I garaded it as a 8C+.
About the name:
I did not want to give a complicated Czech name, which no one would remember, I also did not want English name, so I chose a compromise. So the name is
Terranova
.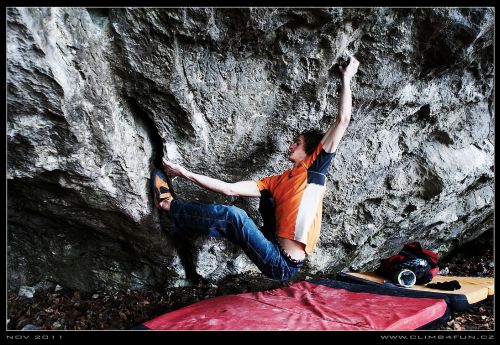 Terranova, 8C+
photo by © Vojta Vrzba
Translated by
---
Reklama:
---
Lezec.cz je hlavním mediálním partnerem ČHS na internetu
Photo of the day: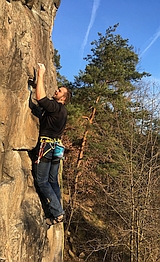 Routes:
New in discussion:
Latest comments:
Hot:
New in advertising:
Instructions:
UKClimbing.com News
- INTERVIEW: Steve McClure on Rainman 9b
- NEWSFLASH: Britain's First 9b by Steve McClure
- NEWS: Nathan Phillips flashes Font 8B
- NEWS: Alex Honnold free solos Freerider, El Capitan
- FRI NIGHT VID: Free Climbing on Baffin Island
- NEWS: Requiem E8 6b by Peter Kamitses
- NEWS: Hard boulders in South Africa for Mina Leslie-Wujastyk
- NEWS: Dead Meadow, ~8B, by Alex Puccio
- NEWS: New Aiguille du Midi Mixed Route by Jeff Mercier & Co
- NEWS: Orrin Coley climbs new 8B+ at Forest Rock
- NEWS: Marcus Scotney & Carol Morgan Win Berghaus Dragon's Back Race
- NEWS: David Fitzgerald - Voyager Sit 8B+
- NEWS: Bronze for Emily Phillips in European Youth Cup (B)
- Carinthian Dreams, 3rd ~8C in 11 days by Christof Rauch
- The Big Issue E9 6c by Ali Kennedy