It would take place at town of Jicin (Eastern Bohemia) on the March 14 2004 after the kids Lanex Cup, taking place at the same gym.
The essential of the discipline is that the two members of one team are corded up by one express set 50 cm long. For the climbing is allowed to
use holds, surface of climbing wall and the body of the co-member of the
team.
Look at the photos from the first experiment on the Viagra Cup last year: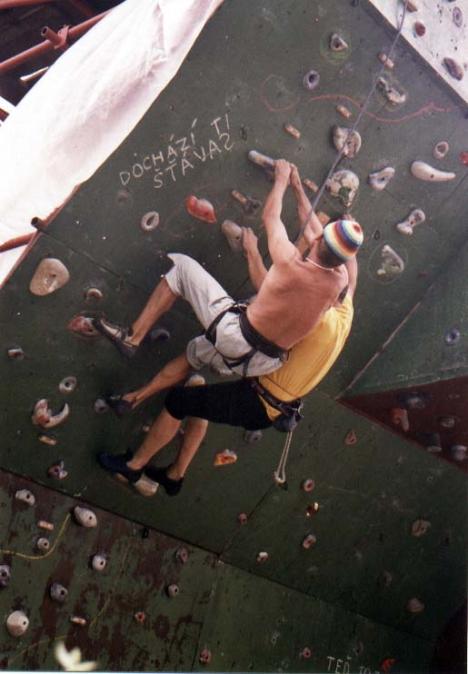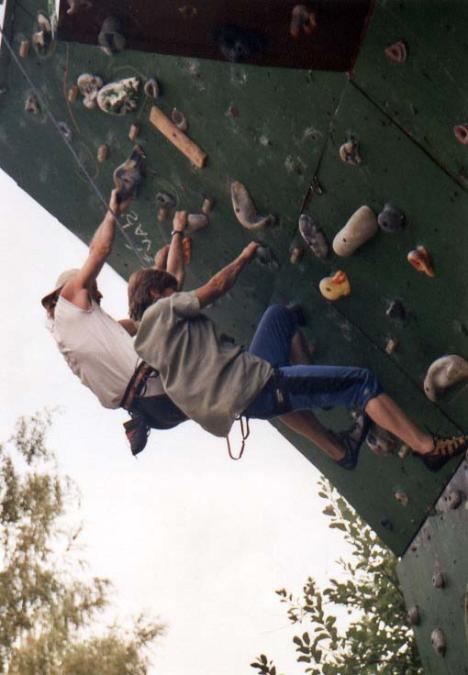 There is the extract of the rules here:
1. Competitors climbs two qualification routes and final, all in Flash style. The rule of the final entrance will be announced before the final beginning.
2. It is allowed to use the whole surface of the wall (all holds, steps and structures in the route, except the edges of the wall) and the whole surface of co-climber body. It is allowed to do what ever: hanging or sitting on the co-climber, what ever cooperation and vice versa helps.
3. Belaying is top rope. Every competitor from the couple must be bound independently on the single rope with the knot number eight. The two members of one team are corded up by one express set 50 cm long (sling and two
karabiners with locks) supplied by the organizer.
4. The route is sent over whether the whole couple climbed it according too the rules and the last top hold was held by both couples of the hands, (if the route-setter doesn´t say anything different). Remark I: It is not allowed
to catch the last carabiner before of holding the top hold (neither one of four hands) Remark II: There is a different pointing according to number
of "held" hands)
...
13. The position of the couple in separate rounds is depending on distance of the farthest reached hold whatever of the hands of the competing couple. It doesn´t matter of the way how was it done. (The only holding hold is counted (not only touched or active move, that means neither + or -)
...
16. Categories: without of difference of sex!
A - children up to 12 years (1992 and younger)
B - youth up to 14 years (1989 - 91)
C - juniors up to 18 years (1986 - 88)
(The couples in the A-C categories can be mixed by age with abidance of rule in the paragraph 17., but the determination of the category is according the older from the couple, for example: the couple is created by 9 year child and 15 year junior = the couple is at the C category - juniors)
D - adults (women - men) (1963 - 1985)
V 40 - veterans above 40 years (1964-1955)
V 50 - veterans above 50 years (1954 and older)
Parents with children ("fanny" category without of the weight limitation)
Individual climber can start in more categories if he/she fulfills their limitation!
17. There is a weight limitation at the all categories (except the Parents with children). In the couple cannot be bigger weight difference than 20 kg. (In case of doubts the jury can check their weight and if there is bigger weight difference, the couple can be disqualified)