Competitions will take place for the 4th time on specially built climbing tower (height 12m, width 9m, overhanging from 3-6metres) near one of Riga's trade centers virtually called RED ROCK by representatives of Latvian newspapers.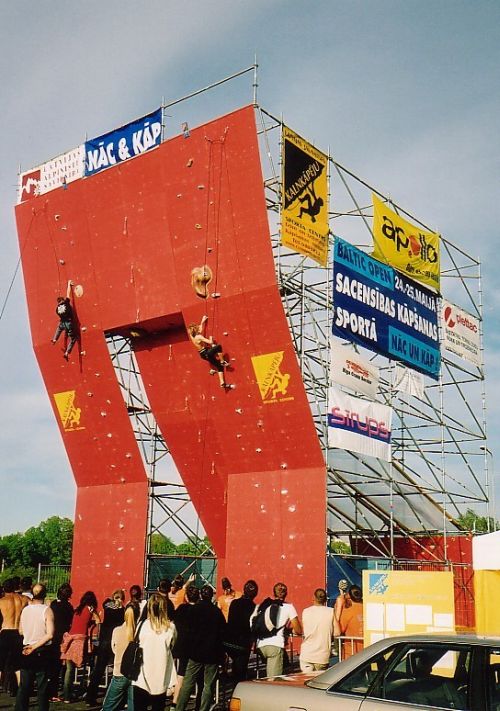 This year competitions will be organized in speed and difficulty events over the period of two days. Competitors are divided into three age groups (see attached regulations) previously competitors from Latvia, Lithuania, Estonia, Russia and Finland has participated in Baltic Open. Each year competitions attract around one hundred participants. Among the best known names there has been Sergej Shemulinkin, Aleksandr Tclelishchev and Marat Savirov from St. Petersburg. The last one scaled the wall in 9.3 seconds showing really a world cup result.
The main reason for organizing this event is bring together climbers from different places, exchange experience and find new contacts. Yes and of course find the best climbers among the participants.
So, everybody is welcome to Riga on 29.-30. of May , 2004. Further information as well as results from previous year's competitions can be found on our web page
www.climbing.apollo.lv
or you can contact us directly: nr@latnet.lv.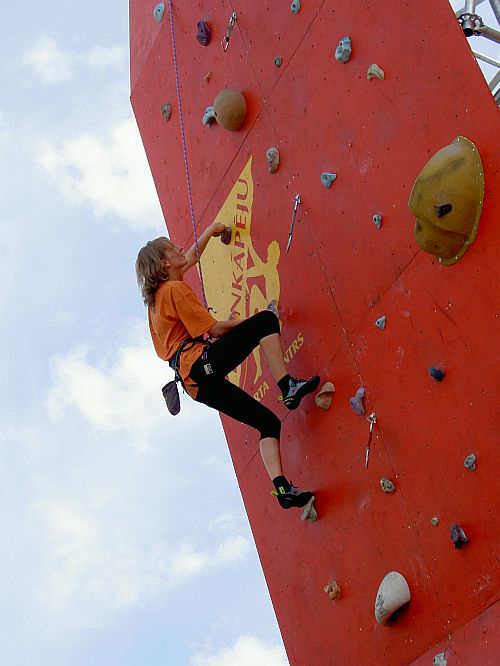 Regulation of
International climbing competitions "Baltic Open",
29-30 of May, 2004
International climbing competitions Baltic Open will take place in Riga on 29-30 of May 2004. The competition will include all age group speed and difficulty events.
1 Organisation
The competition is being organised by: Latvian Youth Sport centre of Mountaineering
With support from: SIA MAGMA, SIA FLORA, Tehnoimex Ltd., Adventure portal Vertikāle X and Latvian Alpinist Association
2 Competition place.
Livu Aquapark, Vienibas prosp. 36, Jurmala
3 Competition wall.
Dimensions: height – 12 metres
Width – 9 metres
Overhanging – speed climbing 3 metres, difficulty – up to 6 metres
4 Participation.
Competitions are held in three groups for men and women:
Group ED - till age of 15 (born in 1989 and earlier)
Group CB – 16 to 19 years old (born between 1985 and 1988)
Group A - from 20 years (born before 1984 )
5 Provisional competition programme:
Opening and closing time for isolation zone and starting tines will be announced in detailed program 2 weeks before competitions on web site www.climbing.apollo.lv
May 24, 2003 – speed climbing
May 25, 2003 – difficulty climbing
6 Registration
Advanced registration till 27rd of May 8:00 PM on web site www.climbing.lv or by e-mail: nr@latnet.lv or fax: 371 7826821
On the competition days registration will finish 2 hours before each groups starting time according to provisional programme. It will be strictly observed.
Advanced registration should include following information:
Name, Surname, Year of birth, sex, country, team, in what events the participant will compete, e-mail address or fax number.
7 Registration fees
For those who made advanced registration: groups ED,CB – 1,00 Ls for each event, group A women – 3,00 Ls for each event, group A men – 5,00 Ls for each event
On competition days: groups ED,CB – 2.00 Ls for each event, group A women 5.00 Ls for each event'
group A men – 7,00 Ls for each event
All fees shall be paid not later then 2 hours before the starting time of participants
Winners will be awarded in each age group separately with diplomas and prizes
Groups ED, CB total value of prizes 600 EUR
Group A women total prize money 200 EUR
Group A men total prize money 450 EUR
8 Accommodation.
Please contact organisers ASAP with information how many people you are and what kind of accommodation you wish and we will do our best to help you.
e-mail: nr@latnet.lv
tel: 371 9403822