Fast forward several years until last September in Ceuse. I- a visiting American climber- was wowed by the spectacular French countryside, the delicious bread, and superb limestone. I was also amazed by the sheer number of different harnesses that I had never seen before. Some were flashy, some not- but upon closer inspection they all were a step above and beyond my first harness in terms of safety, function, and looks. The trip ended but my curiosity about these new harnesses endured. So I contacted the companies, and asked them to send us a few of their latest models. What you see below is the results of our investigations.
Overview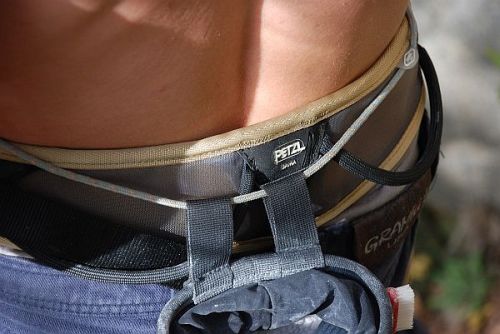 Box Technology up close- notice you can see the testers skin through the harness. Also, you can see how the rear gear loops lie flat.
foto by © Jiri Sika
Petzl produces some of the most innovative designs within the climbing community- whether it is helmets, ascenders, or harnesses. They have a rather large market for their goods and premium pricing to fuel their research and development. But does it all add up? For this test Petzl sent us three different models: The Hirundos, Sama, and Selena. These three models stand out from every other harness in the review because they utilize a completely different construction method, which Petzl dubs 'Box Technology.' A traditional harness builds padding around a central weight bearing sling, but Petzl builds weight bearing slings into the top and bottom of the harness with spacers spreading them out. This effectively broadens the base of support in the harness without making it bigger. It also leaves the center part of the harness open for ventilation. The difference between the old sweaty Sama and the new one is like night and day. The result is a harness that is more comfortable to sit in, climb in, and sweat in.
Petzl also pays special attention to the fit of the harnesses. All three models reviewed had fixed leg loops, yet no tester complained that the legs were too tight or too small. Petzl uses a triangle shaped piece of elastic in the front of the leg loops that seems to naturally flex with the climbers shape.
One small improvement this year from previous models is the hook for that connects the leg loops the the back of the harness. The older models were loose and prone to coming undone by themselves, but the new ones sported a tigher connection which never came undone.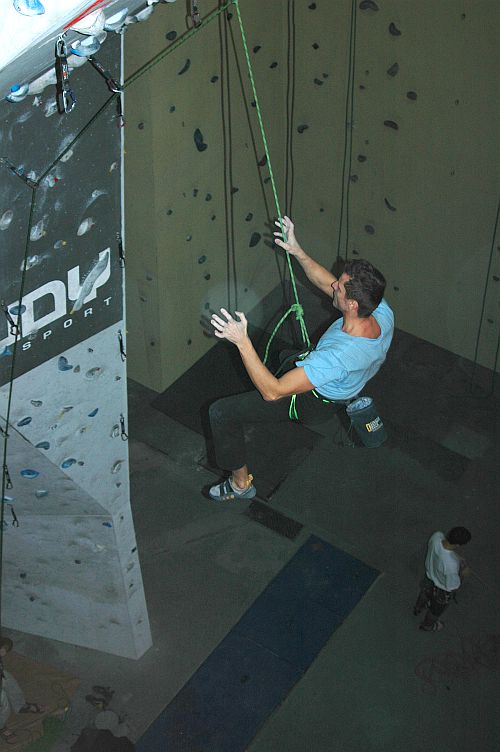 While the hirundos provides an adiquate catch, it may become uncomfortable in long sittings.
foto by © Andrew Burgoon
Regarding safety features, all three harnesses reviewed featured self locking waist buckles, which are fast becoming the standard in the industry. Also, on the belay loop there are pictures to remind the climber of what proper belay points look like. The belay loops, molded in the front and soft in the back (which makes it more comfortable when wearing a backpack), are strength rates in case you accidentally clip in by them by accident.
Big hands beware: notice the small size of the gear loops.
foto by © Honza Jelinek
Hirundos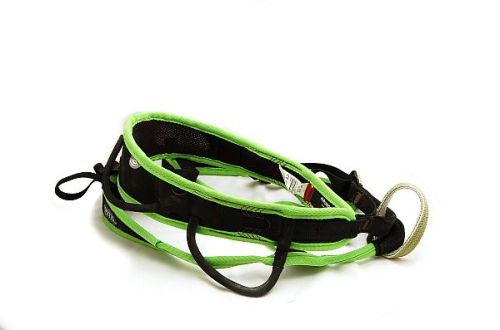 Hirundos
foto by © Honza Jelinek
This harness is hard to miss. Not since the early 90s has a climbing company marketed its latest and greatest with blazing neon colors. Most testers found the coloring obnoxious. But looking deeper into its design you can see its beauty. Its size and weight are kept to a minimum by combining Petzl's box technology and weight saving, thinner materials. It packs down small enough to fit into a brief case, in case you need to sneak away from work for a quick session. Enough padding is provided to insure a relatively soft catch. This harness is marketed for hard competitions, on-sight, and red point sport climbing. It's small width and ample ventilation means that it is a good choice for warmer climates, and Petzl's choice of fabric is soft against bare skin. Conversely, its light weight and no frills design make it a good choice for fast and light alpine climbing as well, and its ugly bright color could make you more visible, if you ever need to be rescued.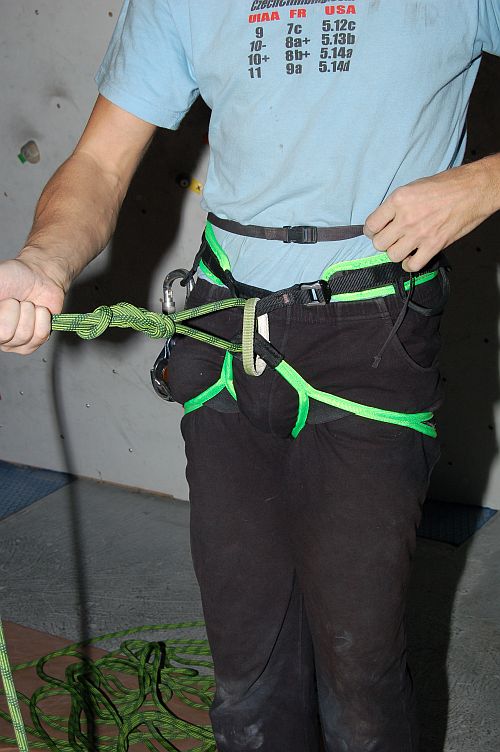 1993 called, and it wants its color back.
foto by © Honza Jelinek
Downsides to this harness include the gaudy coloring, and lack of relative comfort during prolonged sitting (like on projects) and belay sessions. The front gear loops could be larger- the spacing between the loop and the belt is much smaller than that of other harnesses- which one tester said cause clipping problems in a hard send. Our test was not long enough to properly test the durability of these new light weight materials.
Note that this model fits tighter than the Sama.
Sama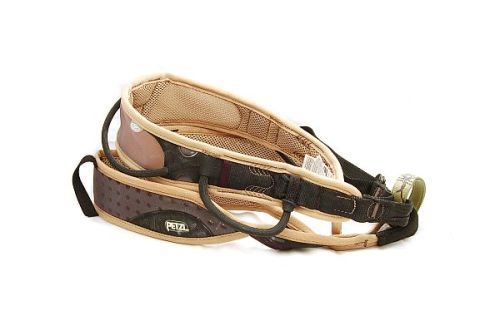 The Sama
foto by © Honza Jelinek
This is Petzl's full size men's harness, but don't let the 'full size' label fool you. While the waist and leg loops provide ample padding for even the longest dogging sessions, it is also surprisingly light. One tester even commented that with a full size harness so light, what need is there for Petzl to produce an even lighter harness? The Sama utilizes all the same innovations of the Hirundos, in a more substantial model with more subdued tones. Most testers and bystanders commented on its elegant styling and neutral color scheme. Underneath all that beauty lies a work horse harness that is well suited for everything from hard on-sight and red point attempts, to longer all day climbs and sitting belays.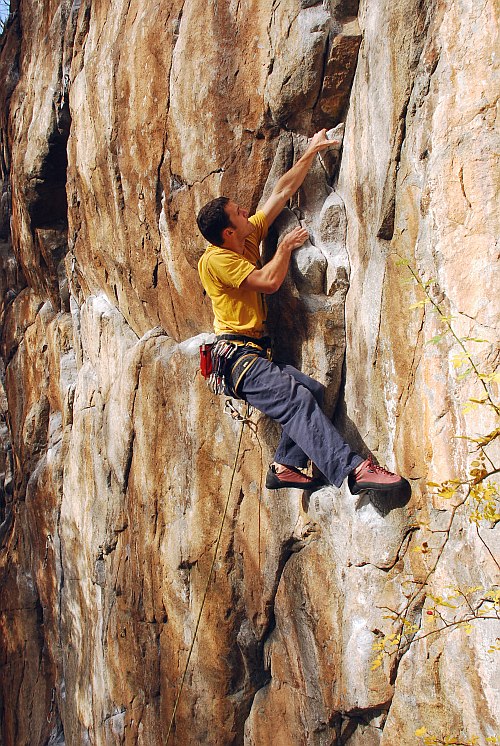 The Sama in action, Roviste
foto by © Jiri Sika
Downsides of this harness are few, but there are a few notable exceptions. The front gear loops could be larger- the spacing between the loop and the belt is much smaller than that of other harnesses- which could potentially mean clipping foul-ups. There may be a trade off between ventilation and durability, but the duration of our test was not long enough to properly say.
foto by © Jiri Sika
Selena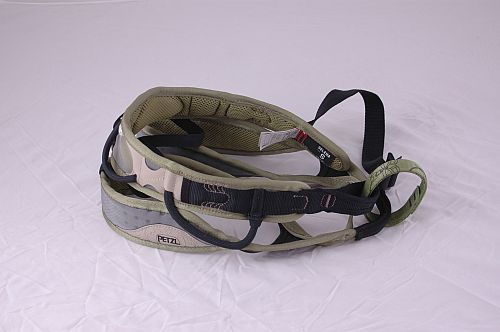 Selena
foto by © Honza Jelinek
Selena- This is basically the same design as the Sama, but adjusted to fit a women's body better. Rather than just a marketing gimmick to sell the same model with different colors, what it means is that the waist belt is designed to sit slightly higher (because women's hips are higher than men') with padding in the lower back, and the leg loops are also wider. This harness sports the clean styling and neutral tones (olive green) just like the men's version.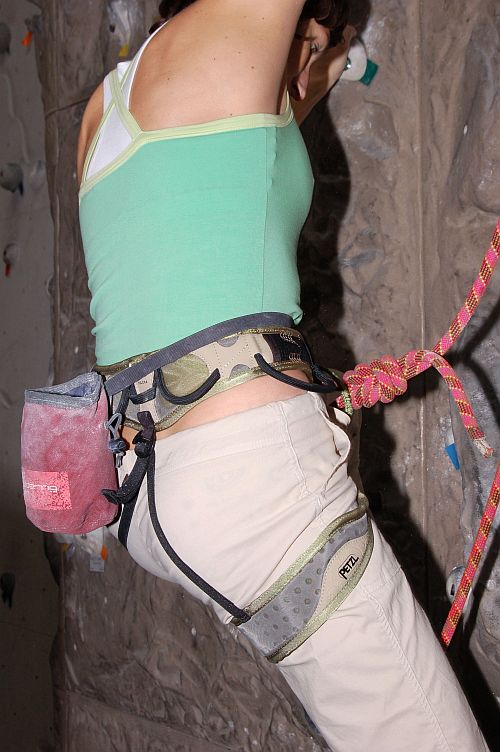 The latest The Selina in action- notice the diamond shape padding in the lower back.
foto by © Honza Jelinek
Conclusions
These harnesses are functional and beautiful. The 'Box' technology is truly a step forward and could soon be an industry standard, like the self-locking buckle. The Hirundos would make a good second harness for hard on-sights and sends- as well as for competition climbing- but may leave you wishing for more padding if it is your only harness. Sama and Selena are top performers in all categories, with the only exception of the slightly too small front gear loop. All harnesses breathe considerably well, so if you climb often in southern climates or summer it is a definite bonus. One innovation, the picture of proper belay points on the belay loop, we found to be largely useless unless you are a complete beginner. The biggest downfall of all Petzl harnesses is their price tag- if you are a beginner, casual climber, or someone on a budget the price may not be justified, but if you are a avid climber you are sure to get your money's worth.