Overview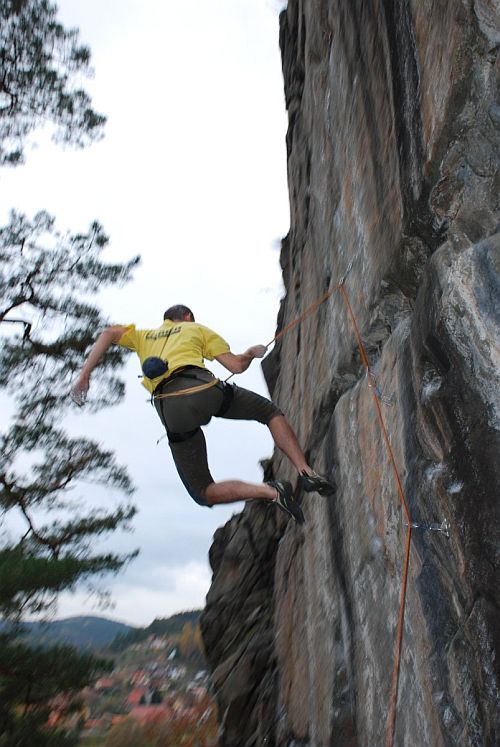 Jarda putting the new Balance to the ultimate test in times of better weather.
foto by © Jiri Sika
For this review Singing Rock sent us two models: the men's Balance II and the women's Pulse. Both are full size harnesses featuring self locking buckles and adjustable leg loops. Sizing on both models seems to run a bit big, it means you should consider trying on a smaller size that you usually wear. There are several innovations presented in both models that will be expressed individually bellow.
Balance II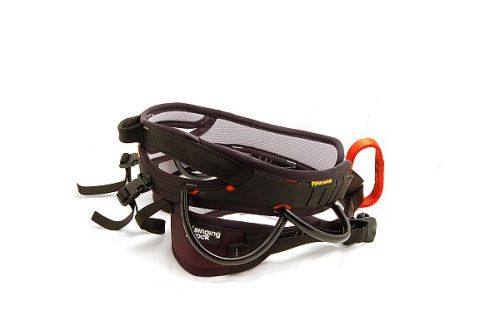 The sleek styling of the Ballance II.
foto by © honza jelinek
The balance is a full size men's harness which features a split back design. The weight bearing part of the harness is seperated in two along the lower back, creating a gap where perspiration can escape. This split design also widens the base of support along the lower back, resulting in a softer catch and more comfort while sitting for longer periods. Indeed, this harness was among the most comfortable in this test for prolonged sitting and belaying. The leg loops themselves provided plenty of padding, and the end result is a harness that a pleasure to wear.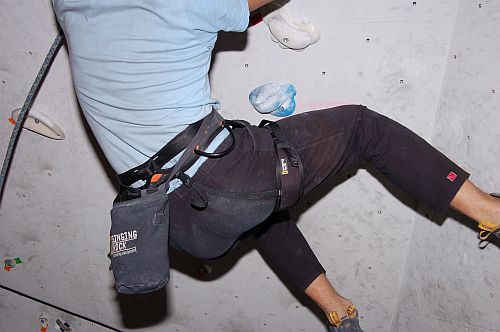 Tester in our top secret facility
foto by © Jiri Sika
The fit of this harness is something to note as well. Specifically, the waist belt can be threaded through different holes in the harness, it means that you can have the gear loops always at your side in the entire range of fit for the harness. This is important, because sometimes a harness fits well with winter clothing on, but when you wear it with just a t shirt one side may shift to the front. Adjustable leg loops make for a precise fit on the legs, and most notable is that the belay loop on singing rock models seems to be longer than other brands, it means the leg loops can ride at a natural attitude, and not rise into your crotch. The belay loop is also a bright orange, which makes it easy to identify when you are tied into the proper place.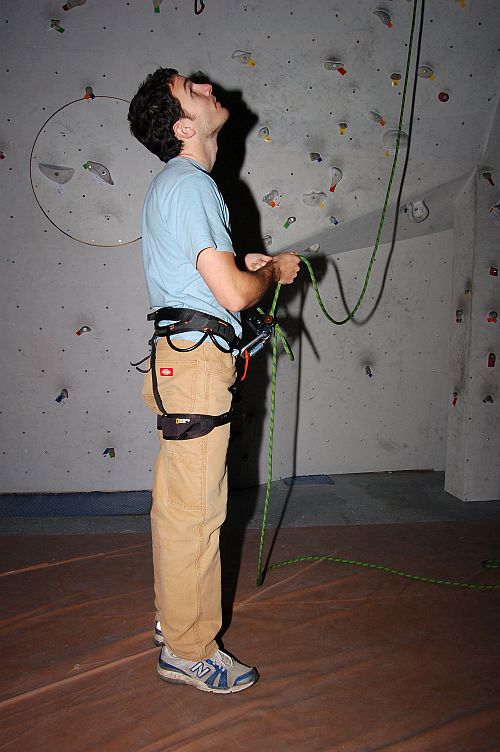 The Ballance is a belayers dream.
foto by © Honza Jelinek
The gear loops on this model are plastic covered fabric loops, large enough for quick clipping on hard on-sights, and also large enough to carry the necessary gear to protect yourself naturally. This harness is made of middle weight material- it means that it is sturdy, but does not breathe as well as other models. This, however, is remedied by the split back design.
Downsides to this harness include it's weight, which is by no means heavy, but certainly among the heaviest in the test. Also, several testers commented that after a few routes the waist buckle started to become loose. It is certainly not a safety problem, because it can quickly be remedied, but it proves somewhat of a nuisance. This same problem could be found in some older Petzl models as well. As you will read, Singing Rock designed some of the best gear loops on the market (like those on the women's pulse), it is a shame they didn't use them on this model.
Pulse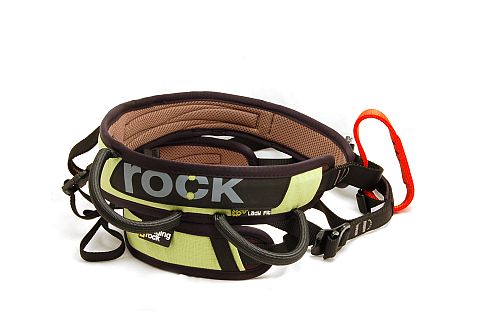 A good combination of form and function.
foto by © Honza Jelinek
The pulse is a new women's specific model from Singing rock. It boasts both clean styling and functional design. While the latest trend in harnesses seems to tend 'twards flashy color schemes, this one is elegant yet eye catching.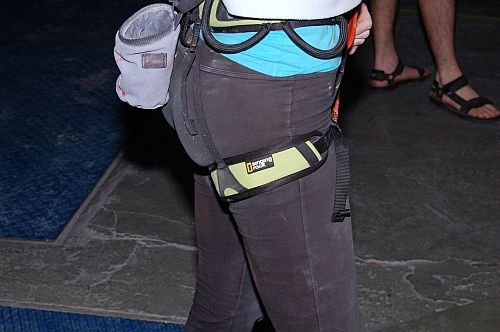 Fit and style combine well in the Pulse
foto by © Honza Jelinek
This harness is built with normal construction techniques, there is no split back like on the Balance model. The fit, however, is tailored to a women's body, which means it may have a better overall feel than the balance for woman climbers.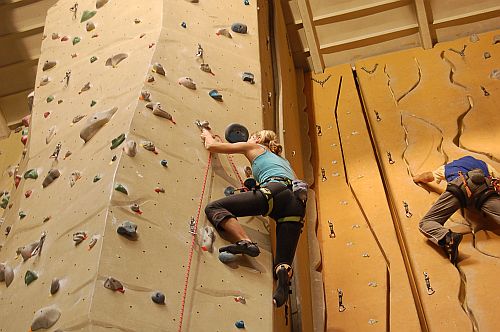 Pavla making tests in the Bat Cave.
foto by © Honza Jelinek
Self locking buckles are present both on the waist and leg loops- adjustment is quick and easy. It is important to note that no women testers complained of loosening buckles. Like the balance, the Pulse features a longer, brightly colored belay loop, which allows the leg loops to lie in a natural position, and makes it easy to identify the right tie in point.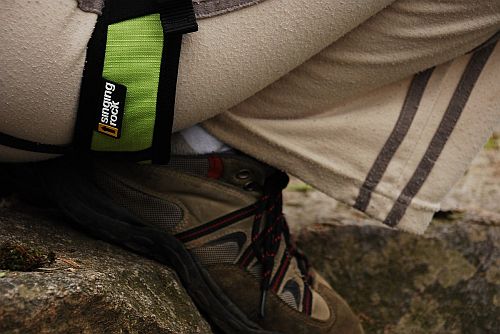 foto by © Jiri Sika
One of the best aspects of this design is the gear loops. The loops on this model were fabric filled with plastic inserts. The connection to the body of the harness is simply fabric- which allows the loops to move naturally- unlike molded plastic loops. The inserts in the middle of the loop give them a great shape and easy access for hard clips and racking plenty of gear. The fabric outside give it a nice overall feel. Indeed, these may be the best designed gear loops in the test, and it is unknown to us why Singing Rock doesn't use them on all of their models.
Conclusion
Overall, these are well made harnesses with great fit and excellent functionality. While they are certainly not the lightest nor most breathable in the test, they are among the most comfortable for sitting and belaying. Certain design aspects, like the split back, longer belay loop and free-floating molded gear loops are only to be found in singing rock models. Finally, Singing Rock harnesses lie in the middle of the price spectrum, so if value, adjustability, fit and comfort are a premium for you, you might consider Singing Rock for your next harness.