We have been secretly working in our underground labratory, where we have created a new mapping feature which is based on GPS coordinates, which gives our readers the big picture of all climbing areas of the world.
The link to the new map section is situated in upper blue menu on the right.
When you will be playing with this new feature we would like to ask that you be patient. You will be certainly rewarded with an unique view of the Czech Republic and where all the major areas are located.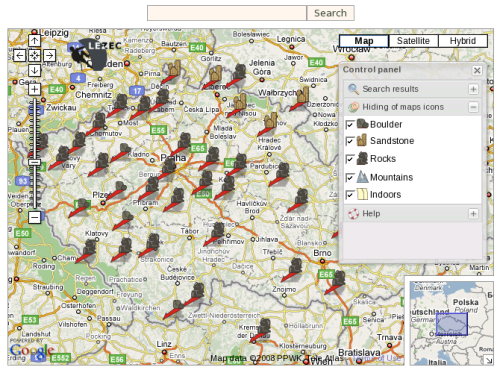 We have four types of icon symbolizing Different types of climbing activities: Sport climbing areas, sandstone areas, mountains and gyms.
Every icon when you move over with mouse description shows the name of the area as a hint flag, by clicking on the icon you can get bigger a bubble field which contains all available information about routes in this area with link to database, which you probably already know.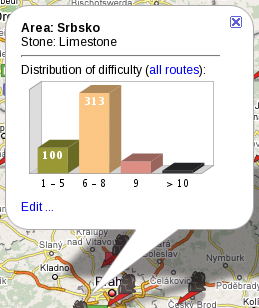 Some new functions are already on the way and we also would be carefully listening to your suggestion. For instance we plan to connect it to our guide books, we also plan to create a bunch of new icons depending on your feedback.
We hope that this new feature will help you to plan your trips more effectively.
Navigation
Navigating through the maps is stupid easy. In the left upper corner you can use arrows for moving within the map and also for zooming in and out.
The map can be centered just by using the drag and drop of the mouse, and the roll wheel is very useful for zooming actions. (Standard handling like any other Google map)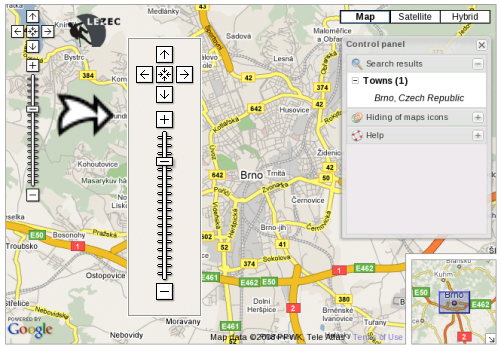 Zooming in and out and shifting of the map
When you zoom in you may realize that there are more sectors- it's a script which help us not to overfill the map with icons.

In the right corner we have three types of maps. Satellites (not all spots are well describes due to lack of detailed satellite shots in Czech Rep. but other European countries are much better covered.
Helpful is the hybrid map, which contains drawn lines of routes and streets and names of towns.

In the right bottom corner is a small thumbnail map which helps for quick navigation and gives big picture of the area.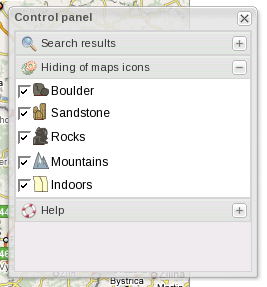 There are floating panels which are fully re-sizable, or you can close them.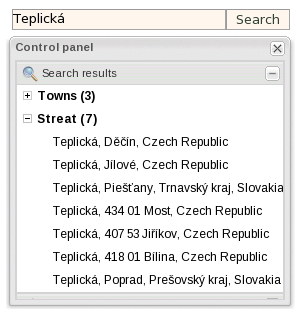 Above the map is a search function. You can locate climbing areas via typing of the closest town or state.
You can use this function when you occasionally will be traveling and look into map will tell you where to go for climbing.
In case your query doesn't return a reasonable answer- for instance when you would type Petrohrad you can get a town in Russia so don't hesitate and add comma and then Czech Republic.
Troubleshooting
There is an active email < mapy
at
lezec.cz > leading to maintenance team. Feel free to use it and report any trouble concerning the functionality of the map, as well as you can send us crags coordinates. (in
WGS84
, as a
GPX
file). All world are welcome.
Now you can
try it
- go ahead, don't be shy...