The Guardian Series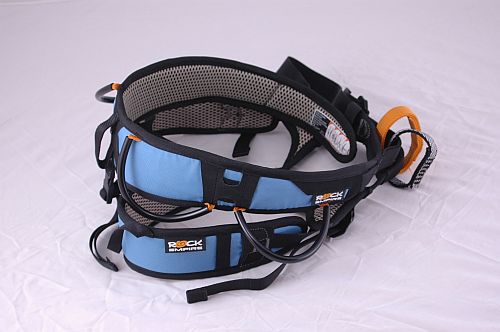 The Men´s version
foto by © Andrew Burgoon
First thing you will notice when you look at the harness is the dual belay loops- one regular and one dynema. This makes identifying them separately, even in the dark, clear. While two belay loops are superfluous for high end sport climbing, it makes establishing yourself on belay points on multi-pitch routes easier and safer. And anyone who has ever aid climbed knows what a mess your belay loop can become- with a separate belay loop for each aider the whole system is much cleaner and less confusion means more safety.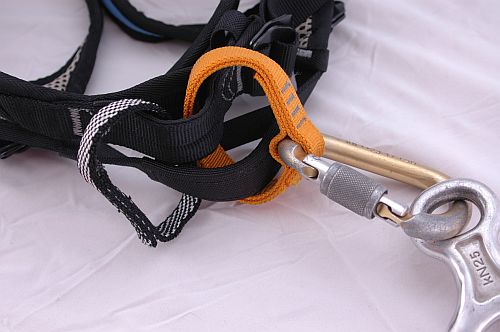 This ingenious design makes belaying a breeze.
foto by © Andrew Burgoon
Upon closer inspection of the regular belay loop, you will notice a pocket in the overlap stitching where you can thread your belay carabiner. This keeps the belay carabiner- and thus the belay device- firmly in position and prevents unwanted sideways movement while belaying, thus eliminating the possibility of cross loading the belay. While all carabiners are strong enough to handle cross loading, the real advantage to this little detail is that it makes belaying much smoother, without the unwanted movement of the belay carabiner.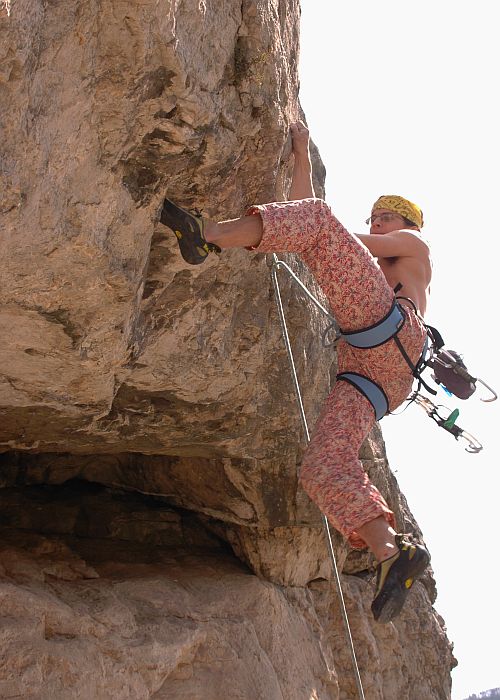 Gaurdian in action: Bejbs throwing down on Brouci, 9+
foto by © Andrew Burgoon
The harness itself is a traditional construction centered around a weight bearing sling. This year Rock Empire used a new mesh lining, but overall the design does not breath as well as others. The waist belt and leg loops are adusted with self locking buckles which enhances the overall safety of the harness. Ample gear loops, and sleeves to accomodate a carabiner for racking ice screws round out the functionality of the harness.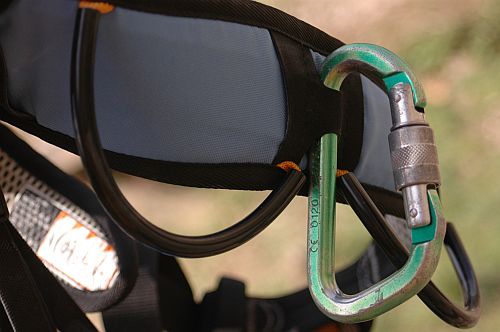 The sleeve on the side holds a carabiner for racking ice screws
foto by © Andrew Burgoon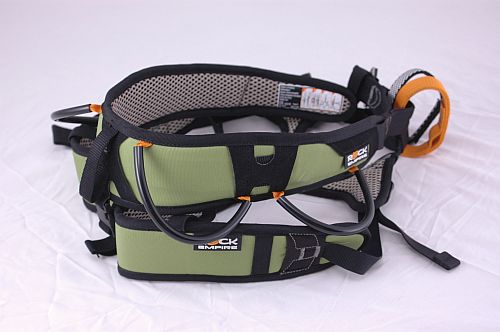 The Women´s model
foto by © Andrew Burgoon
The women´s model has all the same features but with a slightly different cut and fit, tailored to women´s bodies.
Conclusion:
The Safety focus of the Guardian makes it an ideal harness for beginners or groups. The functionality of it´s dual belay loops, big gear loops, and sleeves to hold a ice tool racking carabiner make it a good choice for those looking to climb in the mountians. It´s traditional design means it doesn´t breath as well as other tested harnesses. For high end sport climbing, many of the features of this harness are not neccissary, however the belay sleeve within the nylon belay loop is a truly ingenious design which takes no space and no weight, while greatly enhancing the fuction of the harness.
--------------------------------------------------------------
Pros
+ easy to adjust

+ dual belay loops

+ big gear loops

+ can attach ice tool racking carabiner


--------------------------------------------------------------
Cons

- low breathability

- double belay loops not needed for sport climbing

--------------------------------------------------------------