What is it:
Bouldering competition on the nature boulders
Where is it:
- On thew way from Decin go on Teplice direction, at Jilove in a curve like letter S turn to right and app. 5 km is the place. (Decin- Sneznik app 20 km)
- On the way from Usti nad Labem, go on Dressden direction. At Libouchec go on left to Tisa and there to Sneznik (Usti nad Labem - Sneznik cca 23 km)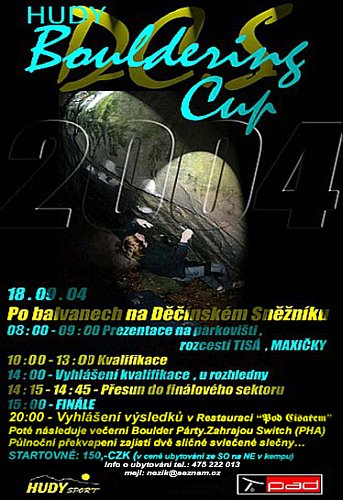 Presentatio:
It will be between 8:00 - 9:00 a.m. on the only large paid parking place (20 CZK/day) in the village.
Starting fee:
150 CZK. The fee includes accomodation from SA to SU in camp in Ostrov "Pod Císařem" and evening boulder party.
Rules:
Rules will be the same as in the competition in Petrohrad this year. All competitors will climb 3 hours qualification boulders (cca 110 routes), every boulder will have points depending on its difficulty. To enter the final the competitor will need specific number of points, specifed during the competition. There will be 4 boulders in OS style in finale and they will by judged like in normal boulder competition.
Accomodation:
It is prepared at 3 km distanced camp in Ostrov "Pod Císařem". You will need the your own sleeping bag for night in house. The night from Friday to Saturday costs 50 CZK. The night from Saturday to Sunday will be free of charge for the competitiors. Info about the accomodation on the tel: +475222013 Camp Ostrov.
The evening boulder party:
It will start about 9 p.m. There should play Prague groupe RAGE AGAINST THE MACHINE a and than two hot girls in its LESBI SHOW ...
Sponsors:
Hudy sport, PAD, Luna rossa
What more:
We recommend to take a bouldermate, shoes suitable to forest and a suply of chalk. And I would like to invite even thouse who are not sure whwtere they should compete.
Well it is about the matter to climb and look around the branch what happend.
Mainly there for Sneznik is magic place with wonderful views etc...
At the end I attache some photos to atract thouse not to decided yet.
PS: To ask above for good weather could be goog job either ...
In the name of the all from DC-S boulder gang Ondra Beneš +420605936005