In 2005 we expect seven competitions of the World Cup in bouldering and a World Championship which takes place in Munich, Germany.
The season starts this weekend in Great Britain – Birmingham and in three weeks in Russia – Moscow. I hope, as usually that route setters will build power boulders, which will suit to people.
Then two months pause follows for training. In a half of June there is a competition in Italy – Fiera di Primiero, in the town that is in 1000 meters above the sea level. There is necessary to arrive a bit earlier to acclimatize. The boulders used to be there very hard even in qualification, they are extreemly technique powerful boulders. E.g. last year only one top in OS style was enough for women to continue to the final. Vpolder ar set by our old friend from World Cup in Brno (Czech Republic)– A.Gniero. In two weeks there is a top of the season following – the World Championship in Munich, Germany. Then others competitions follows in Italyn – Bardonecchii, in USA – Salt Lake City, on September I found in international calendar competition in Prague, so it would be superb. The last competition of the season takes place in France – Firminy.
We can not forget on the Masters competitions. They are for the best competitors invited by organizers according to their actual - sometimes even former - performance. They are three – two in France – LÁrgentiére and Grenoble and of course Rockmasters in Arco, Italy.
The World Cup competition consists from two rounds. From qualification the 12 the best climbers continue to the final. Competitors climb six boulders in six minutes. The rank counts according to number of tops and attempts for tops, and number of zones and attempts for zones.
This weekend the second competition of Czech Cup will take place in Prague, but I am not going there, I will be in Birmingham on the World Cup. I nominated by last year results - 11th European Championship in Lecco, Italy, and 8th place in World Cup in Erlangen, Germany. So I look forward to the struggle and I will compete with boulders. The others to the Czech team will emerge from 3rd competition of Czech Cup in Břeclav. So be motivated and give a maximum performance to be the best to contribute the Czech team.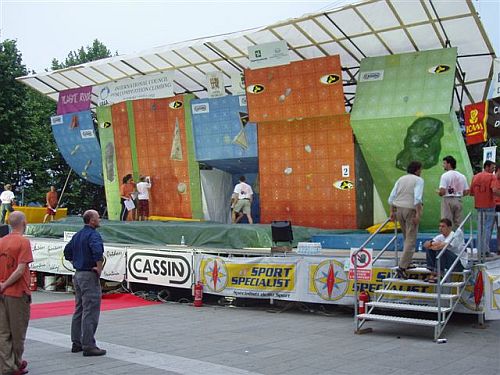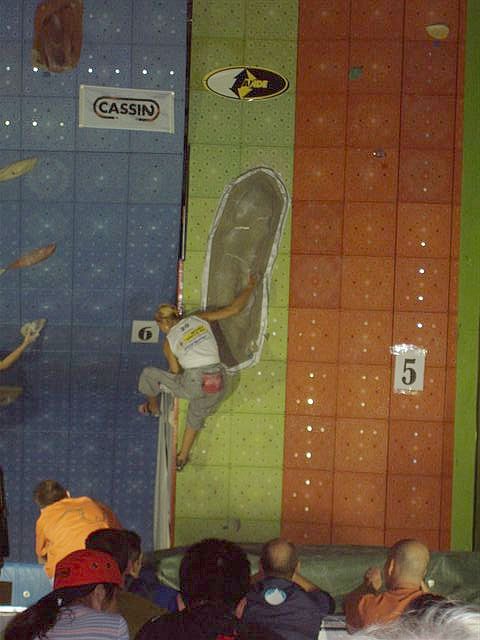 European Championship 2004 Lecco, Italy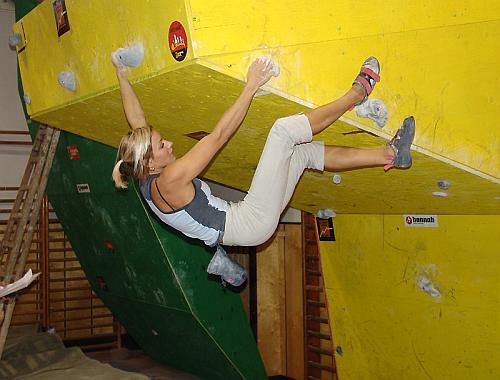 The last Czech regional competition - Sauna boulder 2005
Translated and attached photos from archive by Lezec.cz - The author is the Czech actual best bouldering woman Helena Lipenska, (the girlfriend of the World Champion in difficulty climbing Tomas Mrazek)