A World Cup Ice Climbing competition will take place on January 27/28 2006 in Northen Bohemia Tanvaldský Špičák ski resort in Jizerske mountains (Czech Republic). It will be 2nd year of the action named Tendon Icebreaker Ice World Cup.
This year competition was added on the list of elite competitions of the world series.
There will be built specific open air construction at Špičák. The best climbers of the world are expected there and they will compete in difficulty and speed climbing.
The ice colon will be 14m high with 6m horizontal part. About 100 world climbers are invited.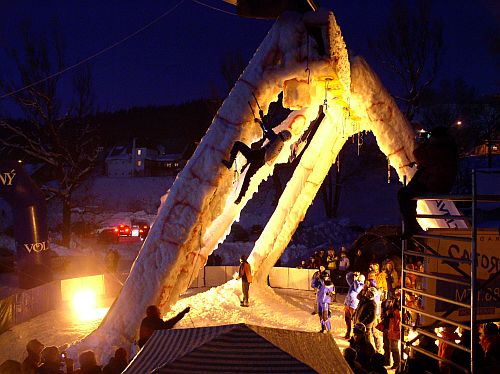 More info in English
Icebreaker
---
Calendar of UIAA Ice Climbing World Cup 2006
09/11/2005 15:37:11
1. Val Daone, Italy, 19-22 January 2006
2. Špičák, Czech Republic, 27-28 January 2006
3. Saas Fee, Switzerland, 4-5 February 2006
4. Busteni, Romania, 10-11 February 2006
5. Hemsedal, Norway, 4-5 March 2006

Source in English
UIAA