Here are some pictures to grasp or remember the atmosphere: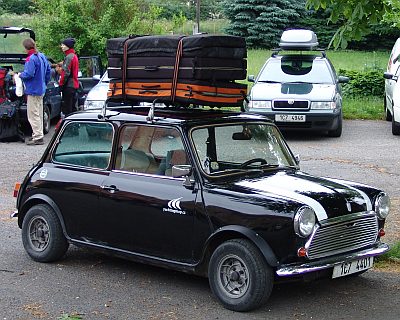 Most of the arrivees were keen boulderers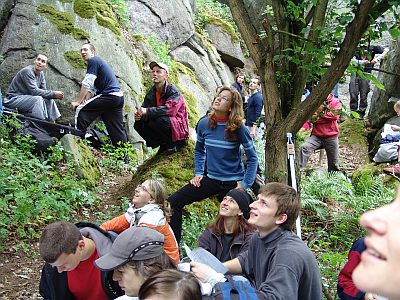 And there were plenty of them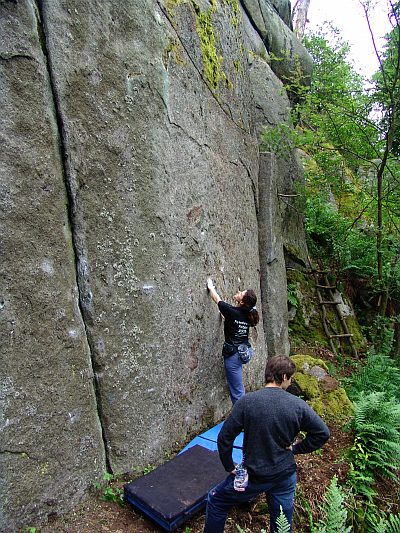 Some boulders were quite high and a lot of courage was needed
Results:
76 people registered, a couple of individuals joined out of the competition. The fine selection of competitors included 11 girls, 10 Germans, 4 Poles, and of course some Slovaks.
The winners:
Girls:(all over 50 points)
1.Simona Ulmonová 310 points(even 1x7C!!!)
2.Monika Kuhn-Gaberová 200 points
3.Jana Lukášová 165 points
4.Katka Kunešová 114 points
5.Radka Franková 57 points
the highest number of boulders climbed - Monika Kuhn-Gaberová 19 pieces
Boys:(all over 200 points)
1.Rosťa Štefánek 2000 points (the only one with more than 7C, one 7C OS)
2.Andreas Jörg 1400 points
3.Andrej Chrastina 1260 points
4.Piotr Dobrzanski 1080 points
5.Pawel Zionko 930 points
6.Richard Nyéki 910 points
7.Tomáš Bardas 760 points
8.Zdeněk Resch 720 points
9.Jiří Přibil 675 points
10.David Kozel 610 points
11.Tomáš Pospíšil 499 points
12.Michal Smrž 465 points
13.Jiří Sika 430 points
14.Daniel Černý 398 points
15.Jakub Hlaváček 375 points
16.Petr Kalman 365 points
17.Petr Solnický 340 points
18.Luboš Mázl 330 points
19.Marek Migdal 320 points
20.Venca Kučírek 265 points
21.Petr Babinec 250 points
22.Petr Holub 225 points
It is surely incomplete, somebody could have been forgoten. One German and Karel Černý should certainly be on the list too.
The highest number of boulders climbed by a man was "won" by Jirka Sika with 19 pieces.
The bonus boulder (Kometa - look at Photo of the day) was first climbed by Richard Nyéki (SK) winning a bottle of "Ballantines Whiskey".
The super action continued till late with the film projection and a lot of beer.
Some boulders were embarassingly low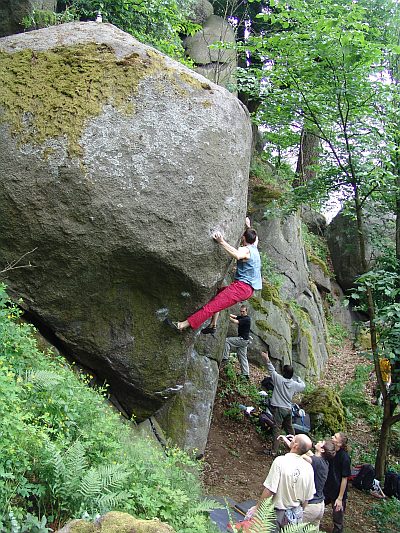 Some were hard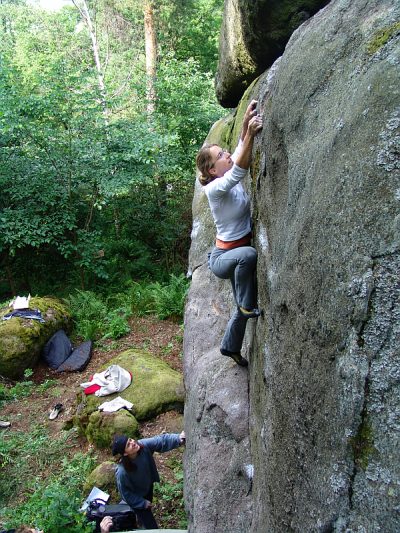 Some were easy but nice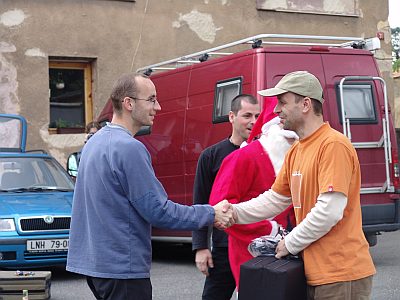 The guy in blue won the main competition by a big margin.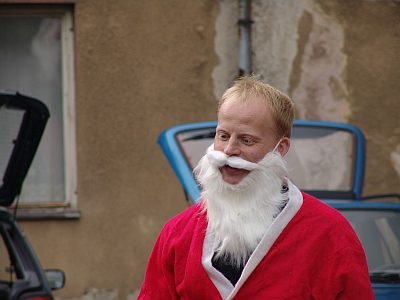 And this is the one who organized it all

Guide:
It is just a draft but it contains most of the boulders known till the competition
Guide Brána

More beta:
The list of the routes and more beta at
Jesenické kameny
Opening article about the beta of competition and the area is here
Petrohrad granit competition

Photo:
Really excellent photos of boulderers in actions are at this site of Martin
Web of Martin Spilka
Find some more photos at the photogalery here under the above link PHOTOS.