There were 244 people registered to the competition.
With the accompanists there were in Petrohrad woods about 300 boulder lovers, roughly half of them attended the after party in camp in nearby Jesenice.
The participants were from Czech, Slovakia, Germany, Austria, Poland, Hungary, Ukraine, Slovenia and Japan.
The results of girls and women (all who passed us the results list):
1.Katka Fickuliakova (SK) 700 points, max. 7B+
2.Nelly Kudrova 640, max. 7B+
3.Katrin Lehmann (D) 630
4.Marlene Graf (D) 600
5.Jitka Mázlova 335
6.Agnieszka Ostrzalek (Pl) 330
7.Bela Kohoutova 300
8.Veronika Hazukova 230
9.Olena Krasovska (Ukr.) 180
10.Dominika Dupalova 160
11.Zuzana Hrnciakova (SK) 120
12. Monika Kuhn-Gaberova 117
13.Zofie Trstanova (SK) 97
14.Eva Vorackova 91
15.-16. Veronika Krieger (D) 70
15.-16. Jana Svestakova 70
17.Pavlina Binkova 68
18.Lidmila Sazimova 58
19.Katerina Pintirova 35
Men - in the first news article all above 300 points:
1.Adam Ondra 5920 (6 pieces 8A a 8A+)
2.Rostislav Stefanek 5080 (2+8A+, 2x8A)
3.Tomas Mrazek 3830 (3x8A)
4.Jonas Junker (D) 1890 (1x8A)
5.Martin Spilka 1880 (1x7C+, 3x7C)
6.Martin Stranik 1705 (1x8A, only 7 boulders from the 8ht counted, and the one only 6A+)
7.Ondrej Benes 1360 (2x7C)
8.Lubos Mazl 1140
9.Jiri Svacha 1075
10.Unsigned anonymous 920
11.Jan Svika 906
12.-13.Balazs Kovacs (H) 880
12.-13.Istvan Agh (H) 880
14.Ivo Kasparek 830
15.Petr Solnicky 820
16.Kazujiro Chiba (Jap.) 755
17.Matej Gunda 730
18.Jakob Schröder (A) 725
19.Korbian Kreilinger (D) 702
20.-21.Jakub Hlavacek 590
20.-21.Benjamin Hartmann (D) 590
22.Jocke Perschmann (D) 565
23.Moritz Eisenhauer (D) 530
24.Felix Limmer (D) 525
25.Frank Seidel (D) 520¨
26.Lukas Velfl 515
27.Milan Rehak 510
28.Vaclav Kucirek 487
29.Jarda Marsik 480
30.Vojtech Vrzba 475
31.Axel Perschmann (D) 455
32.Pavel Peskin 440
33.Karel Pavlu 360
34.Mirko Breckner (D) 355
35.Mirek Matejec 340
The best collector girls (the most number of boulder problems) - Dominika Dupalová for 28 problems
The best collector men - Pavel Stedry for 51 boulders
From the bonus boulder problems nobody climbed the ladies very wild 6C+ and men estimated 7B+. Contrary I am very glad that Adam Ondra reached 5 years unrepeated boulder problem Chleba.
The highest boulder (with the biggest number of bolts the boulderer bypassed) was Ermitaz 7B.
In the night the music groups MeGusta and Wan men sonk played .
More information will write later including the full results of men.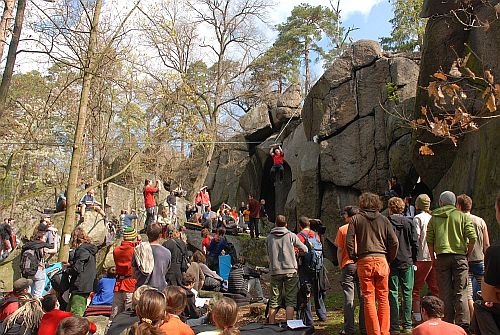 Opening ceremony
photo by © JirkaS, Lezec.cz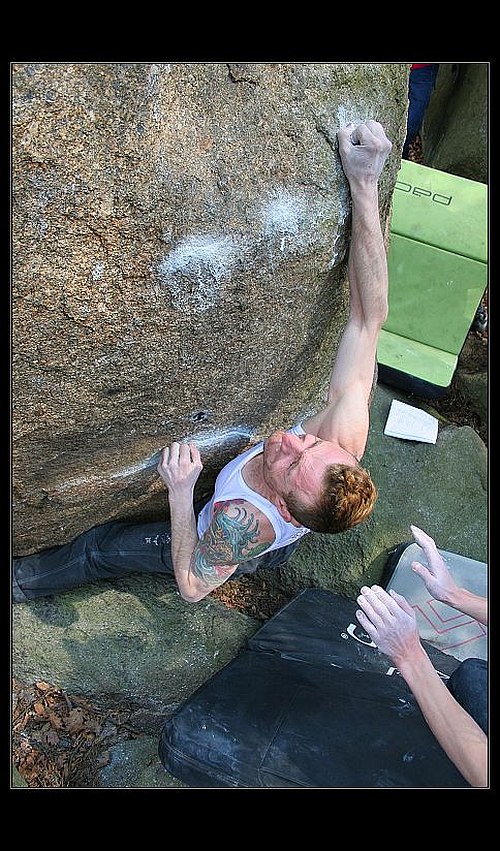 Tomas Mrazek
photo by © Azbest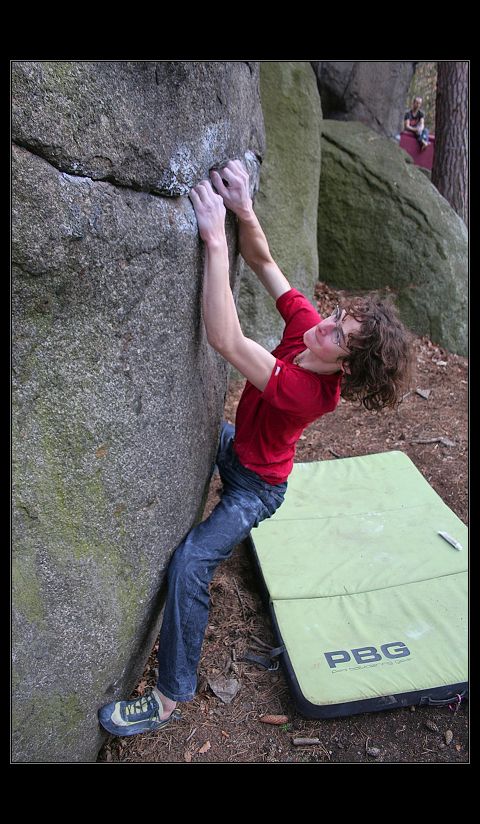 Adam Ondra
photo by © Azbest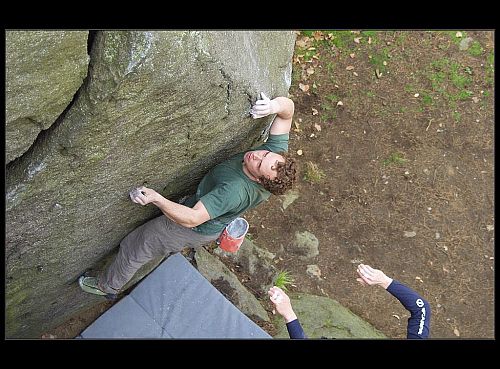 Felix Limmer (D)
photo by © Azbest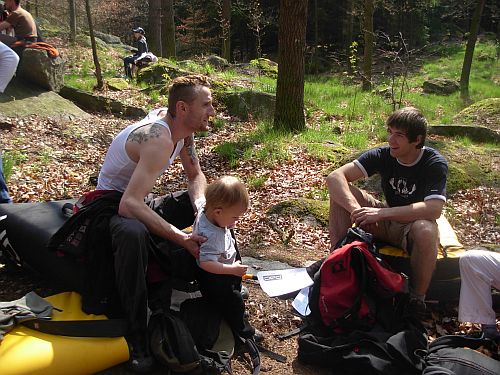 Tomáš Mrázek a Martin Stráník
photo by © Standa, CzechClimbing.com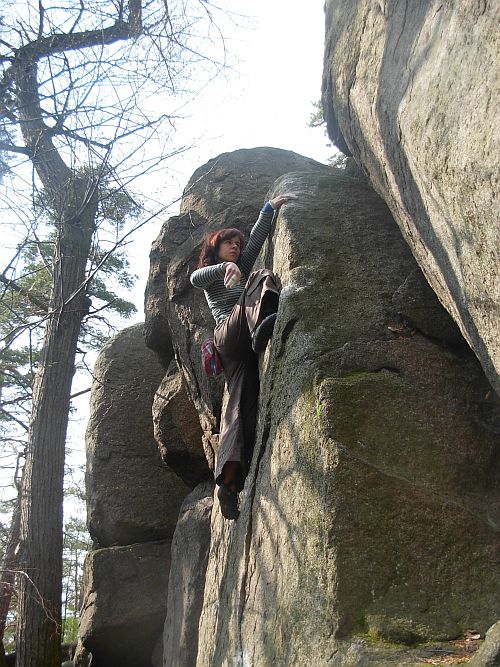 Olena Krasovska (UKR)
photo by © Standa, CzechClimbing.com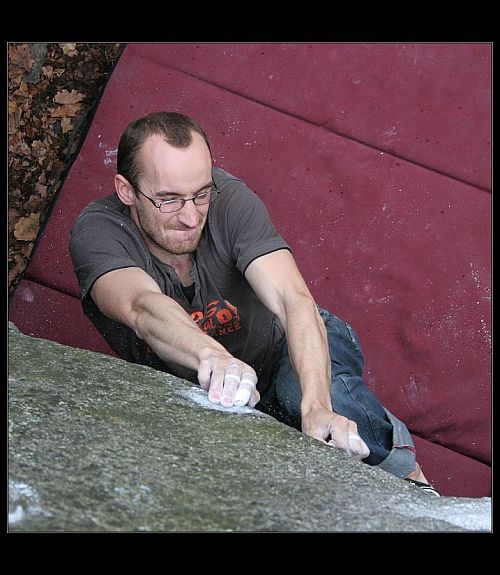 Rosta Stefanek
photo by © Azbest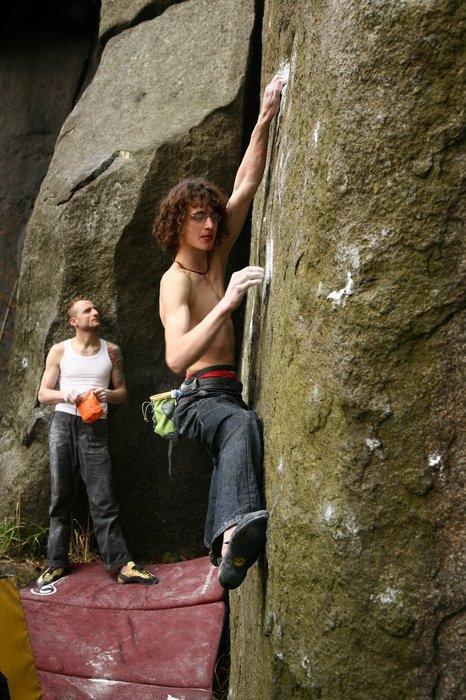 Adam Ondra, Tomas Mrazek in background
photo by © Siki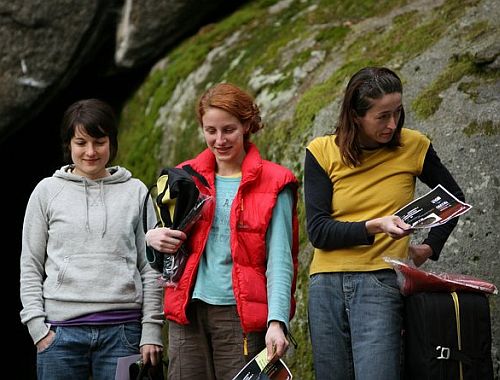 Podium girls
photo by © Siki