The 28th International Mountaineering Film Festival 2011 (MHFF- nicknamed Festak) in Teplice nad Metuji (Adrspach Rocks, Northeast Bohemia, CZ), takes place on August 25-28, 2011 and is full of climbing films. The guest is the legendary climber from Spain, Dani Andrada.
Dani Andrada has a lecture titled The Art of Climbing (El arte de escalar) on Friday, 08/26 at 20 hours in the cinema. He wrote that will arrive to Prague at 14.30, so I hope that he will reach to Teplice in time. Originally, I negotiated with him, whether he will take part on Saturday and Sunday bouldering competition, but he finally wrote that he had preferred not to compete for a long time and that he rather doesn't want.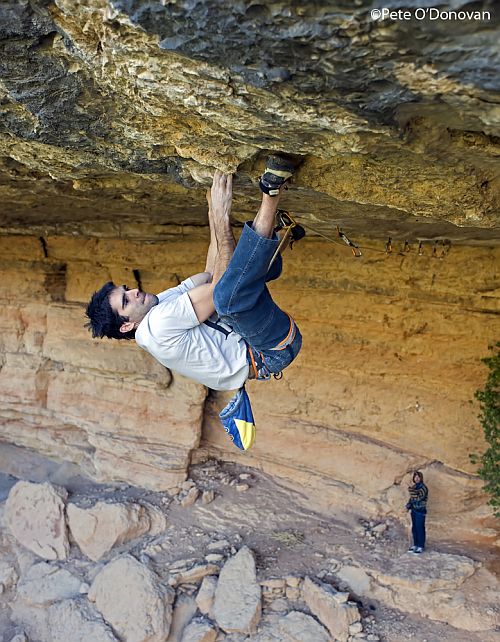 Dani Andrada
photo by © Pete O'Donovan
The other guests there will be even climbers: on Saturday afternoon Leopold Súlovský morning and before him John Travnicek "Grass".
Among the climbing films there will also The tracks of sand from Peter Spek Slanina about the sense of sandstone climbing:
The further program is
Hi and thanks for climbing
about two trips of the Czech team for climbing into Morocco and Turkey, Hudy Sneznik Cup competition of the same name in bouldering comp, retro documentary Once Upon a Time in Paradise or damals im Paradies to climb on Prihrazska kobyla:
Among others films there is Bleed in Hell about the first female ascent routes for E8 in the English Peak District, two films with Basque climber Iker Pou Demencia pile of climbing 9a + routes in the Spanish Margalef and Panorama of extreme climbing on the Tre Cime di Lavaredo:
And two films with Briton Leo Houldingem - Ocean of Fear on the wall in South Africa and The Prophet of El Capitan in Yosemite:
In total there are 40 films on the program. The total list, including the alpine, and ski and ethnographic program will be on display, on the innovative festival website at:
www.horolezeckyfestival.com
There is an accompanying program which includes the Czech Cup in bouldering.
---
Lezec.cz (the Czech version of the CzechClimbing.com) as the media partner of Festak, has once again chance to award a one of the films by
Lezec.cz website Prize
. Readers have the opportunity again to help choose the film that the local climbing community website like the most. You can express your opinions in the voting poll and the discussion below this article. We will post a poll on the first page at the beginning of the Festak.
Link to the poll here:
What film on Festak 2011 is the best? Strong> a>