The Polish film Co sie wydarzylo wyspie to Pam about climbing in Greenland won the Grand Prize on International Mountaineering Film Festival 2011 in Teplice nad Metuji, CZ. The winners of the boulder Czech Cup were O.Nevelik and N.Kudrova. The Spanish guest Dani Andrada was 3rd.
The festival is nicknamed Festak and the town of Teplice nad Metuji is resort for Adrspach Rocks, Northeast Bohemia, CZ.
The CZ film Once upon of time in the paradise or Damals im Paradies got the People's choice award.
The prize of media partner website Lezec.cz/CzechClimbing.com was awarded to CZ film Hi and thanks for climbing. More results further.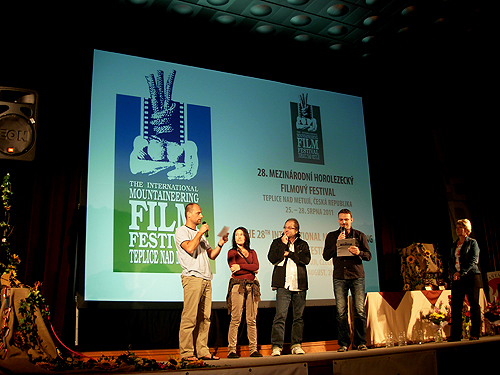 The Jury with chairman Steve Lovecek Lichtage
photo © Standa Holec
The podium results in the bouldering Czech Cup:
Men:
1. Ondrej Nevelík
2. Jan Chvála
3. Daniel Andrada (ESP)
women
1. Nelly Kudrová
2. Petra Ruzicková
3. Vera Kostruhová
Full results from the bouldering competition for download:

Výsledky
-
xls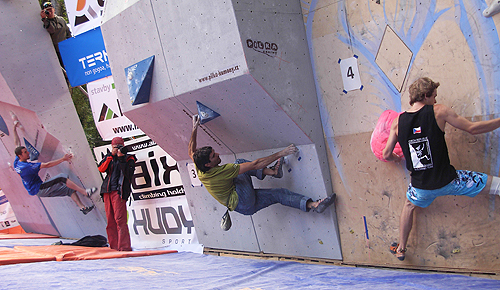 Dani Andrada in 3rd boulder problem in finals of the boulder Czech Cup in Teplice nad Metují 2011

photo © Standa Holec
---
Full Film Festival results
WINNERS OF THE 28TH INTERNATIONAL MOUNTAINEERING FILM FESTIVAL
Teplice nad Metují, 25. – 28. 8. 2011
Grand Prize
Co sie wydarzylo na wyspie Pam
Eliza Kubarska
Poland
Best film on climbing
Les Dessous de Ganesh
Vladimir Cellier, Julien Nadiras
France
Best documentary
On the trail of ghengis khan: in the skin of a wolf
Tim Cope
Australia
Jury's special mention
Point of no return
Peter Mortimer
USA
Prize of Town
Stopy písku
Petr Slanina
Česká republika / Czech Republic
People's choice
Tenkrát v ráji aneb damals im Paradies
David Svárovský
Czech Republic
Media partner award Lezec.cz
Ahoj a díky za lezení
Ondrej Smrz
Czech Republic