Simply
26.04.2008 we will go together to Petrohrad village to attack the mysterious Petrohrad forest and its beauties. This year we reopened an older area, which had already some problems, so could be that some climbers would already know, where it will take place.
Anyway let's try to keep this a secret.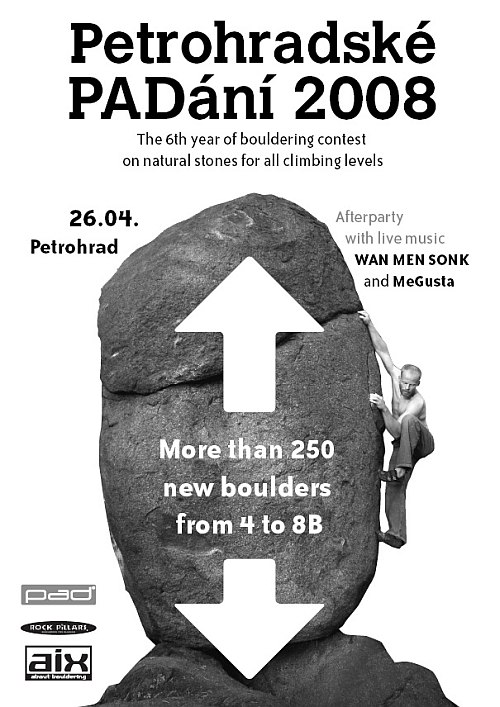 Poster
250 boulders are prepared for this year. The majority of them are beautiful stunning lines- some of them are pure highballs. This year we focused on opening of easier stuff so also people climbing 4, 5, and 6 Fb will be happy.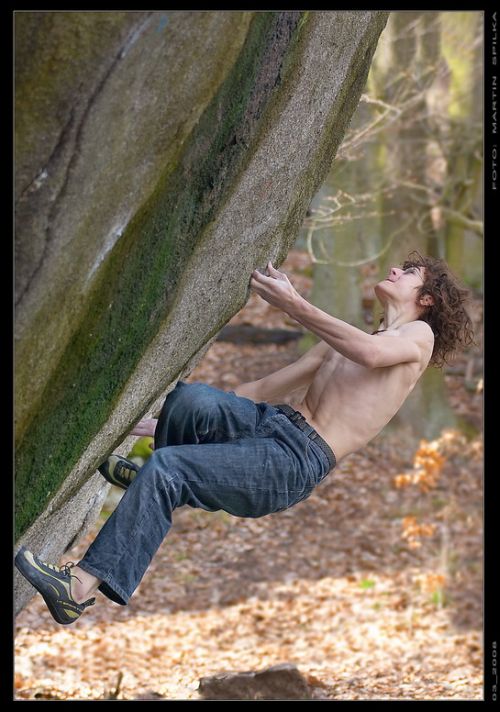 Adam Ondra in Frodo na Kole, 8B Petrohrad
Martin Spilka
Of course there are more than 60 problems above 7A, and we believe that there will be something also for the top class boulderers. Surrounding is just great- setting has no bushes, mosquitoes or nasty landings. Its about 20 min from the car.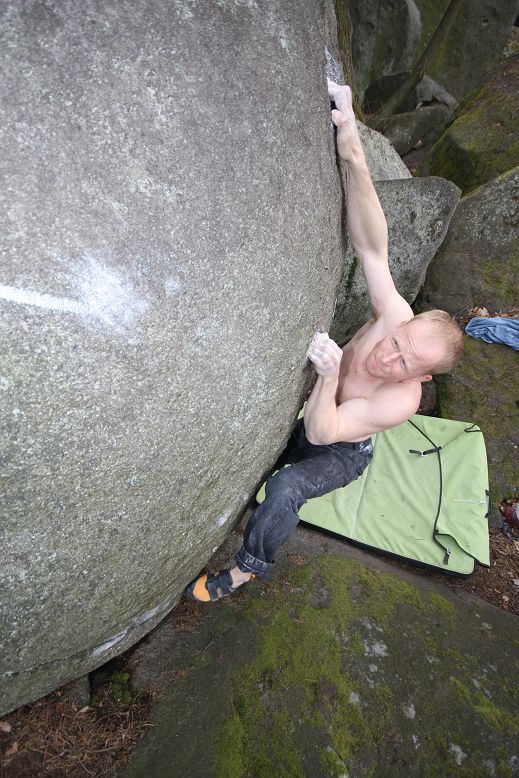 Petr Resch in Hypotéza, 8A, Petrohrad
Karel Hegr
We proudly preset these top problems:
Krucistisk, 8A+, Neue Mädchen, 8A+, Virgule, 8A/A+, Blues session, 8A, Klystýr, 8A, Zabíječka snů, 8A
and many new open projects.
Important note: All classifications are only based on opinion of the FA team so we would be glad if you will comment it.
Competitions:
Main competition (Czech ranking)
Everyone's eight hardest boulders will be counted.
Collector
The most boulders in the day.
Seeker (new!!!)
There will be some bonus problems hidden in the forest which won't be in the topo and your task will be to find them and climb them.
Bet competition
How many attendees will be this year?
Agenda:
9-10 presentation
ca.10.45 start of competition
18 the end
18.30 announcement of winners
after transfer to auto camp at Jesenice
21-?? Live music and other
Access:
Petrohrad is situated about 80 km west from Prague and about 50 km north from Plzen.
Access from Prague: Take Hvy (a toll route) no.6 direction to Karlovy Vary. There is 80 km from Prague on this route the Petrohrad village. Turn left and after about 1,5 km you reach the village center.
From Karlovy Vary: The same route No.6 direction Prague at abou 80 km from Karlovy Vary is Petrohrad. This time you should turn right and after 1,5 km you are in the village centrum.
From Plzeň: Take route No.27 direction Most abd after 50 km you will reach the sign Petrohrad. Or you can continu a few km further and reach the route No.6, from which you can go to Petrohrad. See description above.
A big picture of the area náved is parking and presentation
Map of the whole area A4
Servis:
Everyone will get a guidebook of the area and some gift from sponsor. The camp is for free (sleeping in the tent).
Fees:
ČHS members 200,- (pass necessary)
Others 250,- (10€)
Main sponsor: PAD bouldering gear www.pad.cz
Sponsors: Rock Pillars www.rockpillars.cz
AIX www.aix.cz
ČHS www.horosvaz.cz
More pictures: www.boulderfoto.cz
Important contats:
Organizer Petr Resch 604 245 568 reschici@atlas.cz
Auto camp Jesenice Pavel Kyselka 608 029 189 atcjesenice@seznam.cz
On line weather forecast(20 km from Petrohrad):
Underground weather forecast