The movie about climbing on limits in different areas shows also hard trad climbing and strange and rare tower jumping in Adrspach, north east Bohemia sandstone towers was granted also by the prize of the host town Teplice nad Metuji.
The Swiss film Lighting Strike – Arwa Tower was picked up as the best mountaineering movie. It is the story of two teams that went to climb in 2007 Arwa Tower, a six thousander in Nord India Garhwal Himalaya.
As the best documentary movie was announced German film 20 seconds of Joy about lady BASE jumper from Norway.
Czech film Matrix Reloaded about mix climbing in winter High Tatras, Slovakia, got prize of general partner Hudy Sport, the Czech large chain of outdoor equipment stores.
Slovak producer Pavol Barabas got the prize of the audience for movie Bhutan – Looking for Happiness (
www.k2studio.sk
)
Special prize of the international jury was given to the cartoon film Uruca about climbing on Pao de Azucar in Rio de Janeiro, Brazil.
The 2nd special prize was given to Polish series of 5 films about polish climbing in Himalayas.
The source:
Krkonossky denik
(the Czech local newspaper)
www.horolezeckyfestival.cz
(the official International Mountaineering Film Festival site)
Besides the film festival thousands of climbers and mountaineers in Teplice nad Metuji enjoyed the additional program. Except shopping in shop tents of plenty of outdoor companies and competing in bouldering competition (the specific article
Czech Cup in bouldering - Teplice nad Metuji
) they also climbed on the famous trad sandstones there.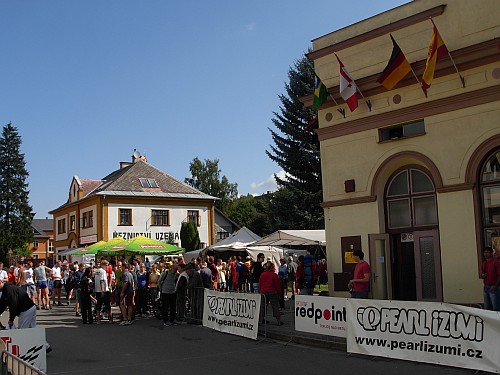 Festival (Festak) 2009: in front of the cinema
photo © Standa@lezec.cz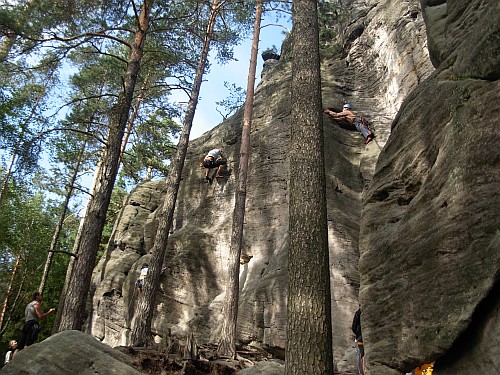 Festival (Festak) 2009: in the rocks
photo © Standa@lezec.cz
The articles about the last annuals:
2008
2007
2006
2005
2004
2003