Again all lovers of pure bouldering will gather at Petrohradské PADání. This 8th annual open air bouldering competition
Petrohradske PADani
is scheduled on weekend 24th. and 25.th April. This time we will be fighting at the very west part of the granite paradise. At the place where the bouldering here was founded.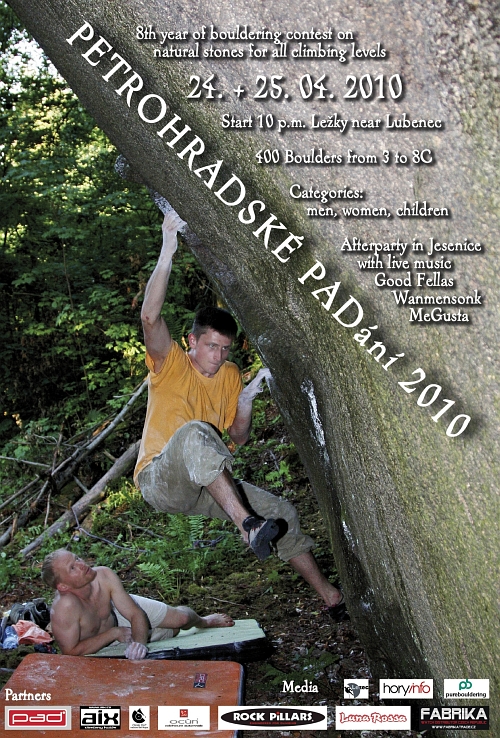 Poster photo – instead of p.m. should be a.m. (hi res)
photo by © Resch - Hegr
Registration:
Start on Saturday 24.th April
at the registration desk from 9 to 10 a.m. in Ležky village near bigger town/village Lubenec (West Bohemia, between Prague and Karlovy Vary - Karslbad, CZ).
The competition or rather more international boulder session is Central European event similar to Italian Mellobloco. The competition - session will be two days long. System is the same as in the older annuals, after party...etc. The more info would be presented later.
After registration (Everyone will get a brand new unique guidebook of the area, set of climbing grips and ClimbOn salve.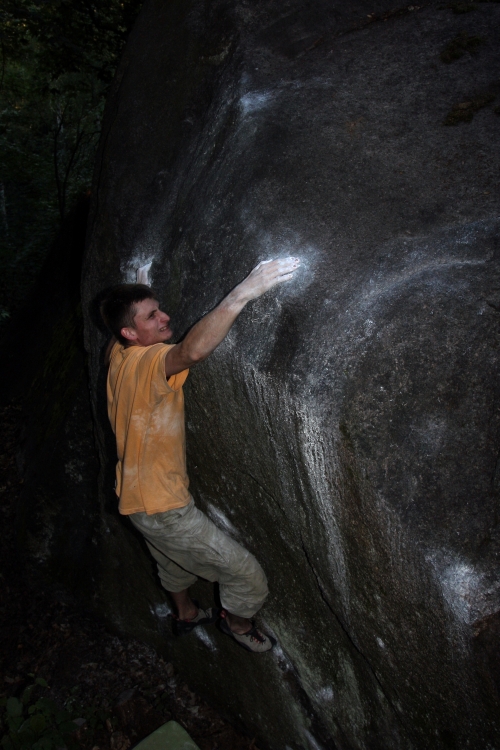 6B
photo by © Karel Hegr
Again the majority of boulder problems are beautiful stunning lines- some of them are quiet a highballs. For ambitious boulderers there are many tough problems this year. (More than 20 problems within range 8A a 8C !!) Important note: All classifications are only based on opinion of the FA team so we would be glad if you will comment it.
As the last year we focused on opening of easier stuff so also people climbing 4, 5, and 6 Fb will be happy.
Competitions:
Main competition
- Everyone's eight hardest boulders will be counted.
Collector
- The most boulders in the day (just in one day).
There will be some bonus problems hidden in the forest which won't be in the topo and your task will be to find them and climb them.
Kids
- younger born till 1999 and older 1998 – 1994
Agenda:
Saturday:
from 10.00 till 17.00
after registration you can immediately go to collect boulder problems
Sunday:
9.00 – 15.00, 15.30 winners announcement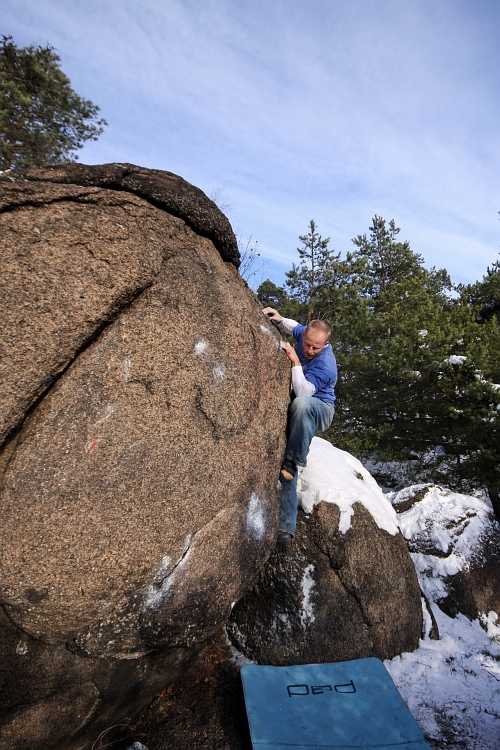 6B+
photo by © Karel Hegr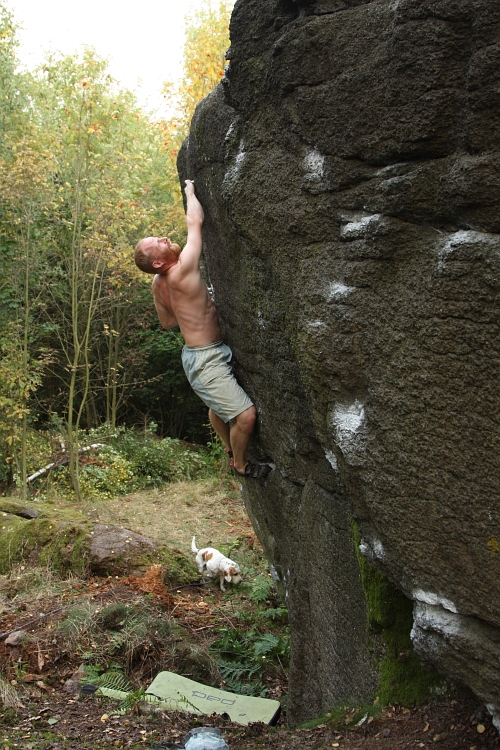 6C+
photo by © Karel Hegr
Evenings:
1.Friday – open fire in Jesenice campground
2. Saturday - three live music groups, photo show, beer, food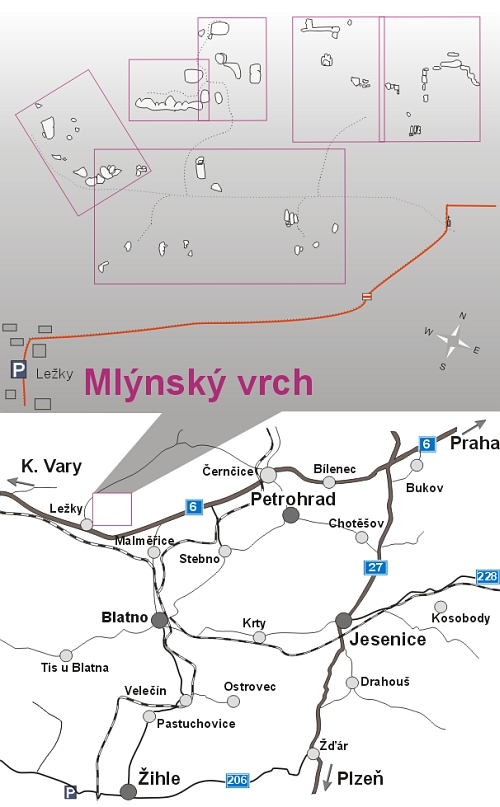 Access:
Ležky village is situated about 80 km west from Prague and about 50 km north from Plzen.
Access from Prague:
Take Hvy (a toll route) no.6 direction to Karlovy Vary. There is 80 km from Prague on this route the Ležky village. (10 km after a big crossroad towards Plzeň)Turn right and continue to signed parking place.
From Karlovy Vary:
The same route No.6 direction Prague at about 75 km from Karlovy Vary is on the left site Ležky village. This time you should turn left and after 0,4 km you are in the village centre.
From Plzeň:
Take route No.27 direction Most and after 53 km you will reach the major crossroad (K. Vary – Praha and Plzeň – Most), turn left direction to Kalovy Vary and after 10 km you will reach Ležky village nesting on the right side of the road.
Fees:
Others 400,- Kč (16€)
Kids: 100,- Kč (4€)
Sponsors:
PAD, Luna Rossa, Rock Pillars, Climb On, Fabrika, AIX, Ocún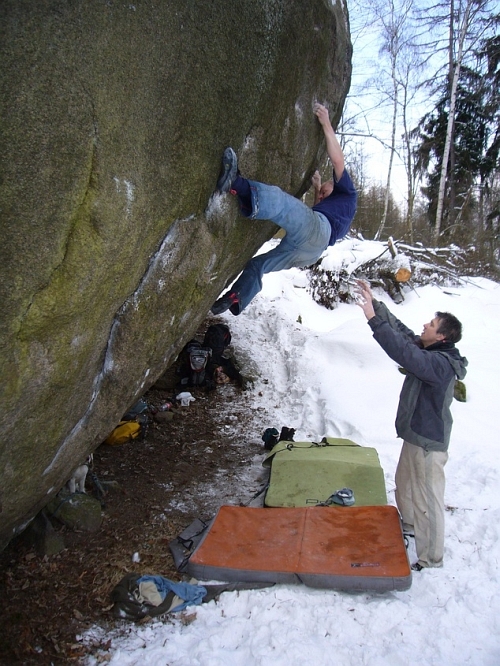 7C+
photo by © Karel Hegr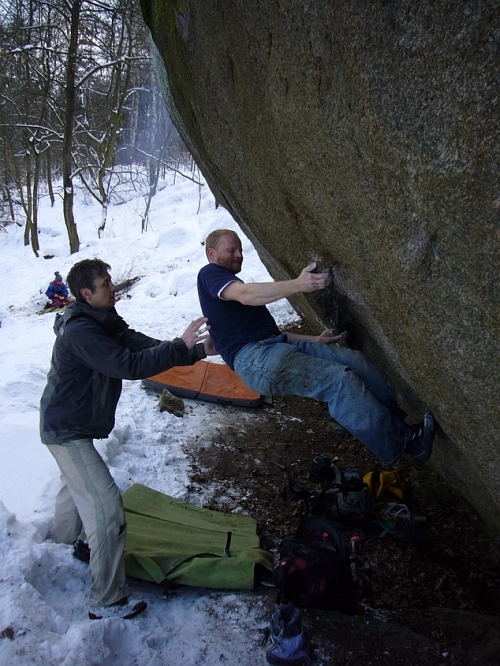 8A
photo by © Karel Hegr
Media partners:
Lezec
, Horyinfo, Purebouldering.
Important contats:
It is organized by Petr Resch and Karel Hegr. The contact on them is on email:
petrohrad@email.cz
.
Petr Resch 604 245 568, petrohrad@email.cz
Auto camp Jesenice Pavel Kyselka 608 029 189 atcjesenice@seznam.cz
On line weather forecast (20 km from Petrohrad):