Adam Ondra climbed yesterday probably the hardest route in Bohemia, West part of Czech Republic. He sent his new project Predator 9a+ PP in limestone area Srbsko, near Prague.
Adam wrote to climbs database in the Czech version of our climbing portal grade 11/11+ and he commented it:
"As the most probable grade I see 11/11+ (9a/a+), it went yesterday somehow better then I thought. But I have to remark that the crux moves are very specific and the strength does not mean enough, so therefor I could really hardly grade it. And yes I admit the the style match me, so it may will be 11+ in the end."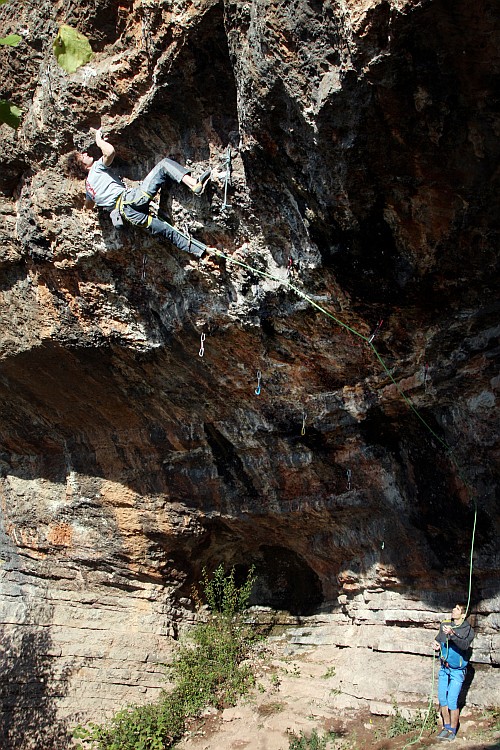 October 2015: Adam in project 11+
photo by © K. Hegr
In Moravia on East Adam Ondra did before several harder routes, it his home area.
The Top routes in Czech Republic
Vasil Vasil 9b+ (12) (Moravian Karst - Sloup)
Perlorodka 9a+ (11+)(Moravian Karst - Holstejn)
Predátor 9a+ (11+) (Czech Karst - Srbsko)
To tu ještě nebylo 9a (11) (Labak- Left cost)
Echolokace 9a(11)(Moravian Karst - Josefovske Valley)
Tanec kuřátek 9a (11)(Moravian Karst - Josefovske Valley)
Perla východu 9a (11) (Moravian Karst - Holstejn)