When you did Weisse Rose, rumors said that you were trying also Open Air. Its that true?
I tried this route for the first time this summer. And I couldn´t figure out the moves.
I was attracted by a relatively good undercling for which you have absolutely no foot holds and didn´t see some microscopic side pulls to the right. In late summer Alex advised me how to do it and immediately after sending Weisse Rose I made an inspection and was able to do all the moves. Then I put it away for a while. Time came when we had a holiday and a three day weekend. It means five days and nine tries.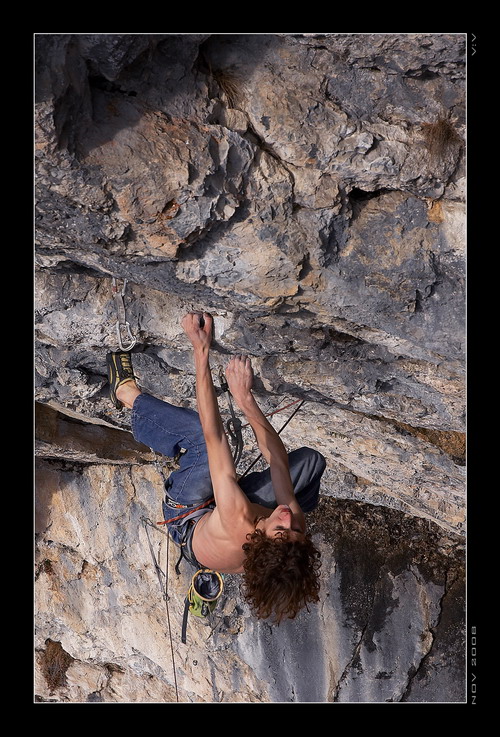 Adam Ondra sending Open Air, 9a+
photo by © Vojtech Vrzba
Hardly anyone can imagine the moves to a 9a+. Could you break down the route in terms of bouldering grades and say something about the route?
The route is quite bouldery. First 25 meters is maybe 8a+ [french], than you can sit on a ledge. From here you continue for 15m long roof- also about 8a+ fr- to the first good hold. Above it there is a boulder passage (about 7B?) and you got the second good jug. Basically, the route starts here– a boulder problem about 8A+. Up to here it´s relatively easy climbing; you are not quite pumped but also not fresh. It doesn´t matter if the roof is 7b or 8a+, the important thing is that you have to climb 20m hanging on your hands.
Above the crux you are rewarded by tasty and easy vertical climbing with nice view of Kitzbühel. All in all: 8a+,8a+,7B,8A+, easy finish.
Do you think that with such a hard route Alex Huber was ahead of his time? Do you know how long he tried it?
Unfortunately I don´t know. I would say that he keep trying for a longer time, because from when he did Weisse Rose it took 2 years to send Open Air.
What is the difference between Alex´s Spanish and Austrian routes?
I think that there is not much difference between them. In general they are stamina routes but Open Air is an exception. The major advantage of Spain is stable weather.
Has anyone tried Open Air in the last 12 years?
Probably it´s the same case as with Weisse Rose. There were some tries but the crux probably remained unclimbed or unsolved. The route is a nice logic line so its highly unlikely that someone didn´t try it. :-) Maybe climbing itself could be little bit of a disappointment because there is this brutal boulder problem. If you compare Weisse Rose and Open Air, OA is less attractive from the climbing point of view.
At 8a.nu you said that so far it´s your hardest route that you have sent. Do you think that it could be less than your maximum if you did it within 9 tries? Do you feel some reserve?
When I was climbing this route I got the feeling that I simply can not climb any harder at that moment, on the other side, when you try it several times, your body accommodates and somehow every muscle remembers how to move, and the route gets easier. So it´s hard to say, I wouldn´t have the steadiness for long hang-dogging, if that´s what sending this route took. I let them ripen. If I would be focused on something I would be able to keep trying for a week but than I would rather abandon the route for couple month and wait to be stronger.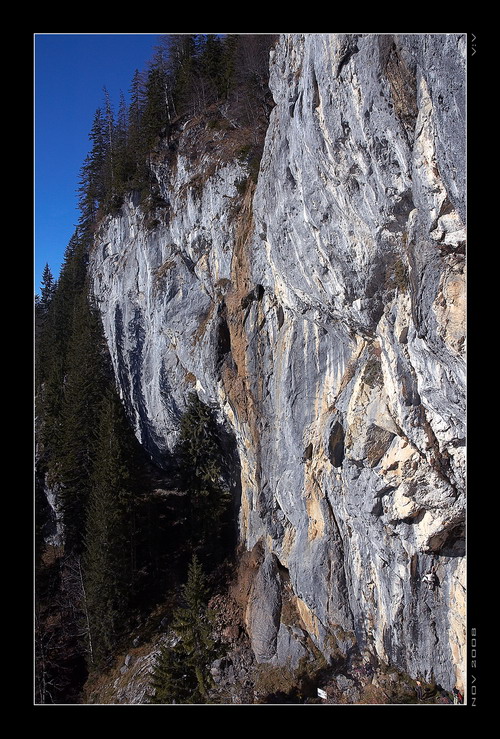 Schleier Wasserfal, Austria
photo by © Vojtech Vrzba
You said that Weisse Rose could be 9a+. What do you think now after sending Open Air?
I would keep Weisse Rose as a hard 9a, Open Air as a regular 9a+.
Are you satisfied with your sends this year?
Yes, more than that :-)
Thank you very much Adam for a nice interview for Lezec.cz and congratulations one more time!
Author: Simona Ulmonova
Translation: Jiri Sika, Andrew Burgoon