The list of the climbed routes
Rambla 9a+ PP Siurana 5 attempts 10.2.2008 (3 attempts in Broadway 2007, the same beginning)
La Novena Enmienda 9a+ PP Sta. Linya 3 attempts
5.2.2008 (the combination of the routes, that he climbed in 2006,7)
Fuck The System 9a PP Sta. Linya 3 attempts 6.2.2008
Open Your Mind 9a PP Sta. Linya 2 attempts 17.2.2008
Digital system 8c OS Sta. Linya 5.2.2008
Rollito Sharma Extension 8c OS Sta. Linya 7.2.2008
Jamaican airplane 8c+ PP Baume les Dames 3 attempts 1.2.2008
El Disbarat 8c+ PP Montserrat 15.2.2008
Santa Linya 8c+ PP Sta. Linya 17.2.2008
A per nota 8c+ PP Siurana 2nd attempt ( 9a?), 1st ascent, 11.2.2008
Ces Ultima Ola 8c/c+ PP Sta. Linya 2 attempts 7.2.2008
La Mocosa 8b+ OS Pizaria / Terradets/ 3.2.2008
Force vive 8b+ OS Baume les Dames 18.2.2008
---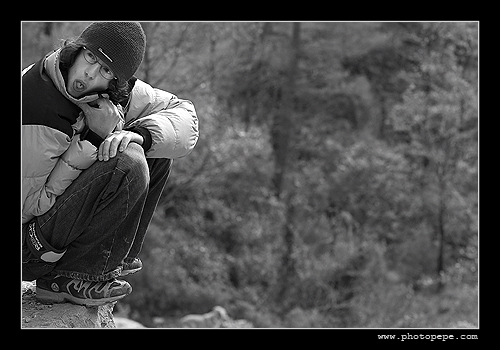 Adam Ondra
photo by Pepe Piechowicz
It is just the beginning of the year and already you have so many hard sends. Are you not surprised that you climbed so well?
So, surprised is not the right word, but definitely I did not expect so big collection.
You climbed La Rambla extension 9a+ on the 5th attempt. In climbing this route you reached the limit of what is now in climbing classification. Looking at the speed of your ascent one can see, that your maximum is somewhere else completly. Where do you see it? Actually What more will you climb? It seems that you will have to make some 9b, 9b+ yourself.
All of the hardest routes I have climbed are about endurance, so I want to focus on and climb routes at the same level with bouldery moves. Just to improve myself there, where it will be possible. Definitely todays hardest routes are far below the human maximum.
In La Rambla you did not use the prohibited hold, which only Ramonet did not use from all of the previous ascents. Do you think, that this hold makes a big difference in the grade? Is it not unnatural to prohibit holds on a route?
Although the hold makes the route remarkably easier, it is total nonsense to prohibit it because of the length of the route. The most absurd is, that the hold is used as a foothold. I did not use the hold only for the reason, that nobody could say that I had cheated it. Then it is necessary to think about the question if the route with the hold is still 9a+ or 9a.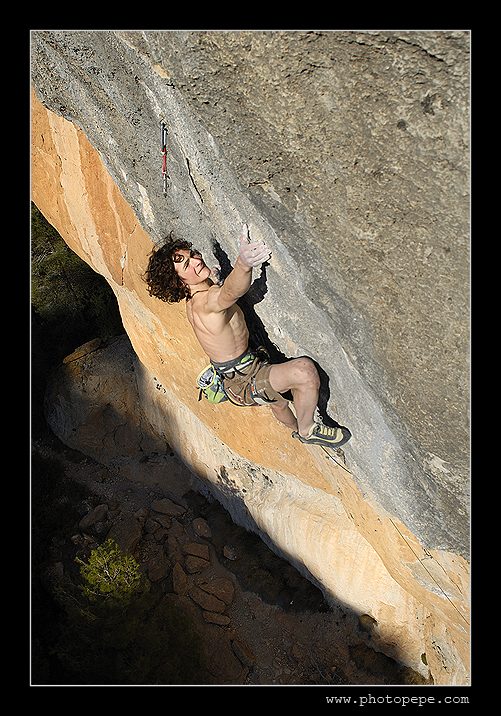 La Rambla 9a+
photo by Pepe Piechowicz
About Perla vychodu 8c+ in the Moravian Karst, (Czech Republic) you said that it is the most difficult route that you had ever climbed. Is it still valid? Are not you going to re-evaluate the grade of the route or are the routes in Spain overgraded?
I think La Rambla was probably harder. But I can´t avoid the impression, that the routes in Spain are overgraded. Comparatively with France all is at least half grade easier. And I am not speaking about Buoux at all!
Terribly hard is to compare endurance routes with bouldery ones, so one cannot compare Moravian Karst and Spain too much. Generally I think following: In Spain you need only power and knowledge of how to depump on a jug (some better technique makes it only a bit easier). In the Frankenjura you need brutal power (a lot of more than in Spain), you have to figure out how to climb it. And in Karst you need power, learn how to climb it and in addition you have to be able to stand on slippery footholds. In the conclusion it looks that you feel the same in every route with the only difference - in Spain you do on 2nd attempt, in Jura on 10th one, in Karst on 20th...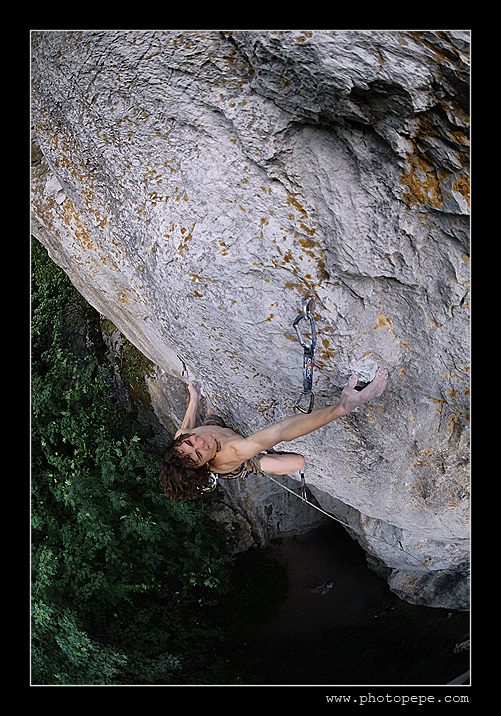 Perla vychodu 8c+
photo by Pepe Piechowicz
Were there any routes from the long list that you had doubts you would send?
So for example La Rambla, I had not planned at home to try this one too much. My aim was clear: La novena enmienda and 8c OS. Both happened, so Rambla was only something above the plan.
The last question. What do you see is the reason of your large improvement... better winter training, more climbing meters, experience...?
Hard to say. I always tried to improve myself in each year by one grade- which happened always except the last year. So I actually improved myself for at same pace as the years before with a big delay :-)))