Or I was reading forums on one the UK climbing websites the other day and there was a thread on how it is possible that an 11 year old can climb something which is considered extremely difficult even among the world elite climbers. Later on some Spaniards asked editors of czechclimbing.com for more details about him.
So I decided to ask Adam if he would be willing to share some of his views with our readers. What you are reading right now is a result of an e-mail interview done with the help of his parents. Adam's mother characterizes him as 'a very ambitious person who does not like to talk about himself much'.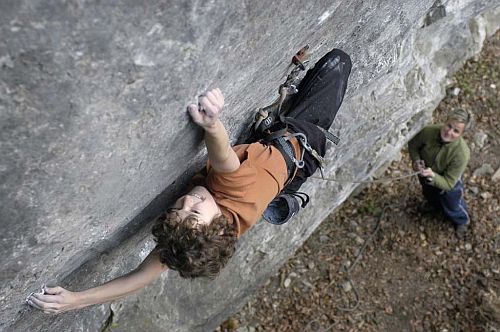 Destrukce 10-, Sloup, Moravian Karst, RP; Adam considers this to be his top achievement. (2 x credits: P. Nesvadba)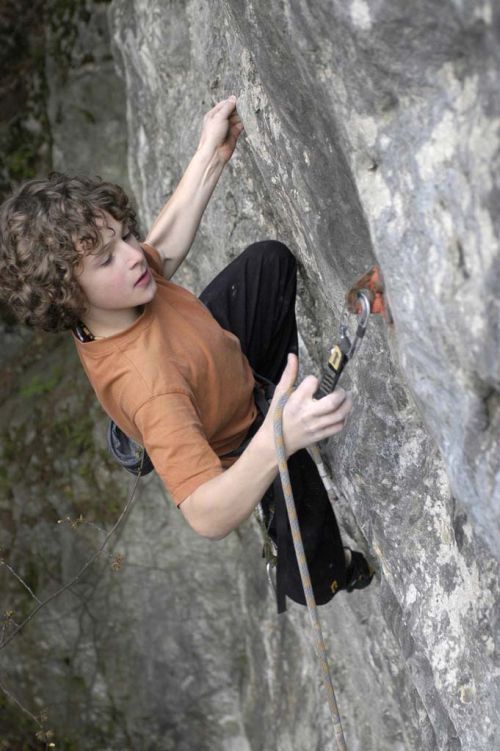 Adam Ondra
- born 1993
- town of residence Brno/Czech Republic
- pupil of basic school in th 5th year
- weight: 40 kg
- height: 150 cm
- other sports - gymnastics, snowboard
- sponsors - Sun Sport, Saltic, Singing Rock
- this year Adam onsighted 4 routes graded 8a+ and climbed two 8b routes PP (see
www.8a.nu
for more details).
The 2nd 8b route was contributed on the last weekend and he considers it among the most evaluated and the hardest: Evoluce 10 (8b) PP, Holštejn, Moravian Karst
Look at the video, how Adam climbed it:
Download:
Adam Ondra, Evoluce 8b PP
-
(Cca 18 MB, format mpg)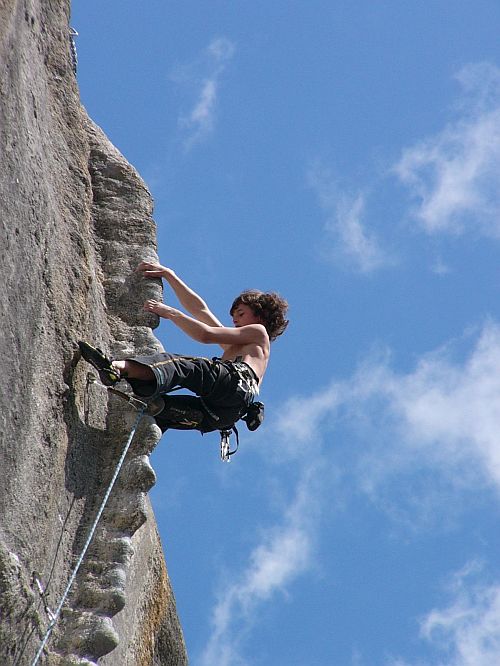 Dinosaurus 8a+ OS, Seynes, France. The photo which traveled around the world.
How long have you been climbing? How about your parents and your sister?
My family has been climbing for as long as I can remember or at least my parents. I started when I was 6 but I obviously touched the rock before that. My seven years older sister did not like climbing at first but all she needed was a bit of motivation from me and now she is climbing too :-).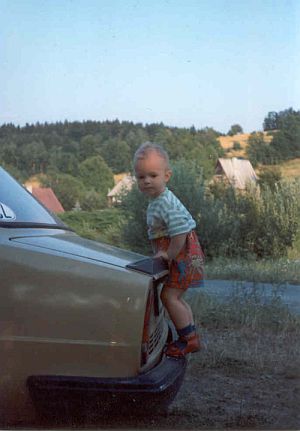 Adam when he was one and half years old - his first boulder?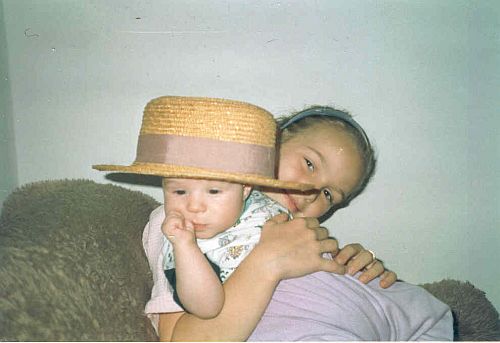 Two months old Adam with his sister.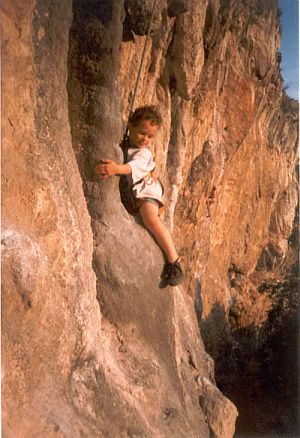 His first route at the age of 4. Mišja Peč, Slovenia.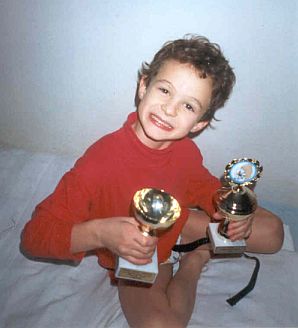 Six and half years old - his first competitions.
How do you train? With what frequency and intensity?
For the time being I am my own coach. I just go climbing, preferably outdoors, pretty much every weekend as long as the temperature is more than 2 degrees above zero. Once or twice a week I climb indoors or I am setting boulders on our bouldering wall. As you can see my training is nothing systematic. I would also like to recommend Chriby (Moravian mountains, East part of Czech Republic) as a great climbing area with optimal temperature being 8 degrees (best grip). Michal Rozek can be contacted for more details.
How did your climbing performance evolve over the years? When did you start to lead climb?
I have been climbing on the more interesting end of the rope since I was seven. My first routes were in Rovinj in Croatia (6a with bolts every half meter) and till the end of the year I
climbed 6c+ RP. At the age of eight I onsighted a few routes graded 7b+, I did 7c+ onsight when I was nine and 8a onsight when I was 10. Now I onsighted 8a+. I do not like trying the route many times and so I try to climb onsight. I like to choose the routes to climb and my favourite reading are guidebooks and climbing web sites.
Do you read lezec.cz (Czech equivalent of czechclimbing.com)? If so, how do you like it?
Yes, I do. If I am at home then I would check it a few times a day to see if there are any news.
What do you eat? Any special diet?
I like pizza, dumplings, cakes, croissants, candies etc. I only eat meat if it is secretly stuffed into some other food.
How is school?
It is going fine at the moment. I was accepted to the 8-year grammar scholl for forthcoming school year. I also learn English outside the school.
What are your plans? What would you like to do in your life?
I think I would like to be a climber...
Do you have any health problems in connection to your climbing achievements?
No.
Which route do you value most?
SMS (8a+ OS) in Frankenjura and Destrukce (8a+ PP) in Moravian Karst - perhaps the hardest thing I have done so far. (A weekend after he did the route Evoluce 8b PP - rem. of author)
What is your goal in climbing?
I would prefer to keep this to myself.
Question for Adam's parents: Are his climbing achievements results of exceptional talent or systematic approach to training?
He is very talented but the main thing is that he is doing what he likes most and we only support him in doing so.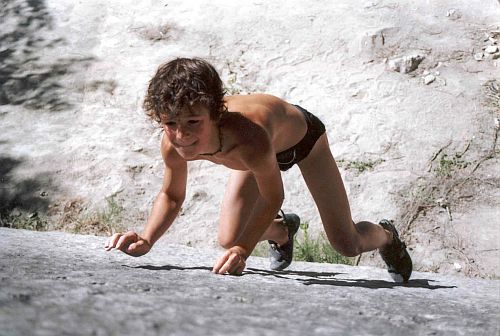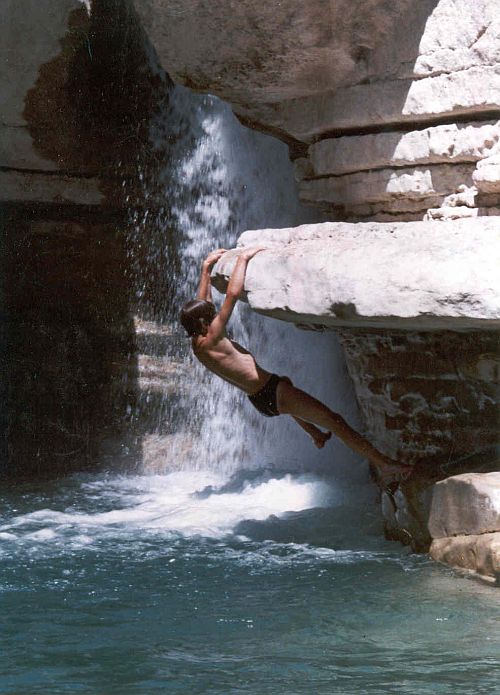 France, Georges de Meounge, near Orpierre (Photo: Jíťa KGB - Mázlová)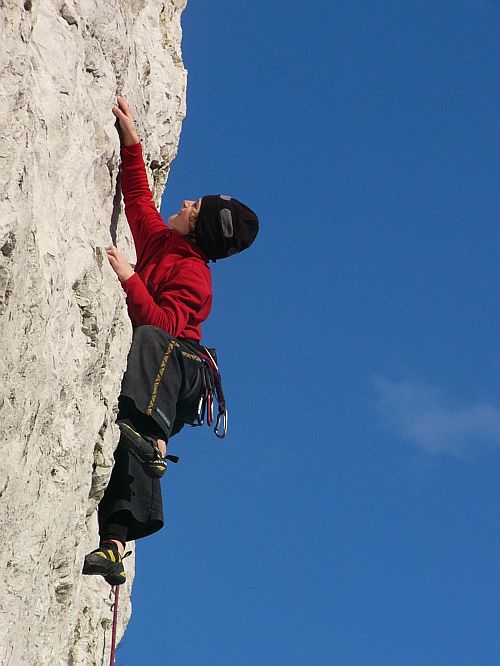 Amnesty International 9-/9 PP, Rudice, Mor. Karst - the picture is from 1st Feb 2004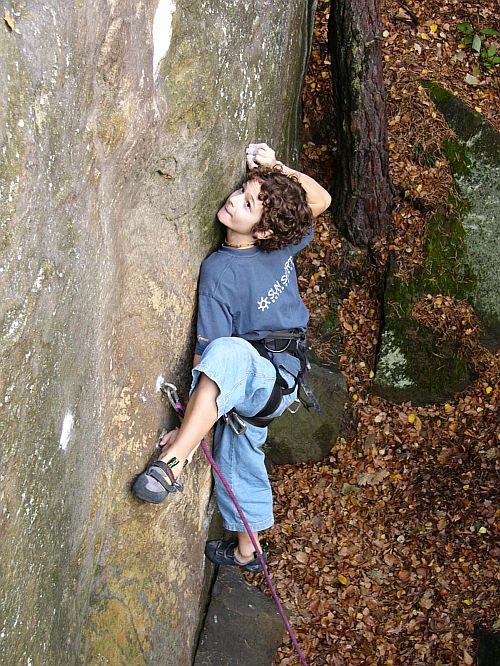 Moravian sandstone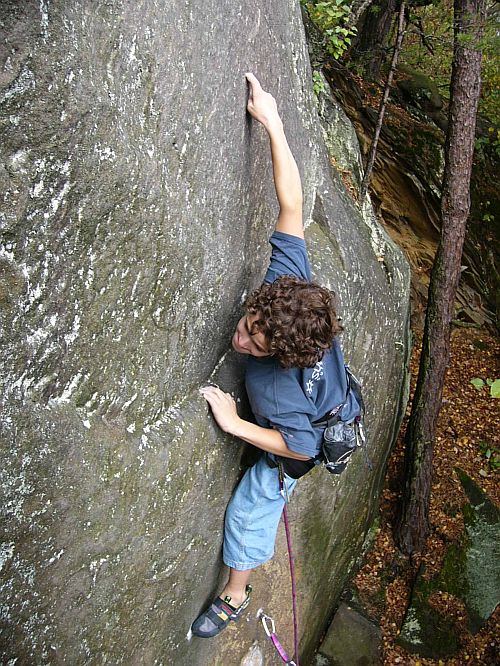 Moravian sandstone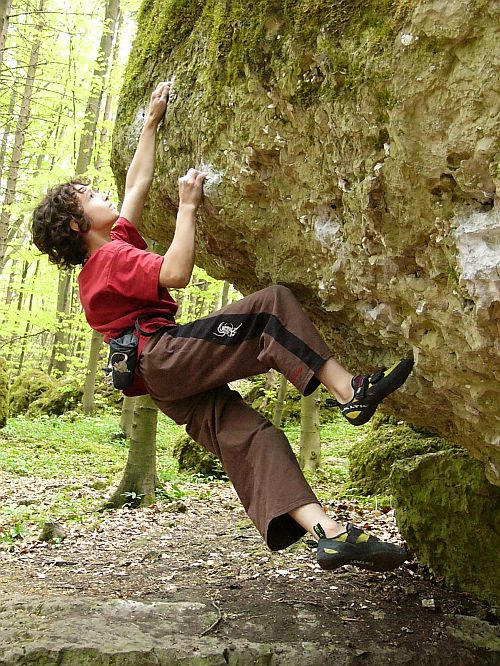 Boulderrausch 7C Fb, Krotenseer Turm, Frankenjura, Germany
Thanks to Adam and his family for this interview and photos from their family albums. The team behind czechclimbing.com wishes him all the best for the future.

The video Adam Ondra in Evoluce 8b PP:

Download
(Cca 18 MB, format mpg)