My answer was all together clear. Sure I want to go, but it didn´t depend only on me. Most important was getting my school master to approve of it. And then something happened that nobody expected- he allowed me to go! For all two weeks- could you imagine the happiness?
The next Thursday, I and a lot of baggage got into a bus headed for Brno.
I changed there to the Ondras´ car, in Prague we picked up Momo Kuhn-Gaberova and then we moved to the Spanish areas.
The first place we stoped was in Baume les Dames (France). We wanted only to warm up after the night drive in car. And for me that was exactly what it was. But Adam did the day in sligtly different way. He sent one 8a+ OS and while flashing his second said, "we should not overdo it the first day".
So we got in car again and set out on the way to Terradets with lots of expectation. And there a surrprise awaited: fog and one degree above freezing. It was not problem at all. Well, it was- but not for Adam. When we reached the rocks, the sun rose and super pleasant warmth begun. We warmed up somehow and then it started. Well, nothing started. Nobody was able to do anything.
Because we were in the area where Adam and Momo had already climbed almost everything, we moved to Santa Lynia. Our surprise was the profile of the area: Slightly overhanging about 45 - 60 degrees roof, but the routes were beautiful. There were ones with boulder problem cruxes, and also others that need endurance. Simply everything, Except frictiont that I didn´t realy find.
Sta. Lynia
photo by © Eva Ondrova
Adam celebrated here his birthday and gave himself the most beautiful gift. He insisted on it at least. He climbed "EL KOALA" 8b+ OS. And the other day he added the second pitch of "Blomu" 8c+. Momo fell in 7b+ and I in some 8as. Later we moved to area of Siurana.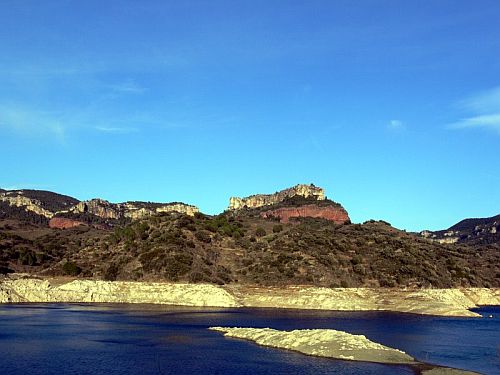 Siurana
photo by © Eva Ondrova
We met there with Ala and his group: Culda, Ondra and Jarda (the elite climbers from Prague and around). Momo flashed the route "MANDRAGORA" 7b+, and Adam was also succesfull. He sent Estado Critico, 9a on the 2nd attempt in this way: before the 2nd attempt he announced it would be only practising. Then we heard from the top "haaaaaa vaaaa aaaaa," and then only "HURAAAH!" When he came down, he was a bit dissapionted because it was not 9a but only 8c+. But I was also successful, not so much as Adam, but it was such. I flashed 8a/a+, (but I don´t know the name of the route, because it is a new route, not in the guide, we saw it only in some book in camp). In further days the performance even increased. Momo fell in the route "Papagora" 7c OS just from the finish and Ada ..., well, what should I say? On the day when flies fell down from the hot weather he walked along the Broadway 8c+/9a (the qoute of Adam).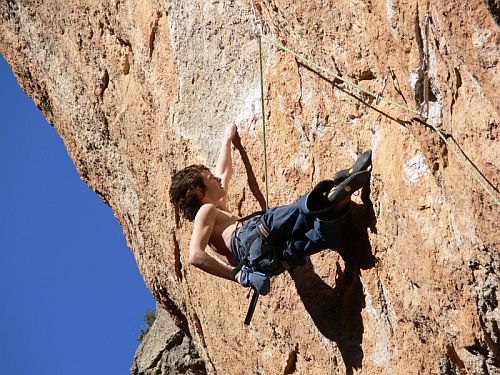 Adam on Broadway
photo by © Eva Ondrova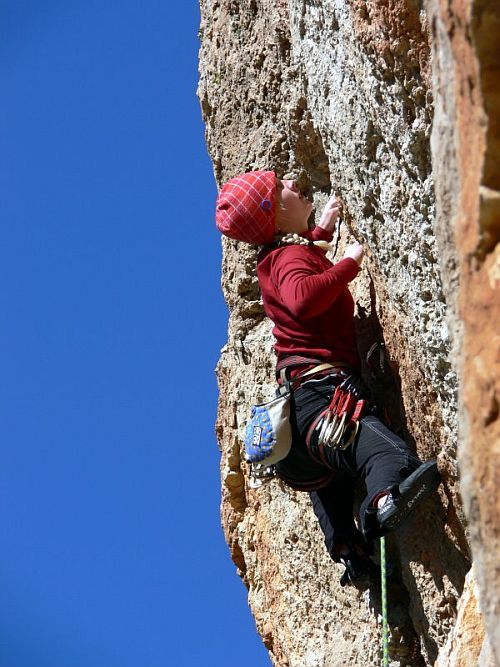 Monca aka Momo
photo by © Eva Ondrová
On the rest days,well Monca didn´t climb, but Adam sent on every rest day 8b. Two were succesfully onsigted, one not. I also tried it. Only I didn´t climb the 8bs in OS style, but I strived to it. Then we stopped at other areas: Alquezar, Sta. Lorenz de Montgai, and then again in Santa Lynia. Alquezar is the area above Barbaster. If you don´t like caves, total roofs, and mounted and glued holds, do not go there.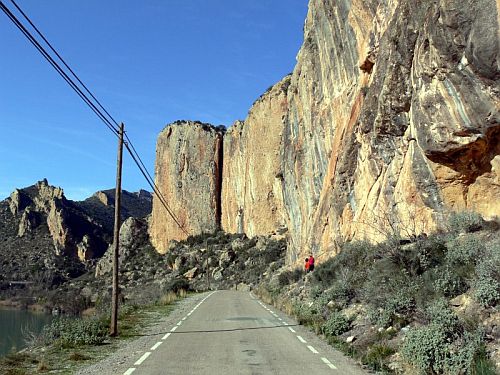 Sta. Lorenz
photo by © Eva Ondrova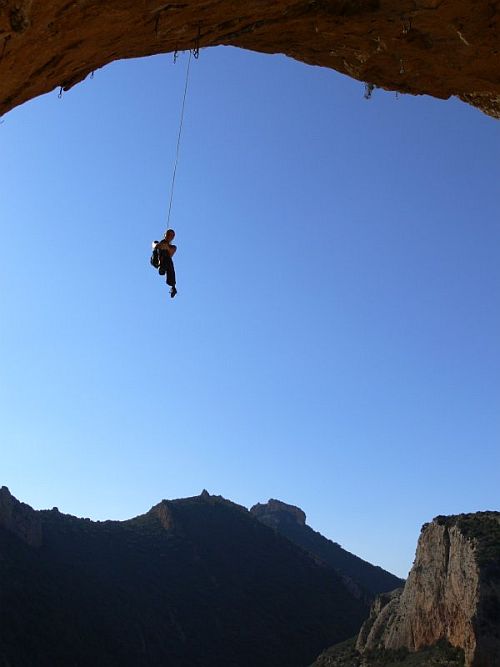 Sta. Lorenz
photo by © Eva Ondrova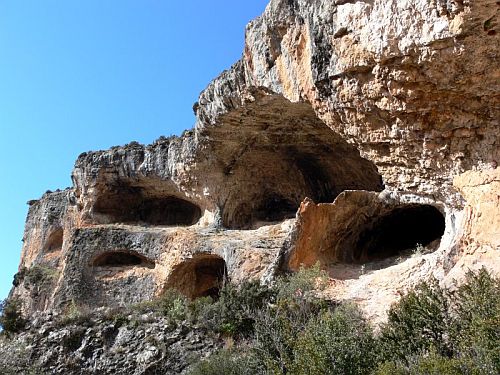 Alquezar
photo by © Eva Ondrova
In Santa Lynia unordinary events happened again. The huge gaps of themperature between day and night were there. During day it was 30 degrees Celsius and minus 6 in night. Morning when we woke up, the car windows were frozen. Adam nodded to me that these were ideal conditions for climbing, and when I responded that it is too cold, he annonced that I don't understand it and I should go, that there would be nice climbing. So we went. He was right. The day was excelent, but only at noon it was so hot that climbing was impossible.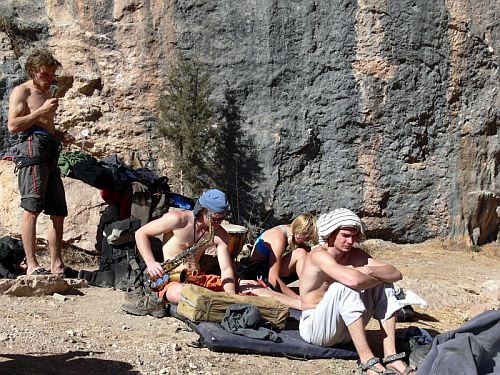 Noon in Santa Lynia
photo by © Eva Ondrova
Ondra Benes from Ala´s Prague group was also successful. First he warmed up in "La traversa de los gladiators" 7c+/8a OS and then also in "Trio termura" 8a OS. I had excelent day when I climbed first "Air line" 8a PP, and then "La traversia de los gladiatoros" 7c+/8a PP and then it came. "Santa Linia" 8b in the 2nd attempt. But more or less I was thankfull to Ondra Benes- because of his example I tried it. When the sun set, I sent it. I was really happy. The last day, it was a show. Ada again sent 8c+/9a "Travers de la Enmiend" and La novena puerta 8c/c+ PP. Although when we began to warm up, the end became and we left home.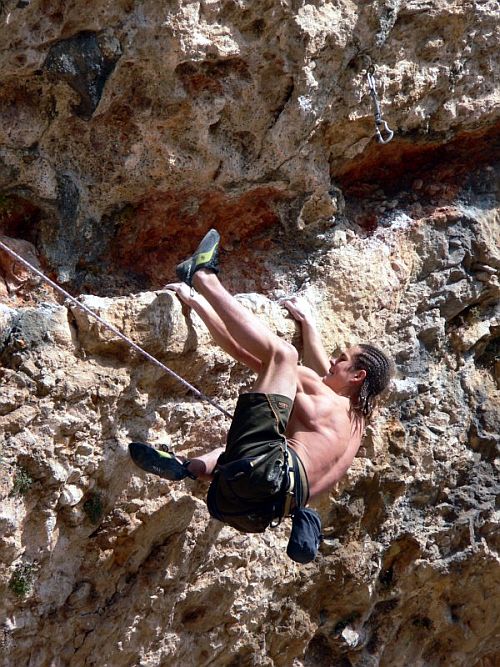 Kubo Kovacik in La traversia de los gladiatoros" 7c+/8a PP
photo by © Eva Ondrova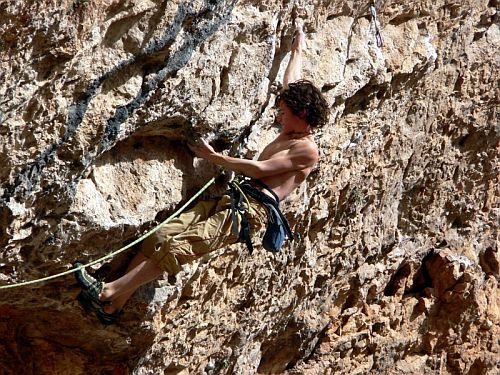 Traverz de la Enmiend
photo by © Eva Ondrova
If I should in a brief paragraph summarize,
I warmly recommend areas: Terradets, Siurana, Santa Lynia. You find everything in these areas. And a bit more about our performance. Momo, she had a little bad luck, because, she fell on the last metres or even last moves, I am not ashamed for my performance, and Adam- his performace speaks for itself. Simply KING.
Adam Ondra
Czech Republic (La Sportiva, Rock Empire)
Estado critico 9a (according to Adam 8c+)
Broadway 8c+/9a, 4 attempts
Travers de la Enmiend 8c+/9a, 4 attempts
L´odi social 8c+, 2 attempts
Blomu L3 8c+, 3 attempts
La novena puerta 8c/c+ PP
El koala 8b+, the first OS of the route originaly classified as 8c
Desafiando a Newton 8b+ OS,
Sta. Lynia, Bad Boy, Blomu L2, Sexhibition – the routes by 8b, OS style
Umpah – pah o entre a dos aguas 8b flash
altogether about 20 routes above 8a during about 14 days including restdays
Kubo Kovacik
Slovakia (VERTIGO, MKSK Modra)
Santa linia 8b PP
??? 8a/a+ Flash
Aplum 8a+ PP
Fam de mai 8a+ PP
Summary: 6x8a PP, 2x 8a+ PP, 1x8b PP, 1x8a/a+ PP
Momo Kuhn Gaberova
Czech Republic (Saltic, Singing Rock, Sensor)
Mandragora 7b+ Flash
Air line 7b+ PP
several routes 7a+ OS
---
Remark: Estado critico ( Siurana )– the route had before Adam 4 climbs, R. Julian, D. Andrada, N. Favressse and E. Marin.
It is qlassified as 9a. It leads via the route Kalea Borroka, in the middle of the route it banks to the right. Adam did the route in the sence of the 2nd attempt, In the first attempt he reached to 2/3 of the route, because of the strong wind he let to drop him down, dressed warmly, climbed via quick draws and the rope and climbed the rest of the route. The all hard moves he did in "onsight". He climbed the route in the further attempt and decreaseed the grade of the route to 8c+. E.O.
Translation from original article in Slovak on : www.Lezec.cz by Lezec team with courtesy of the author