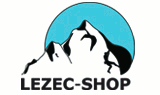 Frankenjura nové průvodce
Průvodce Hřebeny
Novou knížku pro horolezce: Horolezecké povídání


zrušeno? SP Chamonix (FRA) (11.07)
SP Briançon (FRA) (21.08)
ČP v boulderingu Teplice nad Metují (28.08)



Cesty:
5.Jungling 11490
6.Volf 11408
7.Šofránko 11372


Bouldry:
5.Jungling 10825
6.Skála 10800
7.Pochman 10725


Hory:
10.Černý 4667
11.Hlaváč 4654
12.Podškubka 4367


Rock Empire Český pohár v lezení obtížnost dospělých a mládeže (27.06)
Mistrovství Amerik (24.02)
O dřevěného Krakonoše 2020 (25.01)




Contact

looking for safe climbing routes
15.11.2011
Hello everyone, I'm looking for some information about well-equiped climbing routes near Prague. I gave a look at the maps on this website. I found some ways in Divoka Sarka and the descriptions are approximate and a little place I have not found exactly
---
Climbing near to Bouzov (west of Olomouc)
07.07.2011
I am coming to Czech rep. in the end of august (23. - 27.8.) to Bouzov Podoli and are looking for somebody who could take me climbing in the area. I am coming from Slovenia for a European Strawbale gathering. I would also appreciate a hint for some boulde
---
Azimuth Xtreme Challenge 2011
08.06.2011
Dear friends – Azimuth is proud to announce the launch of the first ever Azimuth Xtreme Challenge 2011 and you are invited to take part to try your hand at winning a cool $10,000 plus a $5,400 Azimuth Xtreme 1 watch!

Think you can hold onto
---
Azimuth Xtreme Challenge 2011
30.05.2011
Set in Ngee Ann City Civic Plaza in the heart of Orchard Road, we invite Singaporeans young and old, sporty or not, to try your hand at holding on to the Azimuth Xtreme Challenge wall as long as you can! If you succeed you will beat 100 other contes
---
Looking for sport areas on way to Poland
17.05.2011
Hi,

We are coming from Slovania/Austria heading to
Poland Krakow. We have about 1 week in the area.
This will be first week in August.

We are looking for a sport area on the way that has lots of lower grade cli
---
Trad and scambling partner wanted
11.05.2011
Hi im 25 Ive recently moved to prague and desperate to do some climbing, Im more interested in trad climbing and scrambling. I enjoy bouldering and sport too but really want to get up some nice long mountain scrambles/ multipitch routes. Hvae been climbin
---
Rock climbing near Praha
30.03.2011
Hi,

Could anyone help me with finding a good area to go for some climbing near Praha? With some nice 6a-7a routes, technical, not too powerfull :)
If possible in a nice area with hiking and camping possibilities.

---
Bouldering in the North
25.03.2011
Hey,
I'm going to be near Liberec for about 2 weeks visiting my grandmother and was wondering if anyone knows some good bouldering areas to take advantage of (maybe v Luzickic horach)? I'm not going to be with any other climbers so preferable easie
---
NEPAL
21.01.2011
Dear Sir/Madam,

Greetings from the Himalayas!

I represent a biggest adventure travel group in Nepal called the Thamserku. With Over 25 years of experience with our international partners and guest, we are the specialists in t
---
Ice Climbing
16.01.2011
Hi I am looking for a ice climbing partner. I climbed once on ice and would like to do this again. It can also be a ice climbing training course or something. Mike 604982720
---
<<<
2
3
4
5
6
7
8
9
10
11
12
13
14
15
16
17
18
19
20
21
22
23
24
25
>>>
looking for safe climbing routes
Hello everyone, I'm looking for some information about well-equiped climbing routes near Prague. I gave a look at the maps on this website. I found some ways in Divoka Sarka and the descriptions are approximate and a little place I have not found exactly what I wanted. The routes seemed to me a somewhat risky, poorly equipped. At least it seems to me that 3 bolts on a cliff of 20 meters are few, calculating that the first from the ground was at 4/5 meters. So I wondered if the local style of climbing it is normal. Or am I just have not found climbing routes?

if anyone knows something more safe and well equiped in the area and can give me information I shall be very grateful.
If you prefer you can contact me directly at: ciril.noto@gmail.com

Thank you!

Ciril
Ciril
12:23:36 15.11.2011
reply
&nbsp
Divoká Šárka (climbing near Prague)
Hi, I have this area for concern, find old routes and exchange pitons for bolts. It's more traditional (volcanic, powerful) area with many prospects in the valley. About 100 years and is now a little new. Usually overhanging or vertical, but dissected and only short walls. They can sometimes throw a slings or Frends (very well).(But You can also try area "Hlubočepské Plotny" - more protection, but slab climbing, limestone. Or use the map: www.czechclimbing.com/mapa.php) Well secured these routes are:
"Devítiskobová" 7+ in the Gorge (under repel). In the Gorge (downstairs) is beautiful 3-long trad Pillar (6).
"Stará Hákovačka" 8+/9- opposite the restaurant in the valley (pillar "Brenta" with 3-long trad routes to the top and view)
"Bož(s)ká" 8- on top "Dívčí Skok" (Crown in the valley) upstairs above the restaurant.
"Velký Půlnoční Převis" 7+/8- and "Narozeninová" 6 behind the top "Dívčí Skok".
"Vrták" 7- "Zedkovy bloky" directly by the road between the restaurant and mill.
- The above is the "Žabák" (Frog), the most popular climbing in the sun. Rugged wall has three parts, many climbing down. The above lines are also interesting (with ropel station).
Opposite the "Žabák" is seen long light ridge "Dívčí Skok" a him "North Face" ("Křížová") with twoo fists and next verticals - beautiful vertical (bolts+frends).
Please excuse my bad English:( I wish you a nice climb:) To take advantage of their own (top rope) climbing carabiners! ;)
martan
11:02:37 17.11.2011
reply
&nbsp
&nbsp
Re: Divoká Šárka (climbing near Prague)
Descriptions and fotos of the routes are in the database: www.czechclimbing.com/cesty.php ?cobl=4469766f6be1208ae1726b61h
Bouldering Topo: www.atletivakci.cz/pruvodce_sarka.pdf
martan
11:15:50 17.11.2011
reply
---
Reklama:
Lezec.cz je hlavním mediálním partnerem ČHS na internetu
Photo of the day: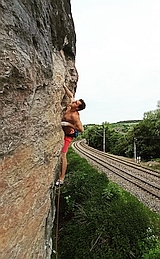 Routes:
New in discussion:
Latest comments:
Hot:
New in advertising:
Instructions:
...