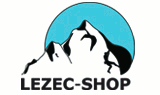 Kletterführer Elbtal
Ostravský křest knihy Navždy první
Nové průvodce světových oblastí na Lezci


SP v boulderingu Mnichov (GER) (18.05)
2. kolo Slánské pohody (29.05)
Haimaom boulder cup (01.06)



Cesty:
51.Smetanová 9928
52.Řezníček 9916
53.Hronek 9912


Bouldry:
51.Čermák 8412
52. 8406
53.Hronek 8303


Hory:
15.Souček 3316
16. 3116
17.Polák 2979


SP v boulderingu Wujiang (CHN) (04.05)
SP v boulderingu Chongqing (CHN) (27.04)
SP v boulderingu Moskva (13.04)




Contact

Azimuth Xtreme Challenge 2011
08.06.2011
Dear friends – Azimuth is proud to announce the launch of the first ever Azimuth Xtreme Challenge 2011 and you are invited to take part to try your hand at winning a cool $10,000 plus a $5,400 Azimuth Xtreme 1 watch!

Think you can hold onto
---
Azimuth Xtreme Challenge 2011
30.05.2011
Set in Ngee Ann City Civic Plaza in the heart of Orchard Road, we invite Singaporeans young and old, sporty or not, to try your hand at holding on to the Azimuth Xtreme Challenge wall as long as you can! If you succeed you will beat 100 other contes
---
Looking for sport areas on way to Poland
17.05.2011
Hi,

We are coming from Slovania/Austria heading to
Poland Krakow. We have about 1 week in the area.
This will be first week in August.

We are looking for a sport area on the way that has lots of lower grade cli
---
Trad and scambling partner wanted
11.05.2011
Hi im 25 Ive recently moved to prague and desperate to do some climbing, Im more interested in trad climbing and scrambling. I enjoy bouldering and sport too but really want to get up some nice long mountain scrambles/ multipitch routes. Hvae been climbin
---
Rock climbing near Praha
30.03.2011
Hi,

Could anyone help me with finding a good area to go for some climbing near Praha? With some nice 6a-7a routes, technical, not too powerfull :)
If possible in a nice area with hiking and camping possibilities.

---
Bouldering in the North
25.03.2011
Hey,
I'm going to be near Liberec for about 2 weeks visiting my grandmother and was wondering if anyone knows some good bouldering areas to take advantage of (maybe v Luzickic horach)? I'm not going to be with any other climbers so preferable easie
---
NEPAL
21.01.2011
Dear Sir/Madam,

Greetings from the Himalayas!

I represent a biggest adventure travel group in Nepal called the Thamserku. With Over 25 years of experience with our international partners and guest, we are the specialists in t
---
Ice Climbing
16.01.2011
Hi I am looking for a ice climbing partner. I climbed once on ice and would like to do this again. It can also be a ice climbing training course or something. Mike 604982720
---
la sportiva speedster
22.11.2010
Hi, does anyone know where can i find la sportiva speedster in czech republic?! im in prague now and i cant seem to find them anywhere.. ive been to 6 different shops already :/ thanks for any reply!
&nbsp
Re: la sportiva speedster
26.11.2010
Hi. The only shop you can get them is Hudy Sport. The owner has exclusivity in Czech for La Sportiva
---
Trip to Australia
07.11.2010
Hello,
I am going to Australia for 3 months at spring 2011 (February, March, April). I am looking for a climbing partner or a group of climbers who would like to join me. During my trip, I will make a short stopover in Singapore and finally climb
---
<<<
2
3
4
5
6
7
8
9
10
11
12
13
14
15
16
17
18
19
20
21
22
23
24
25
>>>
Azimuth Xtreme Challenge 2011
Dear friends – Azimuth is proud to announce the launch of the first ever Azimuth Xtreme Challenge 2011 and you are invited to take part to try your hand at winning a cool $10,000 plus a $5,400 Azimuth Xtreme 1 watch!

Think you can hold onto a rock wall for 6 hours to win $10,000 cold hard cash? Then sign up now to take part in the Cliff Hanger event of the year. Or have you a sporty friend who would find this challenge a breeze? Then get them to come by to join the challenge!

It's fun, it's simple and it's mind over matter! Sign up for only $10 and receive a limited edition Azimuth Xtreme Challenge tee-shirt, cap and bottle of water. Details of the challenge are given below:

Imagine a rock wall in the middle of Ngee Ann City Civic Plaza. Each participant will be assigned a set of 6 rocks to hold on to – 2 large ones for the feet, and 4 for the hands. You are allowed to move your legs and arms from rock to rock. As long as you do not step down, you will be deemed to be in the competition. Every hour, you will be given a 5 minute break to step down and rest. When the 5 minutes are up, the whistle blows and the competition will resume for another hour … and so on, until we have just ONE person left on the wall.

There will be heats rounds conducted from 7am - 11am to determine our top 30 who will move on to the finals. For each heats round, 30 participants will mount the wall and the 5 who stay on the longest will make it to the finals where they stand a chance to win the $10,000.

This means that out of 100 competitors, only 30 will proceed to the finals. If you think you can last longer than the other 29 challengers to win $10,000, we want you!

Sign up at http://www.azimuthwatch.com/challenge/ NOW!
azimuthchallenge
19:22:22 08.06.2011
reply
---
Reklama:
Lezec.cz je hlavním mediálním partnerem ČHS na internetu
Photo of the day: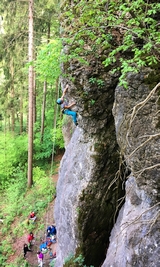 Routes:
New in discussion:
Latest comments:
Hot:
New in advertising:
Instructions:
UKClimbing.com News
- INTERVIEW: Steve McClure on Rainman 9b
- NEWSFLASH: Britain's First 9b by Steve McClure
- NEWS: Nathan Phillips flashes Font 8B
- NEWS: Alex Honnold free solos Freerider, El Capitan
- FRI NIGHT VID: Free Climbing on Baffin Island
- NEWS: Requiem E8 6b by Peter Kamitses
- NEWS: Hard boulders in South Africa for Mina Leslie-Wujastyk
- NEWS: Dead Meadow, ~8B, by Alex Puccio
- NEWS: New Aiguille du Midi Mixed Route by Jeff Mercier & Co
- NEWS: Orrin Coley climbs new 8B+ at Forest Rock
- NEWS: Marcus Scotney & Carol Morgan Win Berghaus Dragon's Back Race
- NEWS: David Fitzgerald - Voyager Sit 8B+
- NEWS: Bronze for Emily Phillips in European Youth Cup (B)
- Carinthian Dreams, 3rd ~8C in 11 days by Christof Rauch
- The Big Issue E9 6c by Ali Kennedy