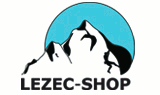 Kletterführer Elbtal
Ostravský křest knihy Navždy první
Nové průvodce světových oblastí na Lezci


BoulderZávody (15.06)
BoulderDěti (16.06)
SP v boulderingu Villars, SUI (05.07)



Cesty:
1.Ondra 13284
2.Konečný 13050
3.Vopat 11866


Bouldry:
1.Stráník 11575
2.Jungling 11050
3.Stráník 10925


Hory:
1.Skopec 7269
2.Novák 6885
3.Zaoral 6003


SP v boulderingu Wujiang (CHN) (04.05)
SP v boulderingu Chongqing (CHN) (27.04)
SP v boulderingu Moskva (13.04)




Contact

Outdoor bouldering Prague
28.11.2006
I'm going to Prague every second or third weekend visiting my friend and so I'm looking for some places close to Prague for outdoor bouldering. Does anyone know some rocks close to the center? Thanks in advance!
---
smichov's festival of Alpinism
07.11.2006
Hello every body !
I'm really interrested by the festival of alpinism wich takes place this year the 24/26th of november in the national house in Prag. I arrived in Prag last year and I've never heard about this festival before. What is it exactly
---
Outdoor shops in Prague?
06.10.2006
Hello!

I coming in Prague some weekend. and I am glad if someone can tell me some good outdoor shops. Name and address?

Thank you!
&nbsp
Re: Outdoor shops in Prague?
08.10.2006
For example Hudy sport, one of the best outdoor shops. You can look http://hudy.cz/article.asp?nArti
---
Climbing Partner
26.08.2006
Hi,

I've recently arrived in Praha and I'm looking for some people to climb with. I climb fairly easy stuff and have a sports rack. I've climbed all over the world, but will be in Praha for a year teaching.

Cheers
&nbsp
Re: Climbing Partner
29.08.2006
Hi James,

I just moved to Prague in Aug. My wife is an international school teacher
&nbsp
Re: Climbing Partner
10.10.2006
Hi, I just arrived in Prague and I will be here on a secondment till the middle of November. I have
---
Bouldering in sandstone
21.08.2006
I'm looking for good bouldering in Czech Republic especially in sandstone ( I've been in Petrohrad :) does anyone knows some places mayby near Teplice or elseware sand me some info on the_notic@o2.pl THANKS!!!
&nbsp
Re: Bouldering in sandstone
23.08.2006
You can download pdf topo for Sněžník from this site http://nuborn.net/dcs/pdf/dcs_topo_03.pdf
---
Looking for climbing buddy
19.08.2006
Hi. We are Corey & Marie from Malaysia & Canada respectively and we just moved to Prague & currently living in Pruhonice. We are average sport climbers who climb around 6a-6b (French). Since we are new here & would like to look for any cli
---
Car Crushed in Colorado
26.07.2006
Hello,

I am looking to get in touch with a Czech climber, Tomasz Hecko, whose car was crushed by a falling rock in Clear Creek Canyon, Colorado, about a month ago. I would like to do a small news story for Climbing Magazine, and am trying t
---
climbing stores in prague
18.07.2006
Hi, I will be goning to prague soon are there any good climbing shops there?

Thanks, Martin
---
best climbing area
11.07.2006
Hi! Urgent: Which sport climbing area do you recommend for a week's visit in Czech Republic? I'm cming on Friday, so I need a quick answer.THX


&nbsp
Re: best climbing area
14.07.2006
Depends on the the area where you are - Prague or East or West of the country?. Around Prague I reco
&nbsp
Re: best climbing area
08.01.2007
The best area for bouldering is Petrohrad near Jesenice 70 km east from Prague.
---
Adrrocks "
08.07.2006
I would like to climb in Adrspach.
How would it be there the next weeks ?
Last time there was a lot noisy schoolkids occupying the most of Camp Stransky .. And hardly no one for serious climbing ??
Does any of You hav
&nbsp
Re: Adrrocks "
14.07.2006
I was there with a friend the last weekend, and camp was without problem, we did some some climbing
---
<<<
2
3
4
5
6
7
8
9
10
11
12
13
14
15
16
17
18
19
20
21
22
23
24
25
26
>>>
Outdoor bouldering Prague
I'm going to Prague every second or third weekend visiting my friend and so I'm looking for some places close to Prague for outdoor bouldering. Does anyone know some rocks close to the center? Thanks in advance!
mountainmartin
09:37:41 28.11.2006
reply
---
Reklama:
Lezec.cz je hlavním mediálním partnerem ČHS na internetu
Photo of the day: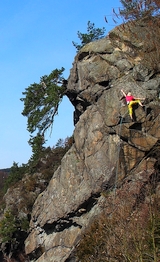 Cesta ztraceného stínu, 6+
Routes:
New in discussion:
Latest comments:
Hot:
New in advertising:
Instructions:
UKClimbing.com News
- INTERVIEW: Steve McClure on Rainman 9b
- NEWSFLASH: Britain's First 9b by Steve McClure
- NEWS: Nathan Phillips flashes Font 8B
- NEWS: Alex Honnold free solos Freerider, El Capitan
- FRI NIGHT VID: Free Climbing on Baffin Island
- NEWS: Requiem E8 6b by Peter Kamitses
- NEWS: Hard boulders in South Africa for Mina Leslie-Wujastyk
- NEWS: Dead Meadow, ~8B, by Alex Puccio
- NEWS: New Aiguille du Midi Mixed Route by Jeff Mercier & Co
- NEWS: Orrin Coley climbs new 8B+ at Forest Rock
- NEWS: Marcus Scotney & Carol Morgan Win Berghaus Dragon's Back Race
- NEWS: David Fitzgerald - Voyager Sit 8B+
- NEWS: Bronze for Emily Phillips in European Youth Cup (B)
- Carinthian Dreams, 3rd ~8C in 11 days by Christof Rauch
- The Big Issue E9 6c by Ali Kennedy