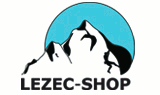 Nový boulder průvodce po Moravském krasu pokřtěn
Prachovské skály - vyšel nový lezecký průvodce
Sport climbing in Arco - nový průvodce na skalky v Arcu


SP Mnichov (17.08)
zrušeno - ČP bouldering Fesťák (25.08)
ME mládeže (31.08)



Cesty:
33. 10159
34.Zedník 10148
35.Duchoň 10112


Bouldry:
33.Hapala 9025
34.Košťál 9000
35.Karlík 9000


Hory:
1.Skopec 5924
2.Fajkoš 5781
3.Zaoral 5597


SP Briancon (20.07)
SP Villars (06.07)
SP Vail (08.06)




Contact

Climbing around Brno
17.05.2007
I was hoping someone would be able to give me some locations of indoor climbing centres and some outdoors areas aswell.
&nbsp
Re: Climbing around Brno
29.05.2007
Hallo,
there are some indoor climbing walls in Brno (like Rajce, Weissersport centrum, VUT bo
---
Crags in the South west
11.05.2007
Hi,

somebody could recommend me some crags in the south west of czechia, near Krumalov, Visiy Brod or Cesky Budejovice?

Would be appreciated.

Greats
Peter
---
bus to petrohrad?
08.05.2007
any help on bus or train schedules to petrohrad? will be in prague for 2 weeks and hoping to get at least a day of climbing in. any help greatly appreciated!
&nbsp
Re: bus to petrohrad?
12.05.2007
I am interested in this subject also. I didn't search for a bus yet, however I think it might be an
&nbsp
Re: bus to petrohrad?
14.05.2007
Hi Rocky. The best of timetable portal for (all) Czech republic traveling is IDOS ( http://tinyurl.c
---
petrohrad compeition 2007
30.04.2007
can anybody tell me when the Petrohrad 2007 bouldering compition-festival is. i can not find any information on the internet in english. is there a web site with information as a groupe of us would love too come from ireland. thanks you.


---
chalet near Sbrsko
17.04.2007
Since last year we are visiting Sbrsko as or main climbing area.Last year we stayed at the campsite near Karlstejn. Does anyone have a link to this campsite, a phonenumber or anything that would help us to make a reservation. On the other site of the bero
&nbsp
Re: chalet near Sbrsko
18.04.2007
Hi Cil,

I dont know much about camping here in Czech in official camps since I am usu
---
Looking for Roomates
11.04.2007
Hi, I' m french, and i will go to prague in september.
I'm studying physical éducation and sport, and I'm looking for an appartment with several climbers (or not).
Let me know, thanks
---
Straceny Polar Hannah
10.04.2007
Ahoj lezece z czeska a slovenska.
Prvni duben ja sem zapominal polarowa bunde. To je tmavo modry polar Hannah. To bylo na skalach w Priedhorie na Slovensku. Ja sem tam byl pondelek 9 duben i go ne bylo. Prosim moc jak go kdo nalezal tedy prosim psa
---
Looking for people
08.04.2007
Hi, I have just moved in to Prague. I am looking for people who are bouldering around Prague. If possible I'd love to join you sometime and get to know good bouldering sites.
---
cours for caoch of climbing
27.03.2007
Hi,
I want to ask, if in your country is a possibility to do a cours: coach of climbing (not: instructor of climbing)? Could You give me this information? I come from Poland, I have been climbing for 12 years. Nowdays I'm doing a cours of climbing
---
Climbing Partner
08.03.2007
Hi,

I have moved to Prague and looking for people to go climbing with. I am 29 years old and just moved from Freiburg, Germany. If you are interested drop me a line (mikeprg@gmx.de) or call me at 774145467

Cheers


---
<<<
2
3
4
5
6
7
8
9
10
11
12
13
14
15
16
17
18
19
20
21
22
23
24
25
>>>
&nbsp
Re: Climbing around Brno
Hallo,
there are some indoor climbing walls in Brno (like Rajce, Weissersport centrum, VUT bouldering wall..., you can read details here in czechclimbing.cz in left column - menu INDOORS).
Outdoor areas near Brno: Moravsky kras (Moravian carst - large limeston area with many sport routes - the best crags are Sloup, Rudice, Holstejn - guides are here in section GUIDES), Moravske piskovce (Moravian sandstones - couple of small sandstone crags and towers but very nice, about 50 km from Brno).
The best guide is "Moravske skaly" (Vladimir Skypala, Vladimir Wolf, 2002, about 200 Kc, include Moravian karst, Palava, Moravian sandstones and some other areas. You can buy it in every outdoor shop in Brno). You can find some online guides here or on a webpage http://www.climbweb.cz/ rocks.php3?parent =3,2,1 (delete two spaces).
If you have some more questions write me an email.
Enjoy moravian climbing!

Kuba Plsek
kuba
10:31:12 29.05.2007
reply
---
Reklama:
Lezec.cz je hlavním mediálním partnerem ČHS na internetu
Photo of the day: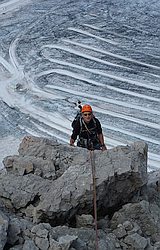 Routes:
New in discussion:
Latest comments:
Hot:
New in advertising:
Cestovní pojištění
na lezecké zájezdy:

Instructions:
UKClimbing.com News
- INTERVIEW: Steve McClure on Rainman 9b
- NEWSFLASH: Britain's First 9b by Steve McClure
- NEWS: Nathan Phillips flashes Font 8B
- NEWS: Alex Honnold free solos Freerider, El Capitan
- FRI NIGHT VID: Free Climbing on Baffin Island
- NEWS: Requiem E8 6b by Peter Kamitses
- NEWS: Hard boulders in South Africa for Mina Leslie-Wujastyk
- NEWS: Dead Meadow, ~8B, by Alex Puccio
- NEWS: New Aiguille du Midi Mixed Route by Jeff Mercier & Co
- NEWS: Orrin Coley climbs new 8B+ at Forest Rock
- NEWS: Marcus Scotney & Carol Morgan Win Berghaus Dragon's Back Race
- NEWS: David Fitzgerald - Voyager Sit 8B+
- NEWS: Bronze for Emily Phillips in European Youth Cup (B)
- Carinthian Dreams, 3rd ~8C in 11 days by Christof Rauch
- The Big Issue E9 6c by Ali Kennedy