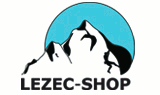 Osp & Mišja peč
Kniha "Bohatýrské časy"
P.R.A.C.H.T.E.L. - život na niti


Bouldering Session V (14.05)
Bouldering Session VI (11.06)
Bouldering Session VII (03.09)



Cesty:
27.Vítek 10247
28.Spilka 10233
29. 10228


Bouldry:
27.Jalč 8525
28.Čermák 8500
29.Kučírek 8500


Hory:
6.Zaoral 4786
7. 4353
8.Štalmach 4007


European Youth Cup, ITA (11.08)
World Cup, Imst (AUT) (10.08)
European Youth Cup (04.08)




Contact

Looking for czech brand
23.10.2004
this may sound as a stupid and vague question, but I am looking for the name or website of the brand of clothes. Their symbol is some kind of flower. I saw a lot of people wearing clothes of the brand in Czech Republic, for example the plaid pants,
---
Brno World Cup
28.09.2004
Hi I´m Jens from Leipzig/Germany. I need some informations about the world cup in november. First of all, where is the location situated in Brno ? Is there a official timetable available ? How much does it cost ? Is there a hotel not far from ? I should l
&nbsp
Re: Brno World Cup
01.10.2004
Hi, we will add the demanded information to the main articel about the World Cup in Brno as soon as
&nbsp
&nbsp
Re: Brno World Cup
01.10.2004
So some info concerning the questions has been added today. Thanks for the questions.
&nbsp
&nbsp
&nbsp
Re: Brno World Cup
12.10.2004

Hi,

thanks a lot for all these good informations.
best regards from le
---
have a fun in boulder far
02.09.2004
hi, I am Max, as a traveler to Prague, I excises these days in boulder bar near Vjame, anyone who speaks English also goes to there? Maybe we can go excising togother and have a drink there.
---
Sent me Training Program
15.07.2004
Hi all,
I budi from Indonesia,
any body send me training program of bouldering?
thank your attention

Budi-Indonesia
---
Taiwan
26.05.2004
I need some information about clibing or bouldering on Taiwan near Taipei. Could someone help me and give me a brief information about those areas?
Or do you know any climbers from Taiwan and could you send me a contact of them?
&nbsp
Re: Taiwan
10.06.2004
On http://www.geocities.com/Yosemite/1976/
you may find useful information in English. I reco
&nbsp
&nbsp
Re: Taiwan
10.06.2004
My email is ichuang@math.sinica.edu.tw
&nbsp
Re: Taiwan
06.07.2004
1.Buy this book!! "Lungtung Rock Climbing Guide" u may try visit "Tingsaniou" ju
---
Looking for climbing partner(s)
24.04.2004
I live in Prague and am looking for some climbing partners. I'm about an American 5.9 climber, which I think is like French 5c or UK 5a/b. I have only harnass and shoes here with me, no other equipment, and no transport, unfortunately. I
---
bouldering near Decin
28.02.2004
Hello,
Wondering if anyone knows of any bouldering areas in or around Decin. I am from California. My wife is from Decin and are planning to visit in the spring/summer. Thank you!!!
rob
&nbsp
Re: bouldering near Decin
05.03.2004
Hi, there are some boulders and probably very hard. One of the Czech best boulderers Rosta Stefanek
&nbsp
&nbsp
Re: bouldering near Decin
08.03.2004
Standa,
Thanks for your help,I would be interested in anything you can find. You can write i
&nbsp
&nbsp
&nbsp
Re: bouldering near Decin
06.04.2004
Rob,
Once you'll be here don't miss Petrohrad Granit (a new beta will be available soon). It
&nbsp
&nbsp
&nbsp
&nbsp
Re: bouldering near Decin
28.06.2004
Ty jofka, to se jako rika misto zlom vaz 'zlom nohu a krk' sme tea nevedeli.
---
Wanted: A climbing Partner
17.02.2004
Ahoj,

I'm from the UK and I will be visiting a friend in Dresden after Easter. I am planning to spend some time in the Ceske Svycarsko area. Would anyone like to partner up and do some routes? I lead F6a & English HVS.

---
bouldering CR
23.01.2004
hi boulderers,
i was wondering if there is good bouldering in czech-republic, because i saw some very strong guys from czech bouldering in austria.
so indeed i am an austrian guy looking for good bouldering
chris
&nbsp
Re: bouldering CR
26.01.2004
One of the most popular areas is the Petrohrad (or Jesenice) on the route from Prague to Karlovy Var
&nbsp
&nbsp
Re: bouldering CR
28.01.2004
thanx for the tipp, i saw the pics before (looks really good), but just couldn´t read the text, so t
&nbsp
&nbsp
&nbsp
Re: bouldering CR
30.01.2004
Be tuned. We prepare some English beta about the area.
---
BUOUX
04.12.2003
My friend told me recently that, BUOUX is not good area at present. There are plenty of people, and limestone is very smooth and dirty. Is it true? I have planed to go there, but now I don't know?
&nbsp
Re: BUOUX
12.01.2004
There were quite inough people in the last November but nothing special if you compare it with Arco
---
<<<
2
3
4
5
6
7
8
9
10
11
12
13
14
15
16
17
18
>>>
Looking for czech brand
this may sound as a stupid and vague question, but I am looking for the name or website of the brand of clothes. Their symbol is some kind of flower. I saw a lot of people wearing clothes of the brand in Czech Republic, for example the plaid pants, with reinforced knees and behind. Can anyone tell me what company is making these? Thanks in advance
Jens
02:19:53 23.10.2004
reply
---
Reklama:
Lezec.cz je hlavním mediálním partnerem ČHS na internetu
Instructions:
Photo of the day: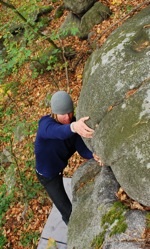 Routes:
New in discussion:
Latest comments:
Hot:
New in advertising:
UKClimbing.com News
- VIDEO: Kevin Lopata, Le surplomb de la mée assis, ~8B+
- Fri Night Double Bill - James Pearson and 'The Dog'!
- 8b for Peter Dawson (14) and 8b+ for Luke Dawson (16)
- REPORT: Bouldering World Cup Slovenia
- North Wales Area Report: March - April 2013
- Hamer Brothers climb E8s at Nesscliffe and More
- Entlinge, ~8B+, by Nalle Hukkataival
- Quick repeat of Pantera, 9a, by Megos
- Peregrines Nesting in Avon Gorge
- BIG Day at Wimberry - Whittaker, Randall, Lee - E10?
- New Mountain Weather Forecast Launches
- MoD Drops Cape Wrath Purchase
- Corona, 9a+, by Megos
- FRi NIGHT VID: Stamina Training Tips - James Pearson
- Hard New Boulders and Repeats for Tom Newberry