10.10. - The missing Italian group has applied in the end and Italians will be on the competition.
The the team of forrunners is already completed with the ICC delegat from France. Their job is to build climbing routes and it is probably completed by now. The routes were basicaly built by the Czech-Slovak team from Prague - Andrej Chrastina and Jiri Pribil.

9. 10. - This wall was built as a promotion for the World Cup competition and it is located on Vitezne namesti (metro station Dejvicka green line A). Working hours till Friday should be from 9:00 AM to 5:00 PM.
More about it at the official page:
www.worldcupprague.com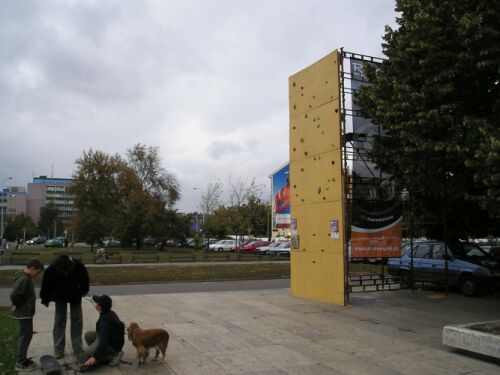 8.10. - Doping should be controlled by the latest demand of the ICC, so the head of the Czech Sport Climbing Commission Slavek Vomacko hired someone who can do it.
7.10. - Start lists are complete: There are 35 men and 29 women. The only missing might be the Italian group. More on the web of International Council for Competition Climbing
ICC - UIAA
.
6.10. - According the latest news an ICC delegate should be Ake Nilson from Sweden. The originally announced delegate Martin Joisten from Germany will be the President of the Jury (since being president and ICC delegate could lead to serious problems in case of an appeal).
2.10. - A press conference before the Prague World Cup competition was held in Prague for journalist from mainstream media (news agencies etc).
The
tickets
should be on sell at the place during competition days. The price should be about 20 Kc (0,75 EUR).
The Gym where the competition should take place:
Ruzyne
Popular Prague climbing wall, height 11 meters
Address: Lezecka stena Ruzyne, Drnovska 19, Praha 6
Phone: (42) 235 31 90 96
Where: By bus from the metro station Hradcanska on line A
Web:
www.stena-ruzyne.com
The official Prague competition page:
www.worldcupprague.com