The list of the best women:
1. SHALAGINA Olha UKR
2. ABRAMTCHOUK Ioulia RUS
3. KOTASOVA Vera CZE
amd men:
1. RAKHMETOV Salavat RUS
2. FISCHHUBER Kilian AUT
3. POUVREAU Gérome FRA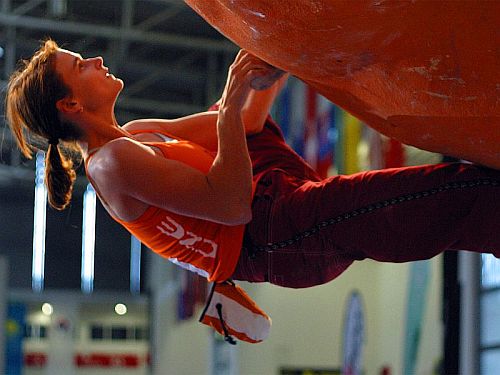 Věra Kotasová
phooto by Mike Jäger - felsenwelt.de
News from Monday:
On Monday there was the qualification in World Championship in Munich in bouldering and the lead climbing champion Tomáš Mrázek continued to Tuesday bouldering finals from the 3rd position. From the Czech women continued to bouldering finals Věra Kotasová as 12th.
The other Czech: men - Jiří Přibil ended in bouldering qualification as 30th, Jakub Hlaváček 34th, Jan Zbranek 54th, Radovan Souček 84.
Women - Helena Lipenská ended in bouldering qualification 32th and Nelly Kudrová 51st.
News from Sunday:
On Sunday the Czech climber Libor Hroza ended 12th in World Championshim in speed climbing in Munich. The first three positions: 1. VAITSEKHO. Evgeny RUS, 2. STENKOVOI Maxim UKR, 3. SINITSYNE Serguei RUS. Women: 1. RYEPKO Olena UKR, 2. YURINA Valentina RUS, 3. ROPEK Edyta POL.
Climbing World Championship in Munich should continue by speed climbing on Sunday. There are qualification and finals on the afternoon schedule.
Eliška Karešová and Libor Hroza should start from Czech team.
On line coveridge is on
www.world-climbing-championships.com
The Championship continues on Monday and Tuesday by bouldering. There should start the Czech climbers:
Tomáš Mrázek, Jakub Hlaváček, Jiří Přibil, Radovan
Souček, Jan Zbranek and
Helena Lipenská, Zuzana Ulrichová, Nelly Kudrová, Věra Kotasová, Lenka Trnková.