Watch the CzechClimbing.com for update info about the competition.
New update: Photos ot the wall (By Tomas Kysilka)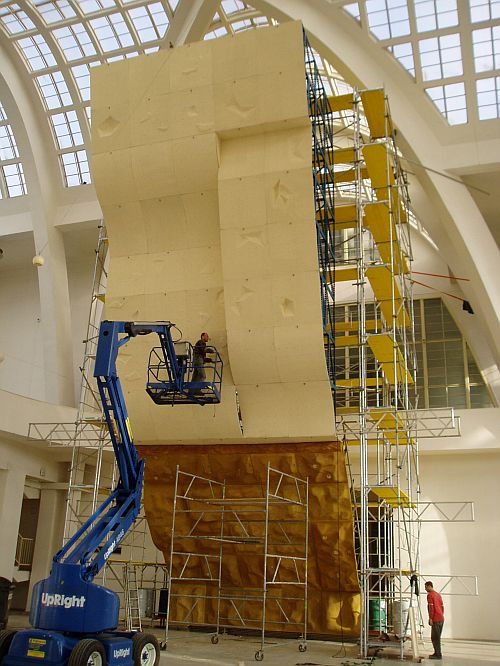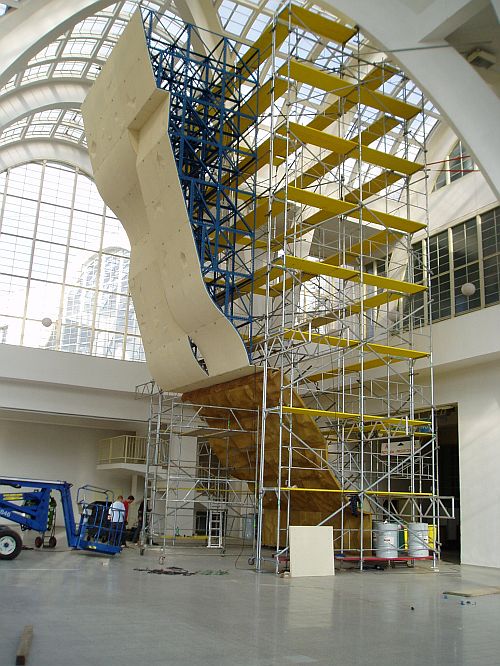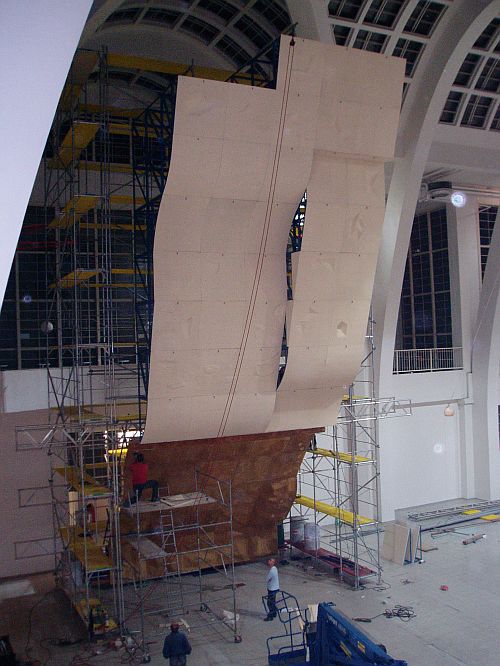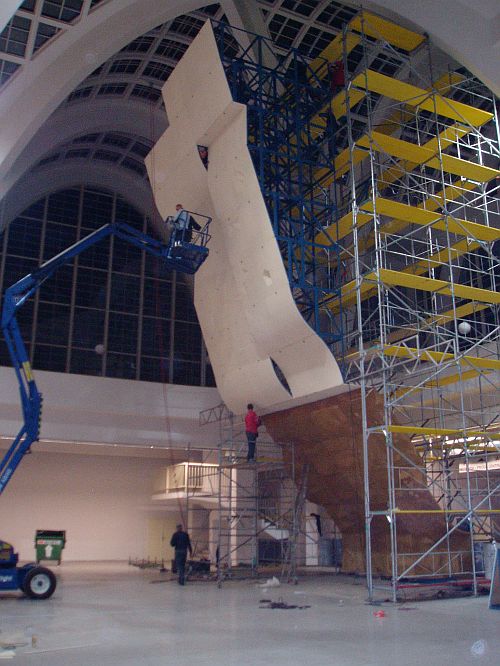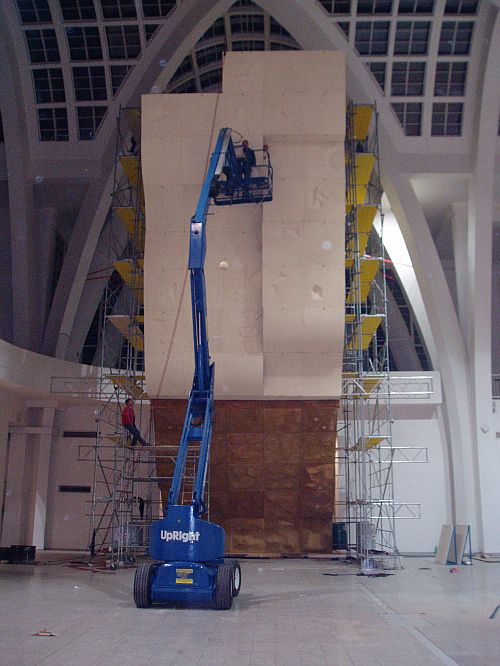 (Updated: November 8)
The wall is on the construction by company of Prague climber Tomas Rakovic. There are Italian route setters Lella Donato and Alberto Gnero, with experiences e.g. from European Championship 2004 in Lecco, Rock Master in Arco and World Cup in Shanghai.
Look at construction of the Brno's wall (Photo by Tomas Kysilka):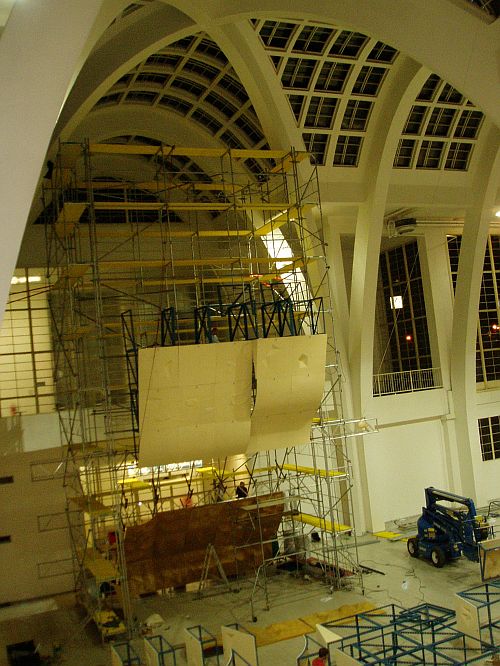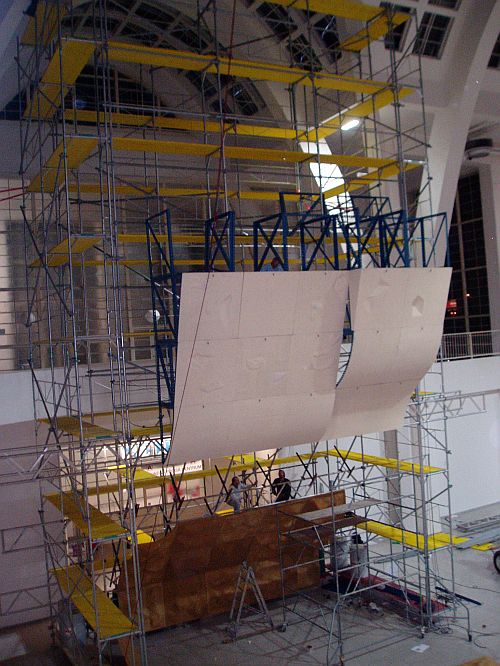 (Updated: November 6)
4.11. Start list:
Men
Country Family name First name
AUT FICHTINGER Reinhard
AUT REIS Jürgen
BEL FAVRESSE Nicolas
BEL HANSSENS Stéphane
BEL SARKANY Frédéric
BUL GARBOV Kalin
BUL VIDINOVSKI Milen
CZE MRAZEK Tomáš
CZE ZBRANEK Jan
CZE HLAVACEK Jakub
CZE MALINA Václav
CZE STRANIK Štěpán
CZE VOLF JAkub
CZE OLIVA Jiří
ESP USOBIAGA LAKUNZA Patxi
ESP JULIAN PUIGBLAQUE Ramon
ESP PENIN Jose
FRA CHABOT Alexandre
FRA POUVREAU Gérôme
FRA MILLET Sylvain
FRA AUCLAIR François
FRA FUSELIER Michaël
FRA DESGRANGES Romain
FRA LO PICCOLO Cédric
FRA LEGRAND Yannick
FRA CAUDE David
FRA DUGIT Fabien
FRA DUGIT Stéphane
GER BINDHAMMER Andreas
GER BINDHAMMER Christian
GER HOPPE Markus
GER GARTMANN Tobias
ITA CRESPI Flavio
ITA ZARDINI Luca
ITA LAGNI Bernardino
ITA DROETTO Fabrizio
ITA BRENNA Cristian
JPN ITO Hidekazu
KOR SON Sangwon
KOR KIM Jaha
NED VERHOEVEN Jorg
POL DUDEK Łukasz
POL MACH Marcin
POL MECHERZYŃSKI-WIKTOR Andrzej
RUS OVCHINNIKOV Evgeny
RUS KAUROV Ivan
SLO SOVA Matej
SLO VALJAVEC Tomaz
SVK SVUB Ondrej
SVK REPCIK Juraj
SVK LEITMAN Marek
UKR PETRENKO Maksym
UKR GUSAK Igor
USA ROTH Cody
USA VINOKUR Vadim
Women
AUT EITER Angela
AUT SCHÖPF Bettina
AUT BACHER Barbara
AUT RAFFETSEDER Gerda
AUT SAURWEIN Katharina
AUT STÖHR Anna
AUT HARNISCH Martina
BEL SARKANY Muriel
BUL GARBOVA Petya
BUL BAKALOVA Plamena
CZE KYSILKOVA Tereza
CZE LIPENSKA Helena
CZE KUDROVA Nelly
CZE CHUDOBOVA Kateřina
CZE KARESOVA Eliška
CZE GLASEROVA Martina
CZE HROZOVA Lucie
FRA CIAVALDINI Caroline
FRA MARTIN Delphine
FRA LEVET Sandrine
FRA MINORET Chloé
FRA ILIC Carole
GER KNORR Damaris
ITA LAVARDA Jenny
JPN KOBAYASHI Yuka
KOR KIM Jain
KOR DOH Eunna
KOR GO Misun
POL KUGLER Eliza
RUS YAEMURD Ekaterina
SLO VIDMAR Maja
SLO VIDMAR Katja
SUI EYER Alexandra
SVK CINTALOVA Zuzana
SVK CINTALOVA Katarina
SVK TOMANOVA Petra
UKR OSTAPENKO Olena
UKR SHALAGINA Olga
(Updated: November 4)
55 men and 38 women
has been registered. The all main players are there. Also climbers from Korea, Bulgaria and Japan are among the registered.
The Czech team: Tomáš Mrázek, Jan Zbranek, Jakub Hlaváček, Václav Malina, Štěpán Stráník, Jakub Volf and Jiří Oliva.
CZ Women: Tereza Kysilková, Helena Lipenská, Nelly Kudrová, Kateřina Chudobová, Eliška Karešová, Martina Gláserová and Lucie Hrozová.
(Updated: November 3)
Belgian, Spanish and Austrian registrations
were delivered:
Muriel Sarkany (BEL), Patxi Usobiaga and Ramon Julian (both ESP), and strong numbered team from Austria are on the list.
(Updated: October 29)
Slovenian registration
was delivered:
Tomaz Valjavec, Matej Sova and two women Maja and Katja Vidmar are on the list.
(Updated: October 27)
Nomination of the Czechs:
Except Tomáš Mrázek and Tereza Kysilková another 14 Czech climbers should start:
Czech nomination list:
Men:
Tomáš Mrázek, Jan Zbranek, Jakub Hlaváček, Zdeňek Resch, Václav Malina, Martin Fojtík, Štěpán Stráník and probably on the supplementary list Jakub Volf and Jiri Oliva.
Women:
Tereza Kysilková, Helena Lipenská, Nelly Kudrová, Kateřina Chudobová, Eliška Karešová, Martina Gláserová and Lucie Hrozová.
Source: head of the commission of Czech sport climbing Slavek Vomacko
(Updated: October 26)
Provisional timetable
Thursday 11th
17.00 - 19.30 registration for World Cup hall 103
20.00 technical meeting - hall 103
Friday 12th
08h00 isolation opening men - Hall Rotunda
09h00 isolation closing
09h30 observation period men
09h45 ¼ difficulty
13h00 isolation closing women
14h30 ¼ difficulty women
Saturday 13 th
7h00 isolation opening for 1/2 final round
8h00 isolation closing for 1/2 final round
8h45 observation period men and women
9h00 1/2 final round
14h30 final men and women
17h00 Awarding ceremony
Source:
ICC
Look out: Registration deadline
No later than ! Tuesday, November 2nd, 2004
The registration form must be sent to:
ICC – icc.comp@alto5.it (via e-mail ONLY)
And a copy to:
ČHS – Czech mountaineering association
Tel /fax : +420 220 513 697
E mail: svomacko@ftvs.cuni.cz
(Updated: October 21)
Look at pictures of the draft poject of the wall at the official site:
www.worldcupclimbing.com
(Updated: October 20)
Official web site of the competition has been launched:
www.worldcupclimbing.com
and the ticket price has been confirmed: 60 CZK (2 EUR)/day. (Look down to the articel)
(Updated: October 13)
According to David Roy, a representative of the partner of the competition, which is again the sport equipment exhibition Sport Life, the competition will be only on Friday 12th and Saturday 13th November contrary the original plan to last it till Sunday. The last weekend day should be determined for this year finale of the Czech Cup competition announced originally on 20-21st November.
The competitors should climb in the exhibition hall in Brno Fair, the same place as the last year Czech Championship took place, but at better place closer to the central exhibition spot "Rotunda". The climbing wall should be build bigger than the one on the last year Czech Championship (it had parameters: hight 14 m, overhang: 10 m, width: 8 m) and also safer. The Czech well-known wall manufacturer Tomas Rakovic should construct the wall.
Information about location, tickets, accomodation:
(updated Oct 1st)
The Exhibition Centre is located in city of Brno in mid of southern Moravia (East part of Czech Republic) - look at destination map
http://www.viamichelin.com/
(write to the left Map Finder as a city Brno and list Czech Republic in list box of countries and click OK)
Exhibition centre is called BVV Veletrhy Brno and is located in the east part of the city. There is an official site of the Sport Life Fair also in English (and German):
SPORT Life Fair
There is also a plan of location in Brno in a small map:
BVV access by car
Look at the location of halls in the Exhibition Centre:
Exhibition center plan
(the climbing wall should be constructed somewhere near from the Rotunda (letter A, grey cylinder) in orange colored pavilion A1 or A2.
How to get there from the railway station or bus station? There is the Main Railway Station in Brno Centre and in front of it, take a tram no 1 to BVV. Bus station Brno Zvonarka is about 500 m southern from the Main Railway Station and you can go there and there catch a tram. Every body in Brno know where the Exhibition Centre (BVV or Vystaviste) is so you can ask...
Look at
map of Brno
The one-day ticket for the Fair costs 60 CZK (2 EUR) and the competition will be accesable inside the entrance of the Fair without additional fee.
Accommodation is very various. The lowest prices in some hostels could be about 200 CZK (about 7 EUR) but probably more expensive. Look at site where you can find various accommodation and tray to correspond or ask by phone better conditions especially on the list from the 8th page of Brno offer:
TravelGuide.cz
Be tuned: we are going to improve the info in next days...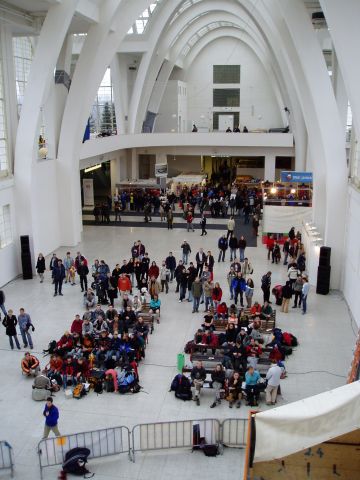 The Hall in Brno Fair, photo from the last year Czech Championship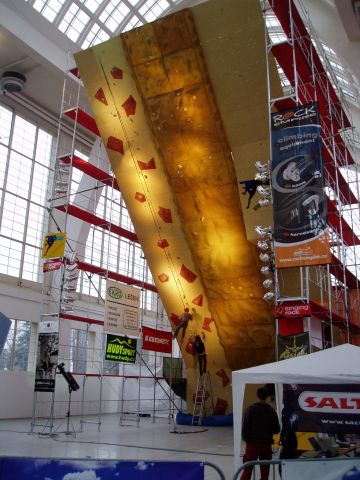 The wall from the last year Czech Championship
The record of live on-line coverage from the last year World Cup competition in Prague (Czech Republic) on CzechClimbing.com:
World Cup on-line
Interviews with Tomas Mrazek and last year´s winners:
How did the Bests see the World Cup? Ramon, Sandrine, Tomas
The record of live on-line coverage from the last year Czech Championship, Brno, the exhibition hall, where will be held this year World Cup comp:
CZ Championship - climbing and bouldering
World Cup competition will be in Czech Republic held for the third time. Before the last year competition in Prague Ruzyne gym, the first one was held in Prague at climbing wall Brumlovka in 1997. The organizers decided not to repeat this event at their wall due to high price of such event.
World Cup in difficulty climbing, Prague 2003, Ruzyně, Ramón Julián Puigblanque – the winner climbing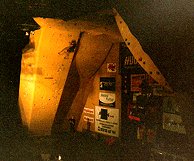 World Cup in difficulty climbing, Prague 1997, Brumlovka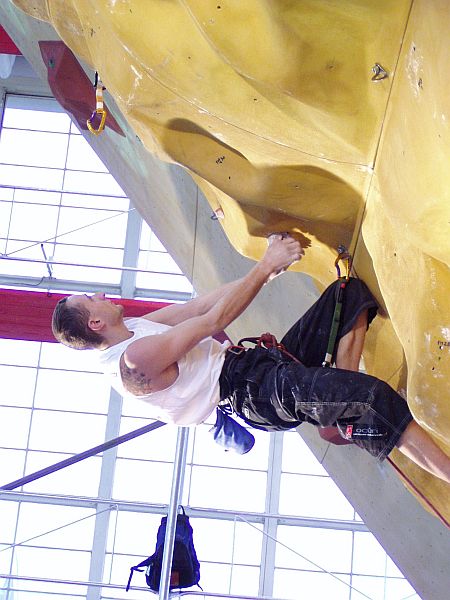 Czech Championship 2003, Brno, Sport Life exhibition, Tomáš Mrázek climbing – the winner of the Czech Championship 2003 and the actual No 1 of the World Cup 2004