This European Championship will replace last year's European Championship in Ekaterinburg, Russia, which was scandaliously canceled because of lack of crashpads.
Up to today only two European Championships in bouldering have taken place. The first one in 2002 in Chamonix (FRA), where Christian Core (ITA) and Sandrine Levet (FRA) won.
And the last European Championship tooke place in 2004 in Lecco (ITA) with the results:
Men:
1 Daniel Dulac (FRA), 2 Andrew Earl (GBR), 3 Gabrielle Moroni (ITA)
21 Jakub Hlaváček (CZE), 37 Karel Černý (CZE),
42 Jan Zbranek (CZE),
Women:
1 Olga Bibik (RUS), 2 Anna Stohr (AUT), 3 Corine Theroux (FRA)
11 Helena Lipenská (CZE), 28 Nelly Kudrová (CZE)
We are quite looking forward to it, there are about 40 women and around 60 men registered.
Schedule:
Friday – qualification women.
Saturday – qualification men.
Sunday – semifinals and finals (men and women).
The Czech Republic will be represented by only Tomas Mrazek and Silvie Rajfova. Helena Lipenska can not participate because of a serious finger injury from last week.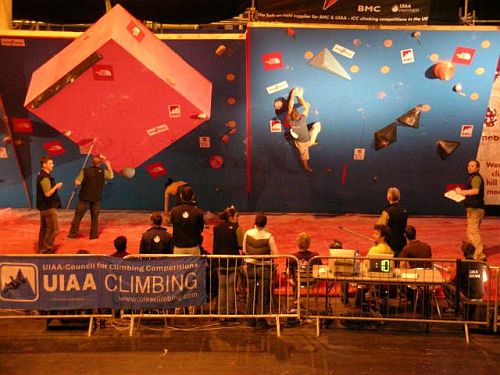 Photo from the World Cup in bouldering, Birmingham 2006