---
Look at the text record of the main moments and photos from the qualification of the World Cup in lead climbing in Brno, Czech Republic which we also have broadcast on simple live video stream.
15.15 - List of men who continue to semifinals:
AMMA Sachi JPN, Becan Klemen SLO, Desgranges Romain FRA, Lama David AUT, Mrázek Tomás CZE, Ondra Adam CZE, Romain Manuel FRA, Rudigier Max AUT, Schubert Jakob AUT, Tauporn Thomas GER, Usobiaga Lakunza Patxi ESP, Supper Gauthier FRA, Julian Puigblanque Ramón ESP, Sova Matej SLO, Marin Garcia Eduard ESP, WATANABE Kazuma JPN, Becan Jure SLO, Zazulin Evgeny RUS, Chernikov Mikhail RUS, Crespi Flavio ITA, NITTA Tatsumi JPN, MATSUSHIMA Akito JPN, Midtboe Magnus NOR, Shoprin Alexander RUS, Son Sangwon KOR, Stranik Martin CZE. (
www.ifsc-climbing.org
)
15.00 - The last men finished his 2nd route. The men qualification has ended.
14.15 - List of women who continue to semifinals:
AVEZOU Cecile FRA, Bacher Barbara AUT, Chereshneva Yana RUS, Ciavaldini Caroline FRA, DUFRAISSE Alizée FRA, Durif Charlotte FRA, Eiter Angela AUT, Ernst Johanna AUT, Eyer Alexandra SUI, Gros Natalija SLO, Han Seuran KOR, Kim Jain KOR, Kobayashi Yuka JPN, Kudrova Nelly CZE, Lavarda Jenny ITA, Malamid Evgenia RUS, Markovic Mina SLO, Noguchi Akiyo JPN, Pinet Florence FRA, Sarkany Muriel BEL, Schranz Christine AUT, Vidmar Maja SLO, Wurm Juliane GER, Brumagne Mathilde BEL, Gosar Asja SLO, Hrozova Lucie CZE. (
www.ifsc-climbing.org
)
13.46 - According to the provisional results 23 women toped both qualification routes including Czech Nelly Kudrová. Altogether 26 women shall continue to Saturday´s semifinals, so also Czech girl Lucia Hrozova, she is just 26th. (
www.ifsc-climbing.org
)
13.36 - Tomas Mrazek sends top in his 2nd route and continues to semifinals on Saturday.
13.27 - The last women finished the qualification. The women qualification is over.
13.07 - Martin Stráník falls couple holds under top of his 2nd route (no. 1)
12.56 - Helena Lipenska falls in the half of the route no 2.
12.50 - Lucka Hrozova falls on the route 1 under the top
12.45 - Nelly Kudrova send 2nd top.
12.40 - Patxi Usobiaga (ESP) sends his 2nd top.
12.33 - Adam Ondra sends his 2nd qualification route (Route No. 1) again without problem.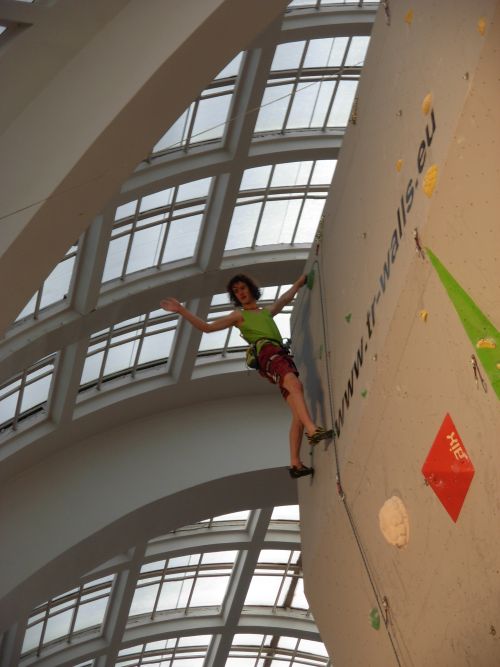 Adam Ondra does 2nd top (route no.1)
foto © standa@lezec.cz
12.20 - The 2nd round of qualification starts on the all of the four routes.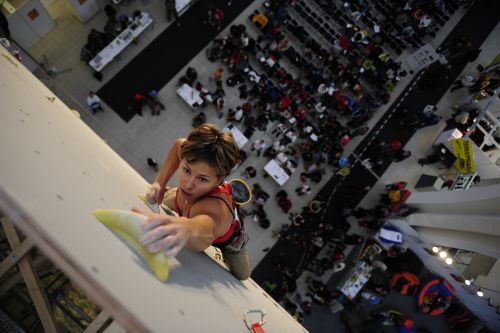 Muriel Sarkany tops
photo © Michal Maděra
11.41 - Lucka Hrozová tops route 2.
11.35 - Nelly Kudrova sends top on route 2.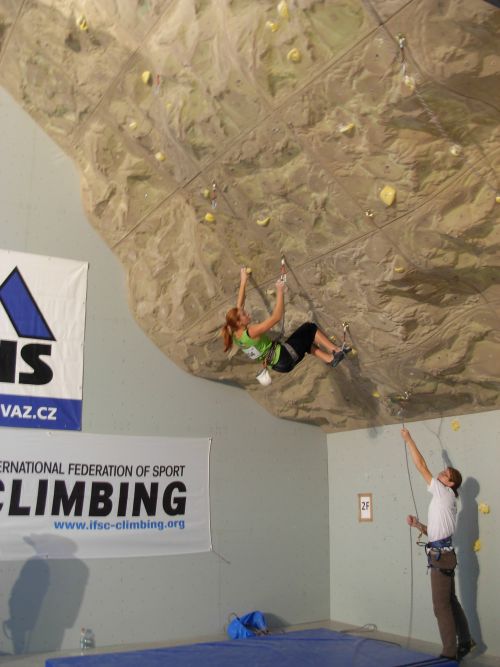 Nelly Kudrova
photo © standa@lezec.cz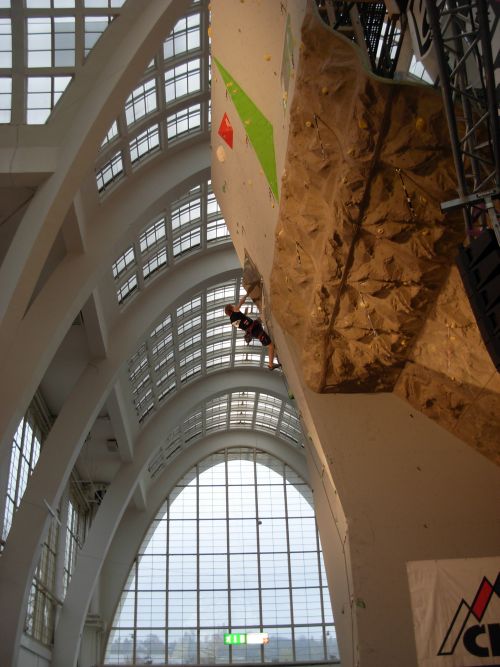 Man qualification route 1
photo © standa@lezec.cz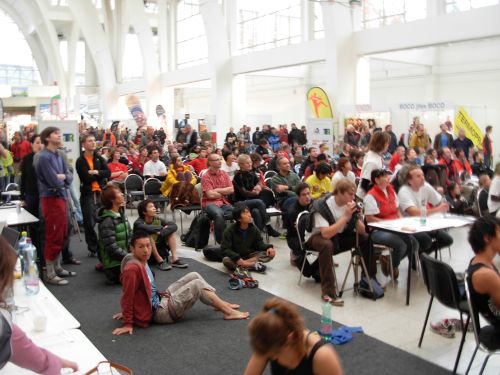 Audience
photo © standa@lezec.cz
11.18 - Silva Rajfova finishes in half of the route 2.
11.08 - Martin Stranik falls just under the top of the route 2.
11.01 - Young Czech Martin Sifra falls in half the route 1.
10.57 - Foto qualification from the right to the left man route 2, woman 2, man 1, woman 1: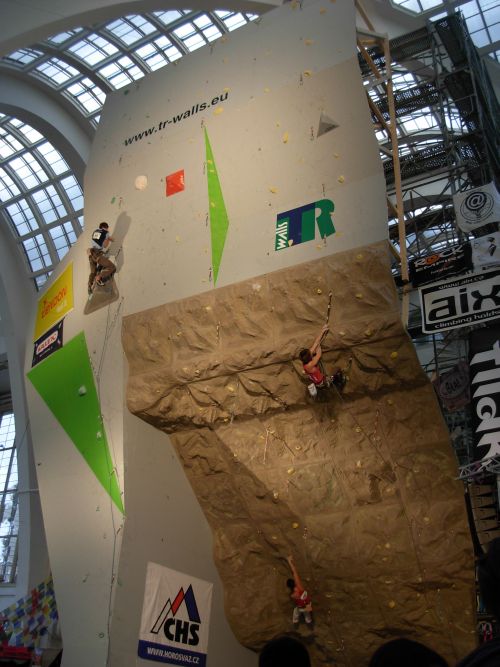 Qualification
photo © standa@lezec.cz
10.50 - Czech Jakub Hlavacek falls 2 meters uder top, left Helena Lipenska also couople moves under top.
10.45 - Tomas Mrazek sends top on start route 1.
10.32 - Czech favorite Adam Ondra has just finished his 1st qualification route and sends top without problem.
9.30 - the competition starts, first observation and then preclimbing.
Průběžné výsledky se mají aktualizovat na
www.ifsc-climbing.org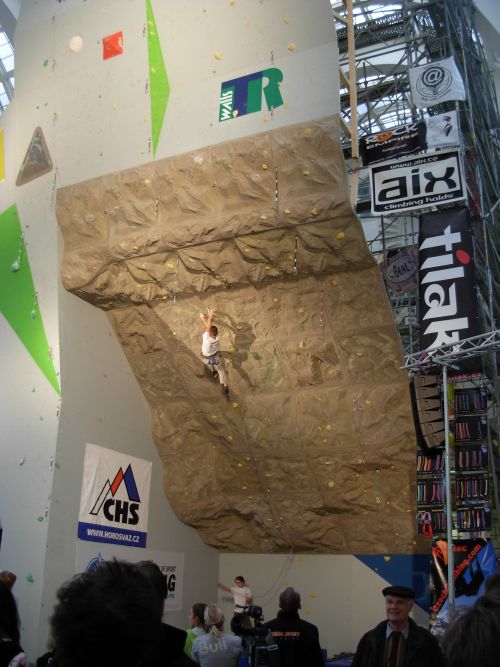 Pre climber
foto © standa@lezec.cz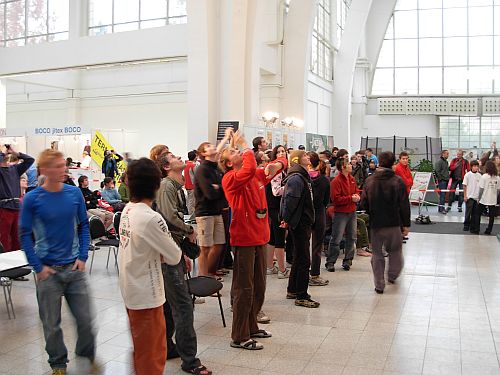 Observation
foto © standa@lezec.cz
The full quality video stream has been announced on Saturday from the semifinals and finals.