Video from speed added
The 3rd World Cup 2006 competition in lead and speed climbing takes place in Chamonix, France: Lead climbing: 1. Eduard Marin Garcia (ESP), 2. Patxi Usobiaga (ESP), 3. Cedric Lachat (SUI), ... 5. Tomáš Mrázek (CZE)
Women: 1. Angela Eiter (AUT), 2. Caroline Ciavaldini (FRA), 3. Natalija Gros (SLO),... 17. Silva Rajfová (CZE)
Speed climbing: 1. Evgeny Vaytsekhovsky (RUS), 2. Alexander Peshekhonov (RUS), 3. Alexander Kosterin (RUS), ... 5. Libor Hroza (CZE).
Women: 1. Tatiana Ruyga (RUS), 2. Ksenia Alexeeva (RUS), 3. Valentina Yurina (RUS)
Older news:
Tomáš Mrázek continues to finals, Silva Rajfová ended the 17th.
There started 78 men and 52 women.
It has just started rainig, thunders sound.
July 12:
Libor Hroza was the fifth in finals of speed climbing. Eliška Karešová did not continue to finals and finished the 9th.
Video - speed Libor Hroza vs Mawem Bassa
download video, wmv, cca 3,3 MB, cca 1,1 min
Silvie Rajfová and Tomáš Mrázek sent tops in qualification and continues to semifinals. The another Czech competitor Dalibor Muráň did not continue.
Video - lead climbing qualification
download video, wmv, cca 9 MB, cca 7 min
The speed competiton will take place on afternoon. The Czech speed team will be represented there by Eliška Karešova and Libor Hroza.
Program:
12.7.
qualification lead men, women
qualification and finals speed
13.7.
semifinals and finals men, women.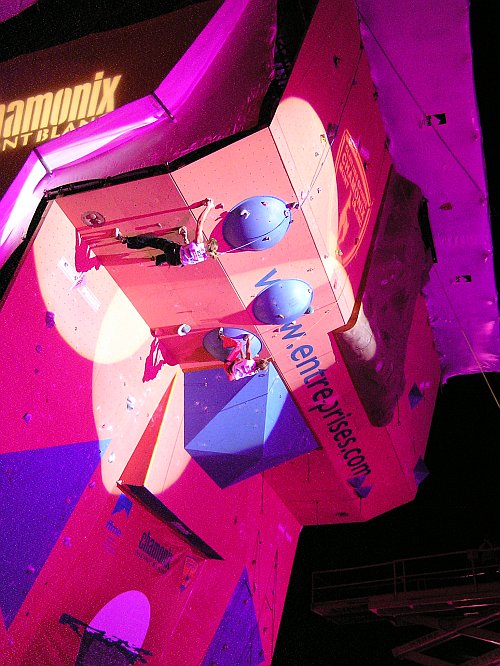 The speed climbing wall in Chamonix